If emails are part of your marketing plan — a re-engagement campaign should be on your radar!
A re-engagement email campaign is a strategic tactic that targets your unengaged or inactive email subscribers to get them re-engaged or removed from your list. 
You may wonder, "Why would I want to remove subscribers from my list?" When it comes to email lists, it's quality over quantity. Unengaged subscribers bring down your destination marketing organization's (DMO) email marketing performance and return on investment (ROI) and can also negatively impact your email deliverability and sender reputation. 
Re-engagement Campaigns Are a Win-Win
Whether the re-engagement campaign results in the contact unsubscribing or becoming re-engaged, it's a win-win. If they become re-engaged, you essentially won back a subscriber that had become uninterested. If they unsubscribe, you'll have a cleaner list, stronger metrics, and a better sender reputation.
Most email service providers offer automated programs — a series of automated emails triggered by the subscribers' actions or scheduled and sent automatically. Once you set up the emails and the automated program, the heavy lifting is done, another win for you. The campaign should consist of a series of two to three emails containing messaging along the lines of:
"It's been a while!" or "Still there?"
"You may have missed it." or "Reasons to keep us around."
"We're sad to see you go."
Since these contacts are already disengaged, you want your subject line to be catchy to reel them back in. Keep the emails short and sweet, and consider including content focusing on:
Incentives
Restating your value
Introducing a new value
Offering subscription options
While there are many tips and tricks to running a rock-solid re-engagement campaign, here are some of our own industry best practices:
Re-engagement campaigns can be a one-time strategy or an ongoing engagement
There is no right or wrong way to define what an unengaged subscriber is, but we recommend a 180-day minimum of no engagement before sending the first email
Emails should be sent 10 days apart; wait 10 days after the last email to collect all the opt-ins before the unengaged are opted out 
Make it easy for subscribers to opt out. The goal of this campaign is either to restore your relationship or let them go 
A Dazzling DMO Example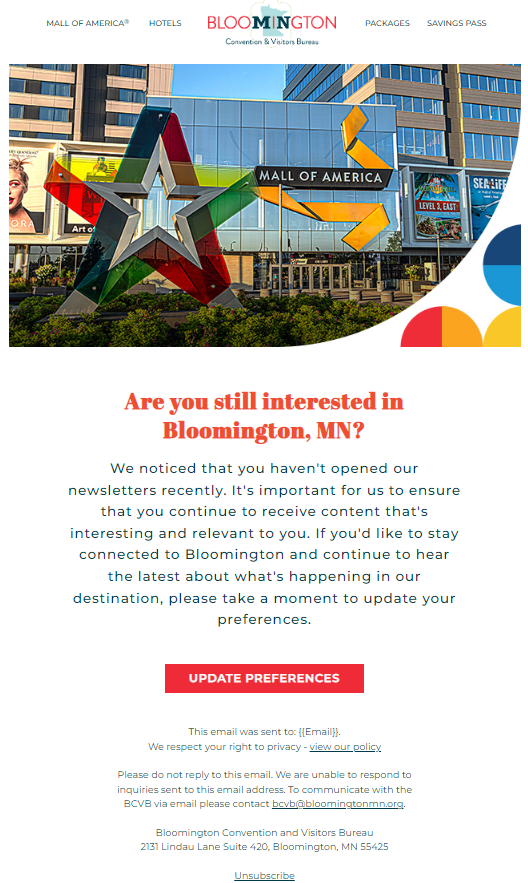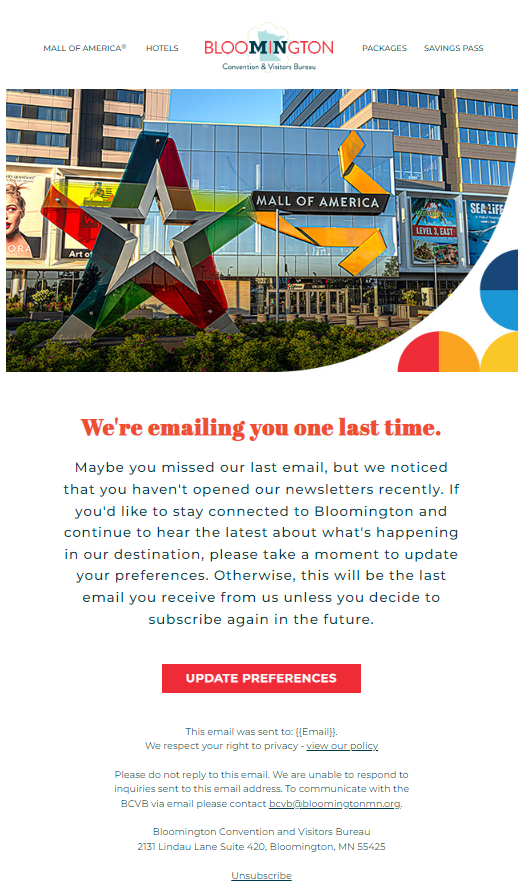 Since launching its re-engagement campaign, Bloomington, MN Convention & Visitors Bureau has removed 61,552 contacts, leaving them with 109,201 subscribers on their list. All told, 553 contacts clicked on one of the re-engagement emails, which removed them from the campaign. Before launching the re-engagement campaign, the DMO's open rate was about 20% on average, and the most recent email sent following the campaign had an open rate of 38.3%. 
If you're using Simpleview's marketing automation partner, Act-On, you can get started on your re-engagement campaign right away. If you need any assistance, guidance, inspiration, or someone to take care of the entire campaign for you — reach out to your marketing automation specialist. You can also check out Act-On's Re-engagement Campaign Playbook for step-by-step instructions on how to get started. 
[Unable to render content]