In this time of global crisis and uncertainty, we put the call out to leaders, CEOs, strategists and consultants to sit down and tell us, in their own words, what is going on and what is going to happen next in this vital global industry.
 

What does it take to be recognized as one of the top 25 Extraordinary Minds by the Hospitality Sales and Marketing Association International (HSMAI)? Or to be honored by the Dallas Business Journal as the inaugural recipient for their Women and Tourism award? Or, for that matter, to receive an Irving School Foundation Fellowship and an NAACP Fletcher Yates Community Service award? 
Well, according to Maura Gast, it takes patience, persistence, humility, an unending desire to learn, and most importantly, an openness to be wrong, to make mistakes, and to learn from those mistakes.
To say Maura Gast has been a driving force in the tourism industry on community alignment, economic development, destination development, and inclusiveness — as well as a leading proponent of community shared values — would be the understatement of the year.
The Destination Management Cycle by Maura Gast (or Maura's Maxim, as I like to call it) goes like this: 
If you build a place people want to visit, you build a place where people want to live. If you build a place where people want to live, you'll build a place where people want to work. If you build a place where people want to work, you build a place where business needs to be. If you build a place where business has to be, you'll build a place where people have to visit.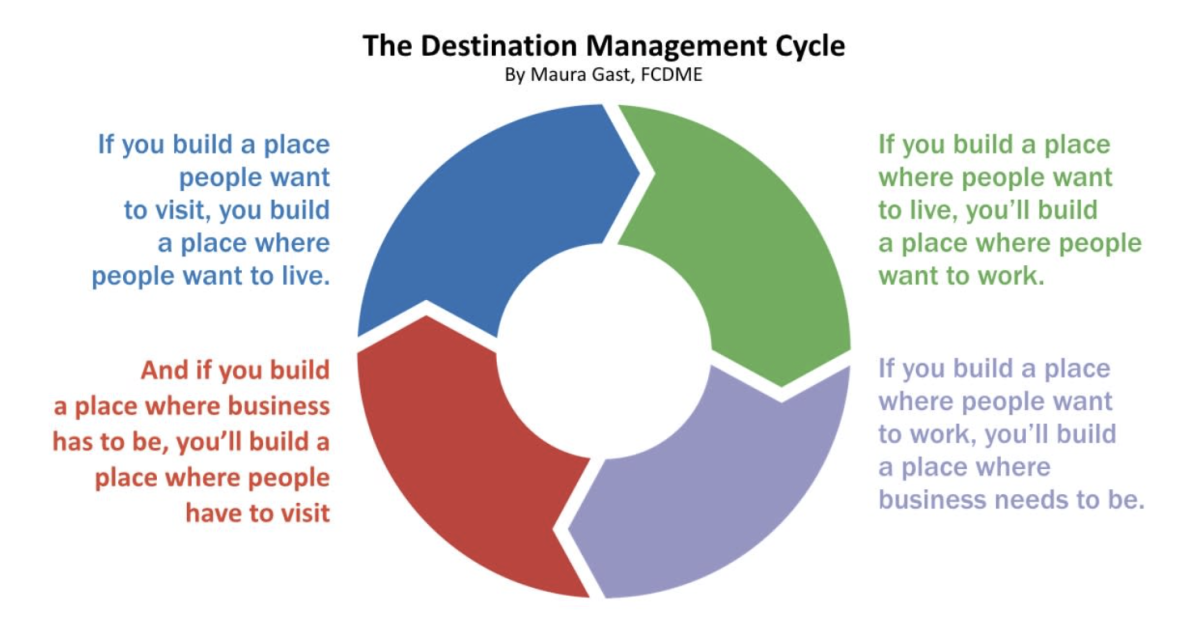 Maura's Maxim is echoed far and wide by leaders and learners in the industry, myself included, and her ongoing work on Destination International's Certified Destination Management Executive program has literally changed how we look at tourism in our own communities and around the world.
Today Maura and I talked in detail about the epic tale of what it really took to realize the magnificent Irving Convention Centre at Los Colinas in Irving, Texas, and what we can learn from that journey in terms of alignment, sustainable development and the future of tourism.
The convention center is a 275,000 sq ft facility on 40 acres in Las Colinas, a planned community in Irving, Texas. It is an icon of modern architecture and the physical manifestation of a well-planned, well-executed tourism economic development plan.
Like anything truly worth doing, it was no walk in the park.
It took nearly 13 years and two very different plans to complete Las Colinas. After the initial plan was rejected by city council and shelved in 2003, it was resurrected three years later. As Maura puts it, the hiatus between the two initiatives was a huge opportunity not to be squandered. Sound familiar?
The CVB didn't just revisit the earlier plan, they took a fresh perspective. 
"This time we approached it differently. I'd learned a lot more political lessons, a lot, a lot!" said Maura. "There were certainly some in the community who felt that all we're gonna do is just dust off the plans and start all over. So we took a clean slate approach. As I grew in my role [with the bureau] we had gotten much more closely engaged with our partners in economic development; we spent a lot of time with each other and understood that we had skin in that game too."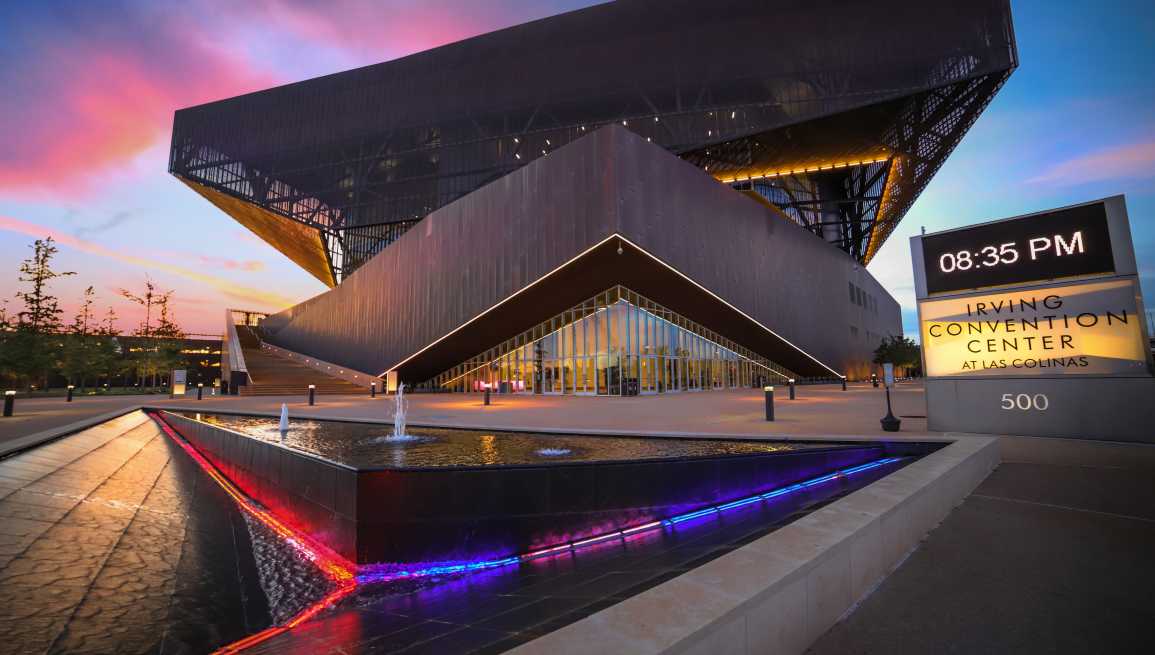 Irving Convention Center at Las Colinas

What would emerge was a rationalized plan that fit perfectly well not only in the context of Dallas and Fort Worth, but also within the larger context of the state of Texas and the southern United States. 
The exhibit hall specs and the supporting amenities were carefully reassessed and adjusted to create a sustainable business plan for a sustainable venue built around a very carefully targeted segment of the meetings industry. 
When the new plan was approved in 2008, Maura said, "it's not meant to be the biggest place in the world. There will always be businesses way too big for this building, and they have plenty of choices in the Dallas-Fort Worth area. There are far more than tens of thousands of meetings that will fit into this space."
The end result was a unique asset with an almost proprietary position in the 2,000-5,000 person meetings and events market that is well-liked, well-run and appreciated by locals and visitors alike.
Of all the work that got them there, of the multiple partnerships and alliances that had to be formed, of the careful crafting of a plan that would serve the visitor and community alike, Maura had this to say to GlobeSt.com in 2008: "As frustrating as it's been over the last 10 years, it's so much better and more dynamic."
Strategic vision, community-shared values, stakeholder engagement and destination development. That's what Maura Gast is all about, all the time.