Before adopting CrowdRiff, Discover DuPage faced challenges finding enough high-quality images that accurately portrayed its destination. Like many other destination marketing organizations (DMOs), it relied on photos supplied by their partners, which were often outdated and not truly reflective of the visitor experience. 
Discover DuPage already turned to Simpleview to redesign its website — so the DMO utilized CrowdRiff, a Simpleview partner, for a solution.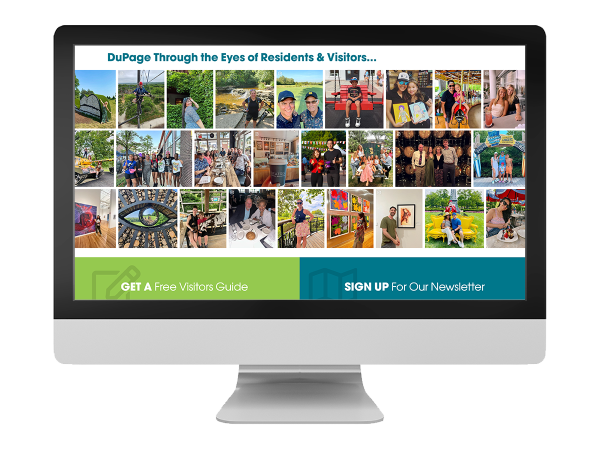 Discover DuPage evolved from having no UGC to a library of 807 rights-approved images, including 155 wedding images and a substantial uptick in social media engagement through strategically introduced hashtags. Discover DuPage's approach involved fostering relationships with professional photographers and reshaping its visitors guide to offer a fresh and authentic perspective of the destination.
"CrowdRiff allows us to have ever-changing photos on our website that we can use to tell real stories about people living in and visiting DuPage. In an influencer era when people are moved by social media messaging, CrowdRiff provides a way for us to have credibility." 
– Tiffany Geller, Marketing Manager, Discover DuPage
Thanks to Simpleview's CrowdRiff integration, DuPage can now effortlessly showcase photos on its website through widgets and CrowdRiff Galleries, breathing life into its site and achieving improved web metrics.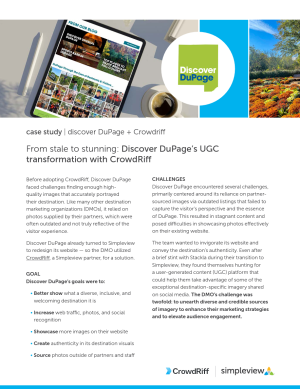 Upgrade your destination's storytelling and elevate user journeys with Simpleview and CrowdRiff.
SCHEDULE A DEMO