Our webinar in early 2021 that focused on crossover goals was heavily attended by the destination marketing organization (DMO) sales community and continues to be an important discussion going forward. In a recent FuturePace community workshop, we again visited using crossover goals to determine sales production goals for the coming year, narrowing in on future-year targets to use in both sales goals and incentive plans. 
"It's a great methodology to share with stakeholders. It's one data point we use to indicate we have an approach beyond some arbitrary percentage increase over last year," said Cahal Mowery, director of convention sales for Visit Denver. "Crossover goals provide context, especially now, coming out of pandemic production, where our immediate history isn't reflective of our sales performance going forward." 
Mowery and other DMO sales leaders are making a case for why destination sales leaders seeking greater collaboration with their hotel partners should understand the metrics most important to hotels. Hotels routinely build crossover goals into their sales production goals. Essentially, the annual crossover goal is the delta or difference between the number of rooms a given hotel desires to have on the books by the end of the current year, for the current and each future year, less the number of rooms they already have on the books.
This illustrates how hotels marry sales production goals and year-end goals, yet few DMOs consider such targets for sales production goals. Should they?
Here are additional reasons to consider using crossover goals:
There's a desire to continually establish credibility and respect from your hotel partners
There can be a disconnect between the DMO and hotel success metrics when the DMO makes their production goals while their hotels are missing their targets
You want to align your sales efforts for maximum impact for both short- and long-term destination success
To ensure long-term success, you'd like to bring focus and strategy to soft periods in future years
You'd like to bring more data into production goals than just a percentage increase over last year's production
COVID-19 recovery allows you an opportunity to do something different and change long-established behaviors 
Ask Yourself: What Can We Do Differently Now That Everything Is Different?
It's important to differentiate between production goals and year-end goals. Most DMOs are familiar with production goals, which are typically established for sales team booking goals/incentives and are based on the date definite, regardless of which year the room nights will ultimately occur.
Year-end goals, also known as consumption benchmarks, are based on arrival date and take into consideration the year in which the room nights will occur.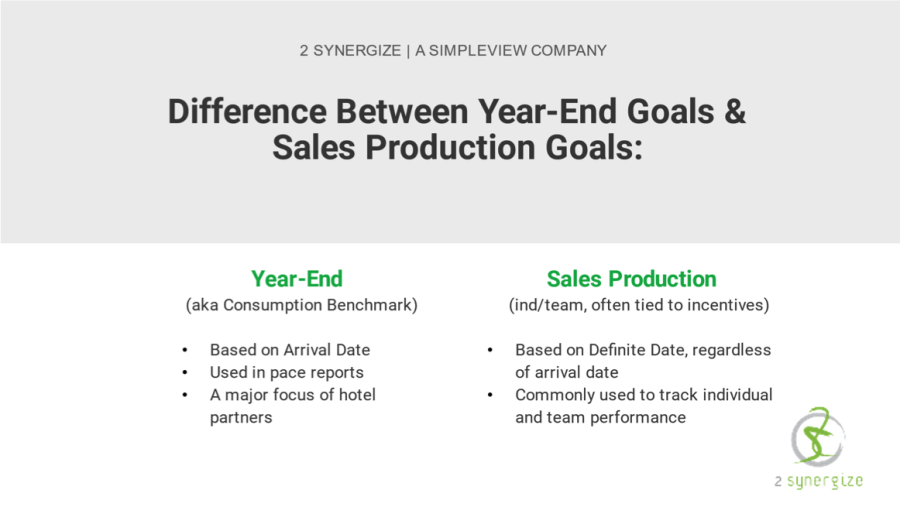 Crossover goals bring together a marriage of sales production and year-end goals. You establish sales team booking goals strategically applying a year-end goal lens. This process allows you to target placing goals for room night production in the years in which they are most needed and will produce the most impact.
[Unable to render content]
How To Set Crossover Goals
In each case, begin by examining the desired "on-the-books" room nights for each year under consideration in your goal setting. Then apply the "on-the-books" by the end of the current year for the current and future years. The delta becomes the crossover goal applied to each year, while the combined delta for each year becomes the sales production goal for the current year.  
While it is important to understand how hotels use crossover goals, it doesn't necessarily mean that we will mimic a hotel's methodology exactly. In the DMO world, we are working with pace targets that are dynamically calculated, whereas hotels consider where they want to be at the end of any given year in revenue. Our application is about placing business based on a well-laid-out strategy that fully considers the strength and weakness of business on the books for the current and future years. Additionally, when applying crossover goals, you might consider local conditions, destination development, and staffing changes.  
In the end, this kind of focus on goal setting applies to the current and future year targets, taking more active accountability for sales production. Entering this kind of discussion and consideration with your hotel partners can be the first step in discovering how the DMO sales effort can be reengineered to lead to success for both you and your hotels.
[Unable to render content]