Marketing is an ongoing battle for consumers' attention. We're inundated with content and marketing messages daily, especially via email marketing. Although your subscribers have signed up to receive communication specifically from your destination, those subscribers have likely signed up to receive communication from others, too. 
Several email marketing strategies can help you emerge victorious from the battle for attention: A/B testing, a catchy subject line, clever content, and a clear call to action. If you want to stand out from the crowd, consider using small but effective design elements proven to boost email engagement. 
Here are five design elements that can help boost your email engagement (take notes!):
  Elevate Your Emails with User-Generated Content
User-generated content (UGC) is one of the most effective types of visual content that destination marketers can use. It's authentic, captivating, and resonates with visitors. Statistics show that 92% of consumers trust organic, user-generated content more than traditional advertising. With that in mind, adding UGC to your consumer/leisure emails is a great way to attract visitors to your destination.

  Get Down with GIFs
Want to grab your subscribers' attention? Use GIFs! They aren't just for social media and chat rooms — they should be integral to your digital marketing strategy. Movement attracts more attention than static images. Once you've engaged an email reader, they'll be more likely to peruse the rest of it. Use GIFs to highlight attractions, venues, hotels, or a specific promotion.

Visit Corpus Christie uses GIFs in their email marketing to highlight local attractions

  Pique Engagement with Polls
The ultimate goal in email marketing is to have subscribers engage with content. Merely opening the email is not enough. One way to increase engagement is through polls and surveys. Although they may not be clicking on a specific call to action, readers will interact with your content, letting you know they're interested in what you offer. The content is dynamic, so the percentages will change as people vote, and once the subscriber has voted, it will lead them to a specific landing page. It's a great way to make emails fun, get creative, and collect valuable data.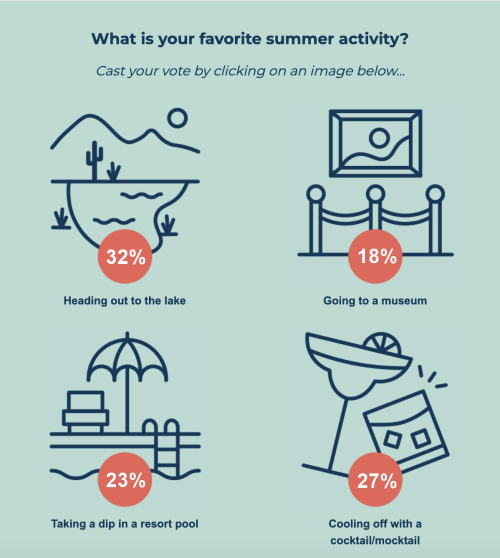 Visit Phoenix features an interactive poll in their email newsletter

  Boost Booking Referral Engine Results
One of the goals of any destination marketer is to get "heads in beds." Why not make it easier for visitors to book their trip via email? Adding a Book › Direct link to your email will decrease the clicks a visitor takes to book their trip and provide valuable insight on who is ready to visit your destination. When Simpleview client Traverse City Tourism added the Book › Direct link to their email newsletter, impressions increased by 328%, resulting in a higher conversion rate.

  Embrace Emojis 🤗
Emojis may seem better suited for social media, but adding emojis to your emails is proven to increase engagement. For Simpleview client Discover Dunwoody, using emojis in email content resulted in more than double the clicks on the monthly newsletter. It doesn't stop there — subject lines with emojis helped achieve their best email performance to date with an open rate of 32.3%, exceeding industry benchmarks and resulting in a 154.3% increase for the destination.
If you're using Act-On and want to incorporate any of these elements, contact your marketing automation specialist for tips, tricks, and best practices or to have them handle the work for you.
Short on time? Let Simpleview handle your email marketing so you can focus on other things.
Let's Chat