Destination marketing organization (DMO) websites showcase value propositions to potential leisure tourists, business travelers, meeting planners, stakeholders and locals. They're virtual brochures that are open to everyone on the internet, and it's essential to include key information that answers visitors' questions. 
Most DMO websites focus on the leisure traveler, and there's a good reason for that — percentage-wise, far more leisure travelers visit DMO websites than meetings and event planners. Still, planners are a small but mighty contingent. We asked our insights team to provide some data regarding visitors looking for meetings content on DMO websites using the Simpleview CMS. 
This article explores: 
The typical number of organic entrances looking specifically for meetings content
The outsized economic impact these particular website visitors have
Types of content to include for meetings and events planners 
Why it's important to give them a clear path to your call-to-action
Metric #1: Organic entrances for meetings content
We looked at organic entrances to understand what percentage of website visitors are there specifically for meetings and events research and planning. Organic entrances represent the number of times visitors entered a site through a specified page or set of pages. In this case, it was pages with meetings content. (In other words, the visitor didn't go to the DMO homepage and then click to meetings but instead went straight to meetings content.) 
As we would expect, numbers were negatively affected in 2020, but they have been recovering and are beginning to stabilize. We saw that organic entrances to meetings pages declined to 0.5% of all entrances during the early stages of the pandemic, while as of July 2021, they are reaching a more normal level of 1.75%.
"Throughout the pandemic, meetings sites and directories were hit much harder than general DMO leisure content," said Paul Mcleod, director of analytics at Simpleview. "This content has been on the upslope since the start of 2021, but so has everything else, so it's only recovered somewhat from 0.5% of all organic search entrances back toward its normal 1.75%. Meetings content is also enjoying better year-over-year growth since April than other types of content, but this is mostly about how low it was a year ago."
So, why should we make sure we include meetings content on our website if this traffic is minimal in comparison to leisure visitors?
Metric #2: The potentially outsized impact of meetings for DMOs
U.S. Travel published data showing that business travel represented 29.2% of all travel spend, while within that, "Meetings, Events, and Incentive" travel represented 12.3% of the total $1.1 billion in travel spending for 2019 in the United States. These figures are based on direct spending and not the overall economic output and job creation.
"Meetings, Events, and Incentive" travel accounted for $139.3 billion of all business travel spending.
U.S. residents logged 464.4 million individual business trips in 2019, with 38% for meetings and events.
These metrics indicate that even though 1.75% of organic website entrances are related to meetings content, these visits have the potential to generate 12.3% of your destination's revenue. If not more, because that excludes extended stays or any leisure-related activities. Of course, not every destination will see such an impact. Some destinations would see a much larger share and others much smaller. 
Because meetings and events account for a significant percentage of revenue generated by destinations, the content of meetings sections takes on significance.
Content is king for meetings and events, too 
It's clear, then, that because of the economic importance of meetings and events planners, having the right content for them is critical. Some DMOs choose to build completely separate websites for Meetings and Sales, which is a great option to consider. At the very least, we recommend you have a microsite with content that satisfies the needs of this audience.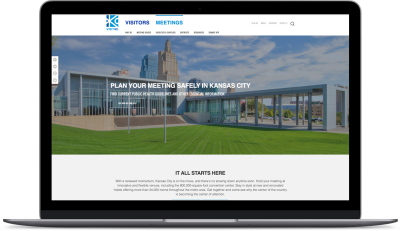 Consider including this key information:
Why meetings and events should be held in your destination 
Types of events that usually come to your destination
Information about facilities, hotels and lodging, and transportation
Maps, images and virtual tours
Restaurants and entertainment for guests
Local restrictions and policies
Upcoming event calendar and the most major events that come to your destination. This gives your destination credibility. As well, some planners like to schedule around other major events or schedule events during other major events. 
List of services and suppliers for events in your destination
Sustainability and information for visitors with special needs
Call to action, such as contacting your DMO team or submitting a Request For Proposal (RFP)
A Clear Path to Conversion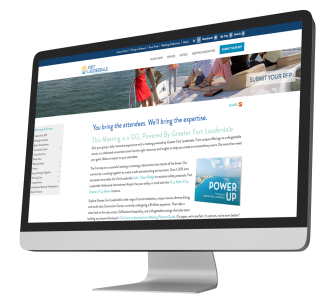 The likelihood that meetings and event planners will visit DMO websites at least once in their search is high. You don't want to miss a great opportunity, especially since each of these visitors can have a considerable economic impact; instead, you should strive to be the central source of information for them. By having meetings information and organizing it effectively, you'll deliver what planners are looking for — and hopefully, gain their business.
Greater Fort Lauderdale, recently featured on our blog, worked with the CRO team at Simpleview to streamline the path it wanted meetings and event planners to take and then build content around it, with the goal of providing a clear path to conversion.  
After a few changes, within two short months: 
Conversion rates increased 95% in click-throughs to the Request For Proposal (RFP) page
There was a 25% increase in engagement (pages per session and average session duration combined), and 
An increase in RFP submissions of 128%.
Meeting planners are just one of the audiences that visit your website and can have a major economic impact on your destination. Make sure you deliver the content and solutions they need in a focused way. Most importantly, provide a clear path to your call to action, so they can start doing business with you.
 
[Unable to render content]