I recently came across an article published by a trusted and leading source for user experience (UX) research, Nielsen Norman Group, that talks about consistency vs. innovation in UX design. Beyond designing new websites, these practices are general guiding principles that Simpleview follows when recommending services for maintaining and enhancing our customers' websites. Let's dive into striking the right balance between design and usability.
Design Concepts Defined
Let's get up to speed on some concepts that will get us on the same page regarding users and how they interact with websites. Referencing Raluca Budiu's video below, here are some general laws around design concepts and why you may see sites created in the standard patterns with design applied around those repetitions across websites worldwide.  
Repetition is the mother of learning: every repetition helps users practice a concept, a task, or an interaction. So, if your site uses a standard interaction pattern that people have encountered before on thousands of other sites, you're taking advantage of all the prior practice that users had with that pattern, and you're helping them be efficient on your site. That's the idea behind Jakob's Law.
Jakob's Law: your users spend most of their time on other websites, so it pays off to be consistent and follow well-established design standards.
On many of our tourism websites, you may find similar patterns based on established design standards. Designers will use similar patterns with global navigation for larger browsers, along with an approach that considers the mobile menu requirement as designs are optimized for mobile and small tablet displays. The content shown in page layouts can have a mixture of familiar blueprints mixed with what we consider best practices for listings and how they should be laid out — an import metric for many destination marketing websites. In almost every case, these elements follow well-established design standards familiar to end-users. 
A point often discussed in overall UX research is the user's familiarity with navigating websites in general. If we only design websites that people are familiar with, then wouldn't that leave our sites to be a bit on the dated side of trends? Often, this question has a fine line and, when discussed with destination marketing organizations, can be viewed as playing it a bit too safe if the site is heavily standardized with best practices. The questions arise asking if the approach will leave any room for innovation or affect the destination brand they are trying to promote authentically .
That's where the line matters. Simpleview can develop a site that not only takes best practices into the development but can adjust the level of branding and innovation towards either extreme while maintaining a unique voice and display. A new website or redesign can have the best of both following established and familiar design patterns and still leaving room to follow the latest design trends that work hand-in-hand. It's a matter of choosing the right areas to innovate.
Taking Risks
There's usually a slight risk with jumping on a trend, but if you feel like you've got the brand equity to push some innovative ideas, it could be worth the risk! Taking on a trend can also be something your Simpleview team helps to measure and track through search and conversion rate optimization; using those services can help our team provide recommendations on boundaries that have strayed too far for the user to understand or where they are succeeding. The risk you take could even introduce some leading tourism website trends or change some of the best practices for the whole industry.
In 2015, I worked with the team at Paducah Convention & Visitors Bureau to design their website. The guiding brief at the time was to bring out their creative brand essence while using and implementing best design practices. When beginning the design process, I was inspired by the convention & visitors bureau's (CVB) magnificent championship-level quilts, which we implemented into their site design as a way to show off its unique brand. That website version held up for years because it continued to support its identity, was familiar to end-users and its brand and was easily navigable. With a recent website launch in 2023, our Experience Design team was able to follow a similar creative brief and take advantage of modern established website design standards while still supporting the essence of the creative Paducah CVB brand.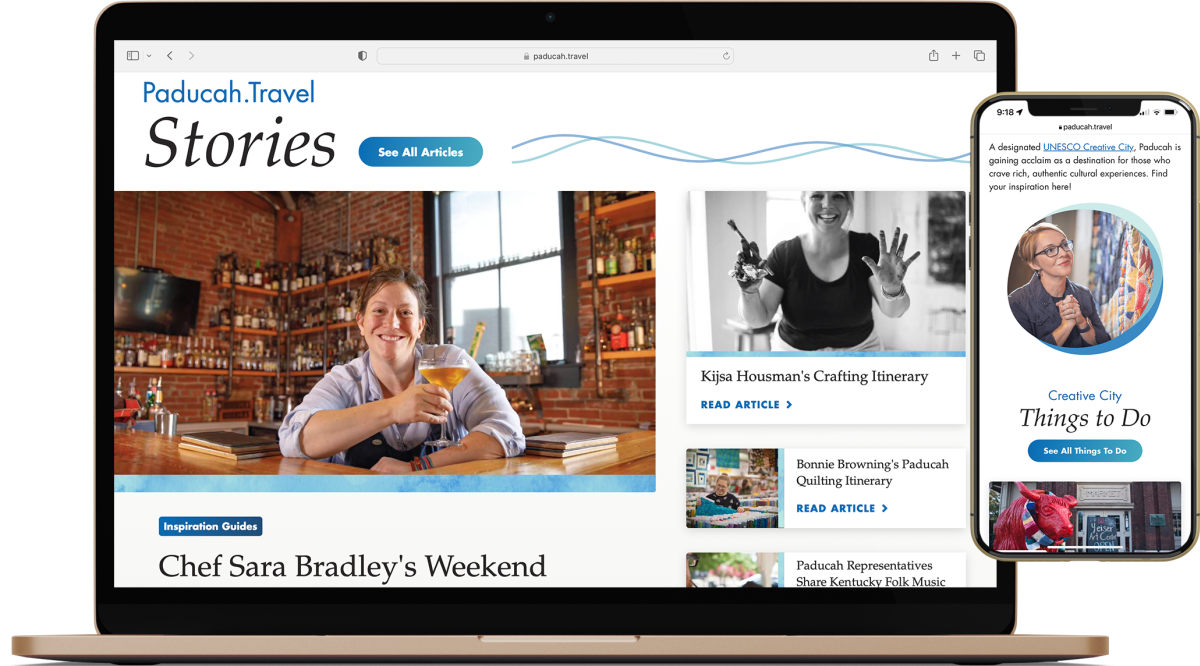 Like Paducah Convention & Visitors Bureau's new website, I recommend a holistic approach to our clients to ensure their website has the established design patterns where it really counts. This usually consists of a 70-80% range, which leaves the other 30-20% available to push boundaries and introduce innovation. 
While there are many other elements of design we could go on about, I will always go back to the basics: have a good balance of best-practice and design innovation that is true to your DMO. If you want to learn more about design standards, here is a video from the Director of Research for NNgroup Raluca Budiu, Ph.D. It sums up when to follow established design standards and when to take the risk to push innovation on design: Consistency vs. Innovation in UX Design.
Did you know that every year, more than 90 million people touch, click, swipe and scroll their way through websites and apps designed by Simpleview? Let's talk about your brand vision and website design goals so you can join in the success.
Get your free design consultation