Each year, the Southeast Tourism Society (STS) hosts Marketing College, a week-long curriculum that teaches marketing techniques from all facets of the tourism industry. Simpleview awarded scholarships to two professionals from client destination marketing organizations (DMOs) for the June event, which took place in Macon, Georgia.
This year's recipients were Destine Lalas and Megan Carlisle. For both, it was their first time attending Marketing College.  
Destine Lalas is the marketing manager at Coastal Mississippi, and while she has been in marketing for several years, it is her first year in the tourism industry. 
"I've never attended Marketing College before," said Lalas. "It's something I was super interested in because I love keeping up with the current marketing space – and for this to be tailored for tourism professionals, it was the total package! I was fortunate to be selected by Simpleview as one of their scholarship recipients. Without this opportunity, I wouldn't have been able to explore the different facets of tourism marketing and meet some new, lifelong friends."
Megan Carlisle is the senior brand engagement manager for Experience Montgomery, a division of the Montgomery Area Chamber of Commerce. She's been with the DMO for five years.
"I was thrilled to be able to attend Marketing College on a scholarship so that I could really deep dive into how to market in the tourism industry," she said. "The tourism industry is unlike any other industry in that it has so many facets, from outdoor adventure, history, food and nightlife, and more. Montgomery has so many different areas to explore it was important for me to gain the knowledge in order to market our city to our vast audience in the right way."
Lalas and Carlisle reflected on their experience in the form of a Q&A to share with other DMO marketers the value they found in attending. 
Destine Lalas
Marketing Manager
Coastal Mississippi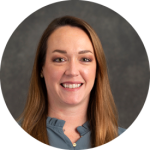 Megan Carlisle
Senior Brand Engagement Manager
Experience Montgomery
What was your overall experience like at Marketing College?

I had an incredible experience! I enjoyed the opportunity to network with other tourism marketers and share the different tactics we use to bring new visitors to our destinations. I also appreciated that the organizers planned events that allowed us to experience and explore Macon.

Marketing College was one of the best experiences I have had so far in my professional career. I loved being back in that college environment with like-minded peers. It was such a great program to be able to network with others and talk about all of the projects and ideas we have.
---
What sessions did you find the most interesting or relevant for your job and why?

That's a tough one! Every class was so beneficial in understanding the different aspects of tourism marketing. My three favorite takeaways were learning about which KPIs aren't as important to track and the best ways to represent data (visually), what goes into planning a big event and making it successful, and — of course — learning the different ways to keep track of tourism partners and our engagement through Simpleview's CRM.

I really enjoyed the Social Media Content Planning & Distribution session. Learning about how to really utilize the channels and getting a foundation for how to develop content was extremely helpful. Another session I found helpful was Destination Branding. Learning how to be consistent with your branding efforts and make sure you are communicating properly was something I have taken back and already begun implementing in our strategy.
---
How do you think attending Marketing College might impact your career going forward? Did you have any immediate "once I'm back at the office, I'm going to ..." moments of inspiration? 

Attending STS Marketing College has helped me to grow with confidence in my role as a marketing professional in the tourism industry. As a graphic design geek, I was most excited about the different ways I can update print collateral to reach maximum benefit for our tourism partners while supporting our internal marketing efforts.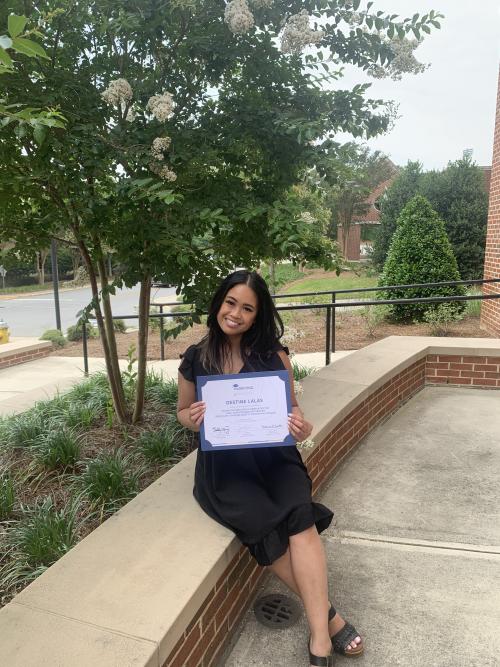 Destine poses with her certificate
As soon as I got back to the office, I was so excited to share what I learned! I found myself eager to share my newfound knowledge by labeling my notes for specific teammates to ensure I share certain tips and tricks with them. 

Attending Marketing College has created a network of colleagues I can now reach out to for bouncing ideas off one another. The Experience Montgomery marketing team will start to broaden our social media content, specifically video content to really showcase our city and the authentic experience.
Instructors are industry-related professionals from across the United States who bring a working knowledge of current trends, data, and implementation for tourism and travel. Simpleview presenters this year were Sandee Jordan, director of customer experience, and Zach Brown, SEO manager. They co-presented three sessions: Google Analytics Basics, User Generated Content and Internet Privacy, and User Experience.
Want to keep up to date on industry trends?
Subscribe to the Simpleview newsletter to get the latest blog posts delivered straight to your inbox.
Sign up