Unlike leisure travelers, meetings and events planners come to destination management organization (DMO) websites with one mission in mind — to discover if this destination is the right destination for their particular meeting or event.
You want to make it easy for them to say, "Yes, it is." 
Here are six ideas for including purposeful content on your meetings microsite to help planners put your destination on the shortlist and request an RFP:
1. Planners are on a mission. Give them "the needed stuff but not too much fluff." 
Planners arrive at your site with purpose. Yours is one of several websites that planners are likely visiting that day, and they're looking for a logistical, nuts-and-bolts framework for their meeting or event. You should strive to be the central source of information for your destination.
The items they need to find easily include: 
Facts and figures, including information about facilities, hotels and lodging, and transportation
A list of services and suppliers for events in your destination. Information about sustainability and accessibility
Information about meeting incentives
Local restrictions and policies around the COVID-19 pandemic; how will you ensure their attendees will be safe and feel comfortable?
Who is their sales contact, are they assigned by size of group, market segment or region of the country, and how can they quickly and easily reach them by email and phone?
[Unable to render content]
2. After building your meetings microsite to be practical, it's time to make it pretty. 
Make the site come alive with video and User Generated Content (UGC) specific to meetings. Not only are they visually interesting, they help considerably with average time on page. Every minute they're spending on your website is a minute they aren't on the competition's site. 
Visit Indy does a lot right with its meetings microsite, including showing "real photos from real meeting attendees." An additional benefit of UGC is the timeliness of the content. In this example, you'll note the face masks and ability to social distance during events:

Visit Indy's UGC highlights
One of the most clever videos we've seen this year is one made by Business Events Perth (check it out for inspiration), which is hosted by a charming "tour guide" who takes planners on a tour of the city and event venues. Planners can "choose their own adventure" in terms of venue size, accommodations and experiences. The video shifts to reflect their choices. 
3. Provide a strong call to action and reap the rewards.
Planners come to your meetings site with purpose, and you have one, too — you want to not only provide them with information, but to entice them to seek direct communication with a member of your sales team. 
After working with Simpleview's Conversion Rate Optimization (CRO) team to streamline the path it wanted meetings and event planners to take, Greater Fort Lauderdale saw impressive results within two months, including: 
Conversion rates increased 95% in click-throughs to the Request For Proposal (RFP) page
A 25% increase in engagement (pages per session and average session duration combined)
An increase in RFP submissions of 128%
You can read more about Greater Fort Lauderdale's success here.
Another DMO that understands the value of a strong call to action is Visit Monterey. Notice how the main meetings page has not one but two "Submit an RFP" buttons. You'll also be invited to chat live with a destination specialist. 
 

Monterey County Convention and Visitors Bureau meetings website
4. Offer a meeting planner guide that can be downloaded.
Because planners are collecting information from multiple DMO websites, having a downloadable planner guide allows them to compare destinations more in-depth and to have as a handy reference. Ideally, you'll want to track via the download button.  
Visit Corpus Christi's new meeting planner guide is available for both downloading and viewing online. In addition to including information on incentives and event spaces, it capitalizes on travel trends by giving reasons why attendees might want to turn their attendance into a "workcation" and enjoy local attractions such as the beach, fishing and golfing.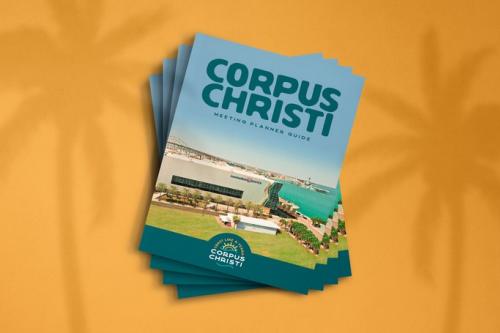 Visit Corpus Christi's downloadable meeting planner guide
5. Let planners hear from colleagues who've chosen and loved your destination. 
Hearing from colleagues gives planners reassurance that choosing your destination is a good decision. This serves not just as a client testimonial but as social proof, too. Offering other planners' experiences means, first of all, that the destination has planners happy enough to be willing to recommend it. Second, it gives planners a glimpse of the process others went through while researching, planning, and executing their event.  
Here's a video Visit Raleigh includes on its meetings microsite that includes three planners who sing the praise of the destination as a meeting venue: 
Visit Raleigh's client testimonial video
Visit Oakland has an entire page dedicated to client testimonials. By sharing testimony from a variety of colleagues who had successful meetings and events in the destination, you allow planners to find testimonials from events that are most similar to one they're planning. 

Visit Oakland client testimonials
6. COVID-19 concerns remain, and planners need to know destinations' policies.
If your destination has something to brag about that differentiates it from other places, serve it up. Planners will take note, and it may well give you a competitive advantage. 
Here are a few examples of how Visit Greater Palm Springs makes sure planners know it takes visitors' health concerns seriously. Not only does it promote the fact that over 80% of the region is vaccinated, but the City of Palm Springs initiated the Safer Together, Greater Together Pledge, which over 500 businesses have committed to. 
 

Visit Greater Palm Springs' health callout
Its video shows how local employees and businesses take guests' health seriously, from everything to food preparation and serving to room cleaning and transportation. It also shows guests safely enjoying the great weather outdoors, from area attractions to fitness classes to hotel pools and patio restaurants. When it's snowing elsewhere, eventgoers can be attending meetings outdoors.
Visit Greater Palm Springs' safety pledge
The Palm Beaches in Florida is the first destination in Florida and one of the first destinations in the U.S. to support hospitality businesses in pursuing GBAC STAR accreditation — a rigorous 20-step training and implementation process undertaken to assure consistent focus on best practices in infectious disease prevention. From the airport to the convention center, travelers can know the same safety protocols have been adhered to:
The Palm Beaches safety protocol video
So there you have it — six ways to make your meetings microsite content more purposeful to meetings and event planners. Doing so might give your destination the edge ... and those valuable dollars that come along with planners choosing you.