There's no such thing as too much information for destination sales teams, and since launching Simpleview's Insights Hub, destination marketing organizations (DMOs) have had access to unique insights and trends to help plan, pivot, and make important decisions. 
In this recent video, Christine "Shimo" Shimasaki speaks to the importance of data in strategically working with local partners to help drive demand when it's needed most and to monitor and measure the impact sales teams are having. For information specific to your DMO, there are a wealth of reports available in Simpleview CRM. Here are six of the most helpful ones to give you a good glimpse of the big picture: 

 Booking and Lead Production Detail Reports
OK, so technically, these are four reports, not one, but we're listing them together because this set of reports gives a holistic view of where leads are in the cycle:
​
​

 City Lead Log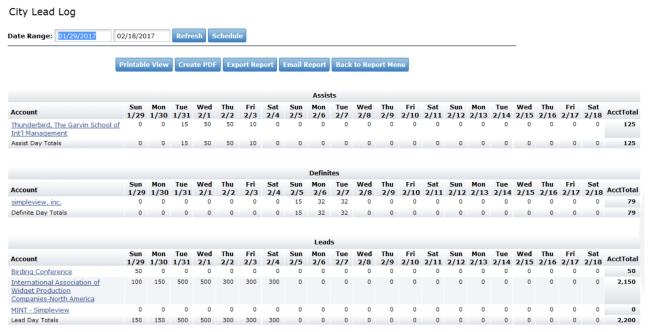 This report displays the daily total contracted and requested rooms for all leads in "Definite," "Assist," and "Lead" status arriving within the filter date range. The City Lead Log reports the current daily numbers for room blocks. "Definite" and "Assist" leads will display the contract room block per day, while "Lead" status will display the requested room block daily numbers for groups arriving in the date range.
The City Lead Log shows booked rooms itemized by hotel or property, grouping each by "Lead" status. This report also provides a snapshot of what is happening on a case-by-case basis. 
Many DMOs have taken a version of this report and the Definite Convention Calendar and made them available on the portal. This way, a restaurant can log in to see which nights might be busy and schedule staff accordingly. If you do not want to post this publicly, you can also use these reports to send out emails to selected businesses and partners within the area to alert them that there will be an influx of visitors. Templates can help in this situation because they allow room blocks and locations to be pulled in dynamically. For example, if there are a few downtown hotels that will have an influx of 800 people for a Tuesday through Thursday block, a restaurant can prepare staffing for the potential surge in business. 

 Simple Pace Report
A great forecasting report that all CRM users have access to is the Simple Pace report. While a bit complicated, the powerful report gives sales teams and management the ability to see the projected pace for three to 10 years in the future based on their past performance. 
Here is a full run-down of the report.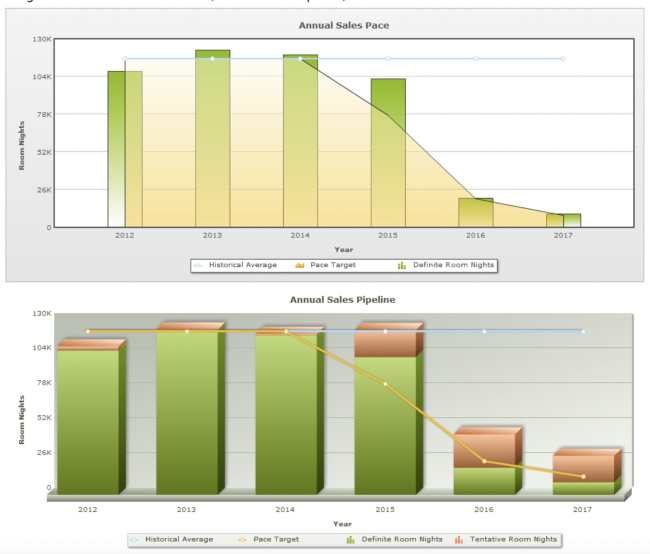 Compression Report
The Compression Calendar is a fantastic tool that shows your booking volume for a specific date range. Knowing your room capacity and tolerance is crucial during peak and slow times; this report breaks down leads into statuses and rooms booked for each night. There are numerous ways this report can be used. 
If you understand your general room capacity, you can identify any nights that might be overbooked and take a look into those date ranges to see any leads that could be problematic. Having definitions next to these leads helps you compare what is booked versus what is still waiting for a decision and whether you have the bandwidth for future bookings. 
Also, the report identifies slow periods. Again, if you have a number in mind of what full capacity is for your area, you can skim through the report and find time frames that are good for prospecting, or even just pass along that information to the hotels so that they can offer enticing deals locally or out of the area.
There's even a filter to see details or a summary of past date ranges so you can better understand the numbers. You might want to schedule this report to go out at the beginning of each month to look at 11 months prior and see what you had in previous years, what to expect, and then gauge these numbers with what you currently have.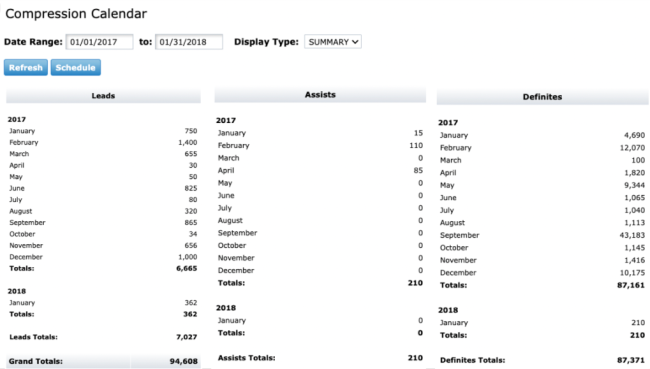 Lost Business Report
This report helps destination sales teams assess the impact of lost and canceled business in their Lead and Booking production reports. The Lost Business Report displays a summary of all Lost Opportunities for a date range, a breakdown of why it was lost, and the estimated economic impact (EEI) for all leads with those lost codes. 
Below the summary is a detailed record of the lost opportunity that includes the account name, the name of the meeting (lead name), the meeting start date, number of delegates, room nights (requested rooms), economic impact, lost reason (lost code), and lost comments.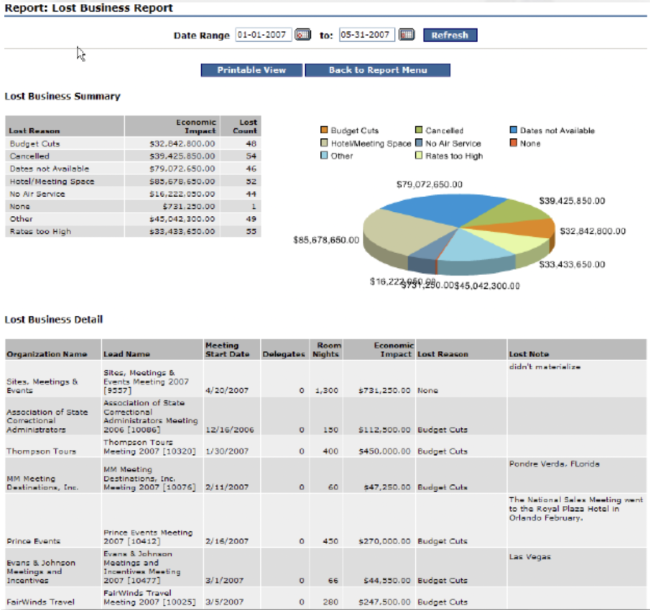 Lost or Cancelled Leads Report 
This Lost or Cancelled Leads Report is based on status history and will return all Leads from all user groups where the Lead has a lost or cancelled status type in the selected date range. Report data can be filtered by date, user group, Lead Status (Lost or Cancelled), and Lost Code(s).
Like the Lost Business Report, this report can help destination sales teams assess the impact of lost and cancelled business in their Lead and Booking production reports.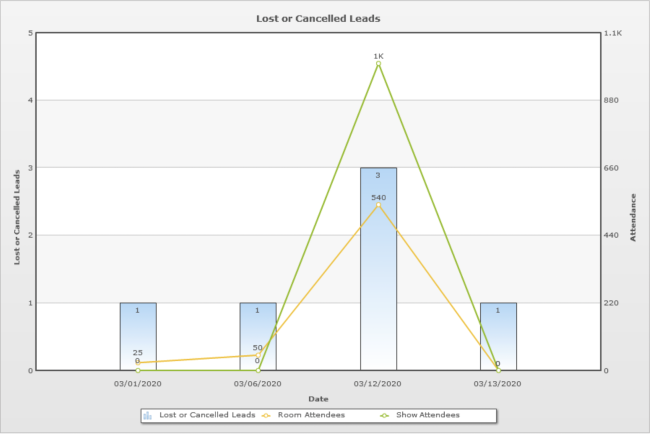 [Unable to render content]
Special thanks to Jocelyn Frazer, QA Engineer 3, for her subject matter expertise.