After 20 years of working alongside tourism pros deep in the tactical application of technology, you learn a few things. You celebrate their successes and strive to solve their most stubborn struggles.
For some, it's desynchronized data. For others, it's temperamental tools that hinder their work. And for many, it's time spent managing their systems instead of working on things that matter.
While each destination marketing organization (DMO) around the globe has unique challenges, there are a few common themes we hear most often. Here are the top 10 (and a half) — and how Simpleview CRM creates solutions.
1. Unorganized Data
Are you pulling together data from a patchwork of products to get the full picture? Not only does that deprive your team of the ability to communicate and respond with certainty, but it takes time to manually piece the picture together.
Simpleview CRM organizes all of your data within one central hub. It's an infinite repository of all of your contacts, communications, media, event scheduling, and tasks to do. No more spreadsheets or post-it notes strewn about your desk. Just harmonized data with a simple click.
 
2. Difficulty with Reporting
Sales forecasting, custom reports, and the robust reporting functionality that gives every member of your team the information they need to act. You'll find it all in the Simpleview CRM.
Get an easy glimpse into your inventory and how many rooms you have on the books so you can know where you're short, and where you need to target
Twist data as needed to create the reports your team needs
Combine your reports with Simpleview Data Engine to create the most robust reporting in the travel industry
Need to anonymize data for a contact? You can remove personal data while retaining your reporting data for that contact
3. Disconnected Tools
We live in an age of connectivity. That's as true for the world as visitors explore new destinations, as it is for the tools we use every day. So when our technology doesn't synchronize smoothly, it doesn't just create headaches — it steals time away from more important work.
Simpleview CRM is built with integration at its core. Connect to tools that empower automation, deeper data insights, research into the industry's biggest databases, and more essential functionality.
Whether you want to sync with one of our 30+ products and partnerships like Simpleview CMS, MINT+, Act-On, Eventsforce (and so many more), or plug in other tools through an Application Programming Interface (API), you can flexibly and intuitively connect all your tech for the best performance.
 
4. Partner Relations
There are countless cliches that could apply to your strong relationships with your partners: teamwork makes the dream work; sharing is caring; none of us is as smart as all of us.
But one thing is clear — providing seamless opportunities for collaboration saves time and strengthens relationships for a more durable future.
With Simpleview CRM and the Extranet, your partners are empowered to update and see information on their own. Not only can they update their listings, events, and coupons. They can also join in campaigns, pull their own reports with the most up-to-date data, submit payments, and update the amenities available.
Collaboration without the bottlenecks.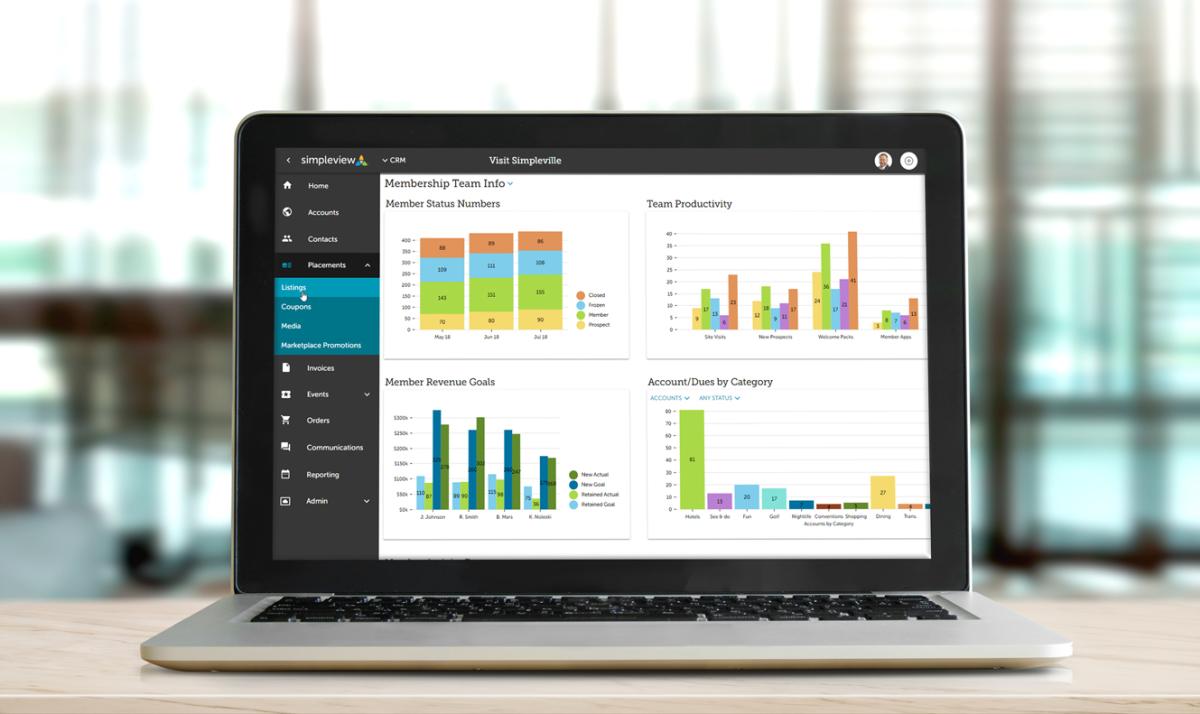 5. Unclear ROI
We know how important it is to maximize the impact of every dollar you spend, but when you can't track the ROI of your key initiatives, how can ensure the investment was worth it?
Simpleview CRM helps you analyze the sources of your business. Get a detailed picture of where you met each contact, if they've come on Fam Trips or site inspections, and which tradeshows you've seen them at so you can determine which activities are the most effective.
Add tags based on your contacts' industries, business size, and more for visibility into what kind of business you're attracting so you know where to focus your efforts and how to identify adjacent markets to target.
 
6. Sleepless Sales Teams
How many bookings do we have coming in? How many rooms have we got on the books? How healthy is our pipeline? These are just a few of the questions that keep DMO sales team awake. 
We can't help you sleep, but Simpleview CRM can help you forecast your sales through robust reporting. Analyze your pipeline for better visibility into where prospects are, how many are stuck, and where you need to focus to close deals.
And if you connect it to Act-On, you can build lead scoring that aligns your marketing and sales teams on what's working, who to contact, and what to say.
 
7. Messy Marketing
Integrated marketing is everything, and a purpose-built CRM can serve as the backbone of your integrated marketing strategy.
As your central hub, it lets you see contacts' communications history (and interactions), seamlessly integrate with other systems, and identify the perfect audience segment.
Here are a few ways how:
Create lists based on the custom criteria you need to create the perfect audience for your next campaign
Elevate your marketing when you combine Simpleview CRM with Act-On. It lets you create automated messaging, logic-based drip campaigns
Nurture partners, sales contacts, and visitors along their journey with automated welcome sequences and behavioral automation
Showcase the results of your campaigns to board members and other stakeholders with robust reporting and built-in dashboards
8. Time-Consuming Customer Service
Servicing your customers and partners is essential but it can quickly devour your team's time. 
Simpleview CRM's intuitive extranet system allows partners to find solutions and answers on their own, and interact with you as much as they want without ever sending an email or picking up the phone. In turn, your team can see the interactions and communications with each account to make more informed decisions and deliver more personalized service.
Personalization is baked into everything the system offers. Add personal touches to automated communications, see the account history for each contact throughout your relationship, automatically generate invoices and accept payments, and people-proof the process so new team members can step right in.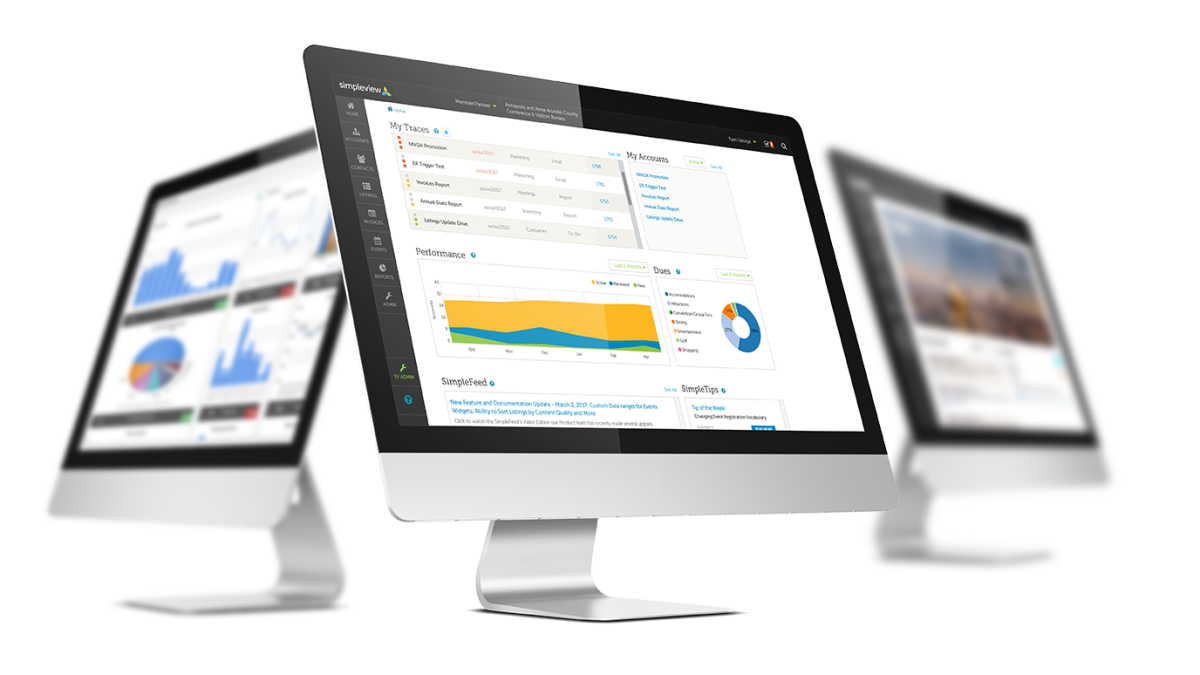 9. Clogged Workflows
When you work alongside the pros who use your tools every day, you learn how they work (it doesn't hurt to have former DMO pros here at Simpleview too who provide their hands-on insights).
So we pack our CRM with pre-built workflows for 24 different tourism roles to help your team quickly get up to speed and operate smoothly. Push leads smoothly through the pipeline, ensure no one misses a step with your vital data, build in triggers and traces for efficient operations, and more.
 
10. You Worry About Security
When a tool touches every member of your organization, it's essential to make sure each person has the necessary security level to do their job error-free (or as close as we humans can get). 
Simpleview CRM gives you the ability to customize each user's security level. Give them access to the features they need without overwhelming them or creating an opening for accidents.
You'll never have to worry about compliance safety because we ensure our products always meet state, federal, and international regulations.
 
10.5. Work From Home
The working world is more dispersed than ever. Whether you're at a tradeshow, working from home, or traveling for business, you want access to your most important tools. So take your CRM on the go.
Because Simpleview CRM is in the cloud and equipped with a mobile version, you can access it from anywhere. Your phone or tablet can now become a mobile command center.
Ready to maximize your productivity with one system?
Join the 1000+ destinations that choose Simpleview CRM to manage partner relationships, group sales, organize workflows, promote leisure travel — and so much more.
LEARN MORE