Over the past few years, social media has become a key channel for destinations to market to younger audiences. In fact, a study by Amp Agency found that 84% of millennials and 73% of non-millennials are likely or very likely to plan a trip based on someone else's vacation photos or social media updates. 
When it comes to planning, Gen X travelers may head to Pinterest for travel inspiration, scrolling through aesthetically pleasing blogs entitled things like "The Top 10 Things You Can't Miss In San Francisco;" meanwhile Millennials might use Instagram to create saved folders full of insta-worthy restaurants and attractions for future trips. But when it comes to Gen Z, more and more they're turning to a key new player in the social media landscape: TikTok. 
The video-sharing platform saw a large spike in popularity during the initial months of quarantine, soaring to more than one billion active users worldwide (as of February 2021). As a destination marketer, you may be wondering: so what does this have to do with me? 
It's More Than Just A Dancing App For Teens
Even as TikTok has gained popularity, it's also gained a reputation as an app for teens to film themselves dancing to popular songs. And while you'll certainly find that content on the app if you go looking for it, that's definitely not all there is to it. According to the latest data, around 50% of TikTok's global audience is under the age of 34, with 26% between the ages 18 and 24. For destinations, it's important to note the impact that young adults can have on planning for family trips, as well as their potential to plan trips of their own in the coming years.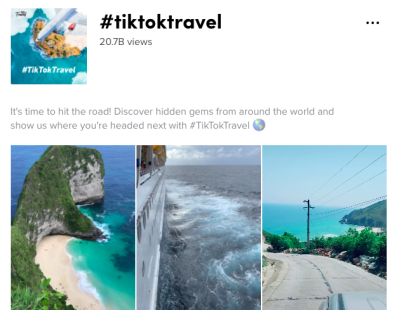 Additionally, travel content is a burgeoning sector of the platform. While it seems that few destination organizations have jumped on board so far, travel influencers and destination enthusiasts have taken it upon themselves to create content for destinations, with hashtags such as #travel and #tiktoktravel seeing more than 50 billion views combined.
When it comes to the videos themselves, influencers and content creators tend to post more inspirational videos showcasing awe-inspiring views and luxury resorts. Instead, DMOs may want to look towards local bloggers for inspiration when it comes to creating content of their own. These accounts may post reviews of their favorite restaurants, short vlogs of their day-to-day activities, or round-ups of things to do in a particular destination. Not only could DMOs replicate this content, but they could also partner with local bloggers and influencers to create similar videos if they don't have the resources to do them in-house. 
TikTok Isn't Just a Passing Trend
Let's face it, the last thing social media managers want to do is keep up with yet another social media platform. From Facebook posts to Instagram stories to Fleets and Reels, content creation can feel like a never-ending task, and it can be hard to determine where to invest your time and resources. But at the end of the day, video marketing isn't going away anytime soon, and you can always maximize your efficiency by repurposing content for TikTok to Instagram Reels, where videos get more than 2x more engagement than Instagram photos. Speaking of engagement, did we mention that TikTok's average engagement rate is 29%? That's a far cry from the usual 3-5% you see on Instagram and Facebook, so it's definitely worth giving the platform a try! 
If your destination is already using TikTok, we'd love to feature you in an upcoming blog! Reach out to your account manager or send an email to marketing@simpleviewinc.com.