Destination DC's commitment to diversity and inclusion is sowing the seeds of a more vibrant and inclusive community of locals and visitors. Among noteworthy initiatives are its DEI Business Fellowship and an apprenticeship program for early career professionals through Tourism Diversity Matters. On the destination marketing organization's (DMO) website, the DEI District provides curated content focused on how DC can be experienced through a DEI lens. 
Internally, the DMO has embarked on an interactive journey designed to introduce staff to the kaleidoscope of diversity thriving within the heart of Washington, DC. We asked Jerry Joseph, convention services manager at Destination DC, to share details of the DEI subcommittee spearheading the initiative. He does so in this Innovators & Influencers video and the Q&A below.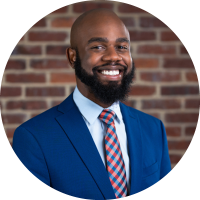 Jerry Joseph
Convention services manager
Destination DC
---

 Tell us about the subcommittee you started to introduce Destination DC staff to diverse aspects of the community. What was the goal behind it?
Destination DC (DDC) initiated a DEI task force with the goal of fostering an environment where employees can engage in discussions concerning equality and opportunities that span race, gender, sexual orientation, religion, and ethnicity. While DDC's efforts are commendable, I recognized the potential for enhancing the existing initiatives. It became apparent that an interactive element could be integrated. 
This interactive aspect is designed to facilitate a more comprehensive understanding of diverse viewpoints. The idea centers on immersing ourselves in different cultures and communities, which in turn creates a conducive environment for more authentic interactions and a broader global perspective. To address this, the activation subcommittee was established. This subcommittee functions as an educational and hands-on platform. Its primary objective is to provide the organization with an opportunity to actively learn, grow, and connect with various cultures and communities.
---

 The subcommittee's focus on exposing staff to the local art scene, cultural activities, and minority-owned restaurants and businesses is intriguing. How do you ensure that these experiences go beyond surface-level exposure and actually foster meaningful connections and partnerships between your organization and the diverse stakeholders in the community?
We firmly hold the belief that these experiences must transcend mere surface-level exposure. For each activation, we have integrated an educational component that serves as the bridge tying everything together. In our planning, we proactively scout avenues for collaboration that harmonize with shared interests, thereby laying the groundwork for robust and purposeful partnerships.
As part of our approach, we ensure that a brief, but insightful overview of the vendors' backgrounds is provided. This not only provides knowledge but also elevates awareness and visibility among the staff. Our intention is to shed light on the people and stories behind these establishments, fostering a sense of connection and appreciation. Furthermore, our commitment extends beyond the professional sphere, as we actively encourage our staff to explore and engage with various businesses and vendors throughout the city through staff-wide activations and on their personal time. This step reinforces our dedication to supporting the local community, nurturing relationships, and contributing to the city's vibrancy. 
Some of the things we've done this past year to bridge a greater understanding of community and culture in our own backyard have included a salsa dance lesson during Hispanic Heritage Month. Along with learning about the art of salsa dancing, the staff dined on Mexican cuisine from a local business whose female owner was born in Jalisco, Mexico. These types of experiences connect staff to our members and local businesses in a meaningful way and expand our understanding of the diversity and character of Washington, DC.
---

 When you contact partners and other community members about arranging activities, what's been the overall response?
We have been thrilled to discover an interest in the collaborations and activities that we are introducing to our staff. The level of enthusiasm has been remarkable, with several members and partners displaying a willingness to go above and beyond. Some commitments have materialized in offers to waive rental fees or contribute in-kind resources, demonstrating a genuine eagerness to be part of our collaborative endeavors. 
While not every organization's timing aligns with our initiatives, the prevailing sentiment has been overwhelmingly positive. Most of our interactions have been met with receptiveness. This serves as a testament to the appeal and value of the activations we are orchestrating.
---

 What advice would you offer if other DMOs are interested in starting an initiative to actively explore and experience their community's diversity?
Reach out to different members and partners in your community, you never know what organizations will be interested in this initiative. Provide the opportunity for staff to explore their community's diversity and expand their perspective of an inclusive environment. Discover different talents and aspects of your community. Finally, understand and leverage the diversity that individual staff members bring to an organization.
Want to keep up to date on industry trends? Subscribe to the Simpleview newsletter to get the latest blog posts delivered straight to your inbox.
Sign up