In 2008, building a pedestrian bridge linking two states seemed like an unnecessary expense to some. However, when Bob Kerrey Pedestrian Bridge was unveiled, its unique S-curve design quickly made it a landmark of Omaha, Nebraska, connecting Nebraska and Iowa. The bridge linked two states and served as a gateway to over 150 miles of trails, leading to a lot of outdoor adventure.
The bridge didn't have the scope or scale of the destination-defining Gateway Arch in St. Louis or the Golden Gate Bridge in San Francisco, so Visit Omaha was faced with the challenge of how to develop its new bridge into a true landmark that could help promote Omaha as a tourist destination. The solution came in 2015 when the destination marketing organization (DMO) decided to give the bridge its own personality to draw in the crowds. 
"Hi. I'm Bob. I'm a Bridge."
"Bob has become an attraction in his own right," said Jasmyn Goodwin, vice president of marketing at Visit Omaha. "He connects 150 miles of hiking and biking trails while offering picturesque views of the Missouri River and plenty of photo opportunities. 'He' is also home of the fun and easy 0.9k — when someone walks across him, they become an official marathoner and can stop at the Omaha Visitors Center for a sticker."
Goodwin said that data from mobile tracking indicates that in 2022, Bob welcomed 204,000 people, about 26% of whom were out-of-towners. Earlier this year, the Omaha City Council approved funding for "Baby Bob," a second pedestrian bridge creating easier access between the Bob Kerry Pedestrian Bridge and the north downtown area.
Bob's got his own landing page on Visit Omaha's website. He's got his own Instagram, almost 2,000 followers on Twitter, and his own hashtag, #BobWalking. Visitors take pictures "bobbing" with one foot in each state and share them online with the hashtag #BobTheBridge. 
In 2019, OMAR the Troll was unveiled, and he lives under Bob the Bridge. Children can rub his magic blue toe and make a wish. There is also a children's book that explains how OMAR traveled around the world, all around Omaha, and ended up finding his home.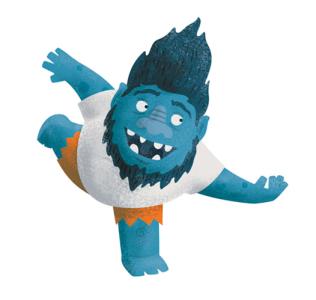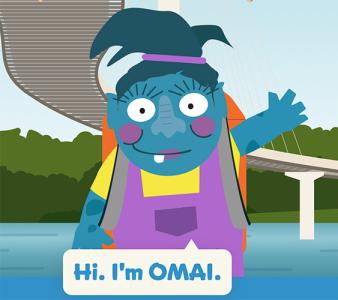 Bob the Bridge's trolls, OMAR and OMAI
Building on OMAR's success, OMAI, Omar's little sister, was introduced last year and travels throughout the city. Footprints and QR codes guide visitors to popular attractions where OMAI might be hiding. Those who find OMAI receive a commemorative button and a free backpack, inspiring children to explore the city and become enthusiastic about its tourism assets.
"Bob offers an escape from the norm with plenty of free, accessible activities," Goodwin said. "There's the 0.9k, 'Bobbing' (standing in two states at the same time while taking a selfie), and visiting with OMAR the Troll and his interactive elements. During the pandemic, Bob was a welcome retreat for families suffering from cabin fever with his distance-friendly experience."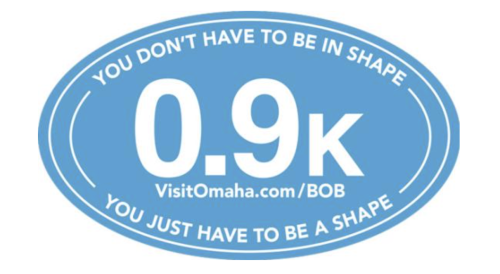 Bob the Bridge run sticker