This Pride Month, we invite destination marketing organizations (DMOs) to delve into LGBTQ+ history, movements, and impacts on families, communities, and tourism.
From boycotts, an increase in hate crimes, and travel advisories, DMOs must consider how to make their organizations and communities more welcoming, take actionable steps to foster inclusivity, and align their brands with equality — not easy even in the best of times, which these aren't. 
We invite you to put a little love in your heart so we can make Pride Month a time of growth for all of us.
 A Conversation with LGBTQ+ Travel Industry Colleagues
Being one of the few (and maybe only) staff members at your workplace who openly identifies as LGBTQ+ can sometimes bring with it a feeling of social isolation. This Simpleview webinar features clients as they discuss their experiences as LGBTQ+ employees and chat about how non-LGBTQ+ coworkers can create a more supportive and inclusive workplace.
 Spotlight on LGBTQ+ Stories — Pride Month on PBS
Get your documentary on with these options streaming in June: 
Mama Bears — They call one another "mama bears" because of the ferocity with which they fight for their children's rights. These mothers are now willing to risk losing friends, family, and faith communities to champion their kids — even if it challenges their belief systems and rips apart their worlds. Streaming June 19, 2023
Casa Susana — In the 1950s and '60s, an underground network of transgender women and cross-dressing men found refuge at a house in the Catskills region of New York. Known as Casa Susanna, the house provided a safe place to express their true selves.
 Who Doesn't Love a Makeover?
Queer Eye is an anthem for self-love and self-acceptance. In the episode,"Sky's The Limit," available to Netflix subscribers, viewers meet Skyler Jay, the first transgender person featured. The episode highlights more than just Skyler's makeover. He explains dysphoria and struggling with the discomfort of one's body, and we learn of micro-aggressions and difficulties that come with transition.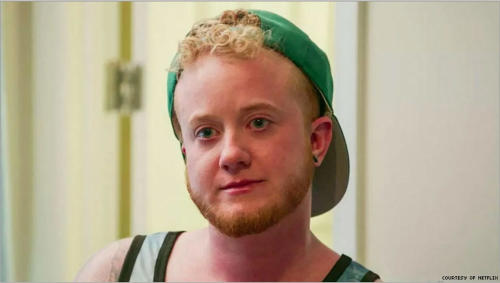 Skyler Jay on Netflix's "Queer Eye"
 Shout-Out to DMOs That Speak Up
Here's Cleo Battle, president of Louisville Tourism, speaking up against a state bill in Kentucky that's one of the nation's toughest anti-trans bills passed.
Want to keep up to date on industry trends?
Subscribe to the Simpleview newsletter to get the latest blog posts delivered straight to your inbox.
Sign up