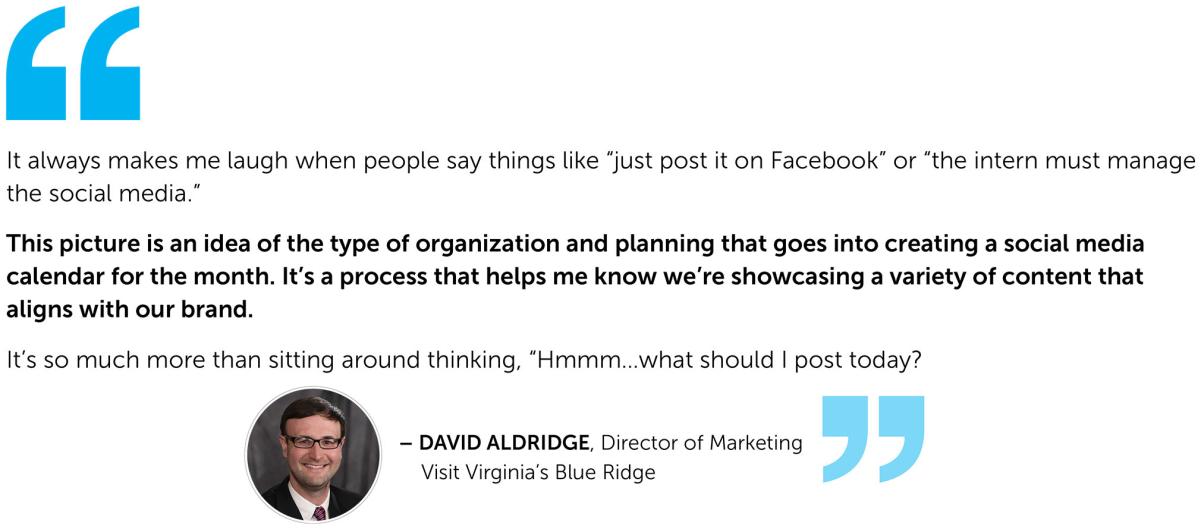 When David Aldridge, director of marketing at Visit Virginia's Blue Ridge, posted this message on Linkedin earlier this year, along with a photo showing a complicated, color-coded calendar of his content strategy (see below), his colleagues took note. "Preach!" said one. "So true!" said another. And, "Bravo, this is so real!" 
Clearly, Aldridge struck a chord with fellow content creators, who understand that creating great content might look easy but is actually difficult to do well. When it comes to destination marketing organizations (DMOs), which have to market not only to local residents and businesses but potential travelers of all types, staying on brand and reaching them where they hang out online — let's just say there's a learning curve.
We asked Aldridge, who was recently selected for the U.S. Travel Association's Emerging Leaders program, to answer a few questions about how he approaches content strategy.
You recently posted a photo of yourself on LinkedIn with your content calendar. It looks very complex! Let's start by having you tell us about your content strategy — what are your top goals with content curation, social media, and the Visit Virginia's Blue Ridge website?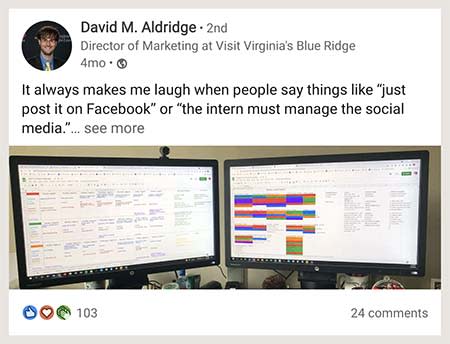 I always tell people the gist of my job is to learn about fun experiences in Virginia's Blue Ridge and then share those experiences with others with the hopes of it inspiring them to come check things out for themselves.
Overall, our content strategy with our website and social media is to feature the unique things to do in our region and use our platform to help showcase our local businesses and communities. Whether that's by directing people to a piece of content on our website or to something from a partner or another organization, we want to help people learn about unique things that are happening in the destination.
And while Virginia's Blue Ridge is most known for outdoor recreation – we have over 1,000 miles of trails for hiking, biking & paddling – we try to be very intentional about shining the spotlight on the rich variety of opportunities people will find by also highlighting our local craft food & drink, arts & culture, history, events, etc., in addition to the outdoor adventures. We're also a regional DMO that represents multiple communities and funding jurisdictions, so a big part of our content strategy involves making sure we're incorporating all those different parts of our region into our messaging and giving everyone the opportunity to be featured.
Walk us through a typical day when it comes to content management. What does it take to be as active as your DMO on social channels?
It starts with having a plan and outline in place for what needs to be accomplished for the day, week, and month, which ties back to that content template outline you referenced in the initial question. In the final week of each month, I create a content template and calendar for the upcoming month to plan what we'll be posting on our social platforms, including certain things we want to feature on specific days, as well as other projects like stories or videos that we want to make sure we create at some point during the month. It helps provide structure and keeps things coordinated with what we're doing from an advertising and public relations perspective, where we're all communicating about the same key topics.
It helps me never be in the position of sitting down at my desk and thinking, "Hmm…what should I post on social today?" It's always been thought out in advance. We maintain flexibility and leave opportunities to pivot, but there is strategy and purpose with what we're doing. It also puts me in a position of regularly having to say no to people who will e-mail and ask us if we can share something on our Facebook page immediately. It doesn't work that way.
On a daily basis, I'll go through the content calendar and publish all our planned posts for the day (or sometimes I'll spend a chunk of time scheduling a bunch of days at once), and then I'll spend time throughout the day checking in on our pages and paid campaigns to see what type of engagement we're getting and responding to any comments or questions. As a social media manager, you're basically always on call when checking the notifications to make sure someone hasn't said something that needs a response – or in the case of Facebook, seeing if someone is mad about something.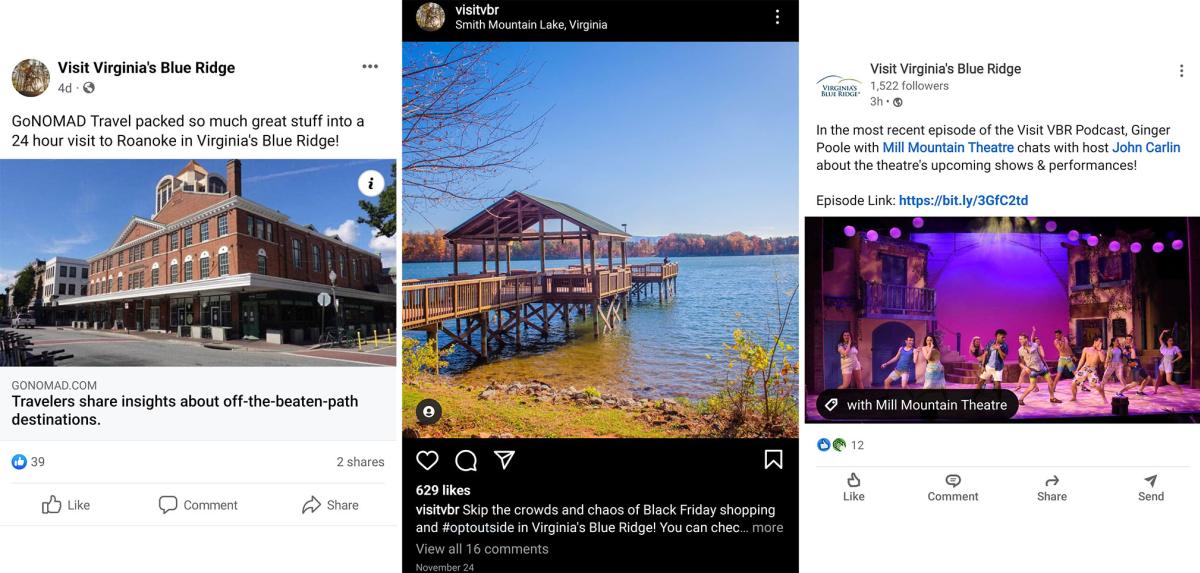 What tools do you use to help you manage your content and content calendar?
I'm not fancy – the content template and daily social content calendar are both just Google Sheets – so basically an Excel document. (I'll probably now get three calls from vendors wanting to let me know about some service we can purchase to help me be more efficient with this …)
For scheduling the social content, we use the publishing tools in the actual platforms, which have become much better over the past few years, in my opinion. The Creator Studio in Facebook has its bugs, but overall, I think it's very easy to use for scheduling posts, particularly on the Instagram side, where you can tag other accounts, add locations, and include alt. text for accessibility purposes.
With our website content, we utilize the Simpleview CMS and also have an SEO & PPC contract with Simpleview. The regular calls and interactions I have with our Simpleview Analysts help us make strategic, data-driven decisions about the new content we create on our site, as well as updating existing content and repurposing that to be used in new social campaigns.

What surprising things have you learned along the way about content management and the importance of it?
I rely heavily on analytics and insights to guide our content strategy and planning – both with our website and with social media engagement. This is also where having regular interaction with the Simpleview SEO & PPC teams is an extremely valuable part of our content management strategy, where they can offer guidance on trends and opportunities.
There have been many times where I've been surprised by the things the numbers will show in relation to how some content performs better than others, whether that's a particular page or blog post on our website or one social media post vs. another. We could put lots of time, energy and money into a big campaign or think we've come up with this awesome idea for a social media series, but the analytics will show that it doesn't have nearly the engagement as other smaller initiatives.
Sometimes that can be a pretty humbling process, and you have to be willing to check your ego when looking at the analytics.
I'm sure many of us regularly sit in meetings and are part of brainstorming sessions where we're expected to come up with the next big idea or the next major campaign, but, in my experience, the best content management strategy often involves a lot of small, steady, consistent steps that help you build a strong foundation over a sustained period of time.

What advice do you have for DMOs that want to step up their game?
Over the past two years, I have changed the way a lot of our web and social content is structured with the hopes of providing more value to the user and to our local partners. In our industry, where it can be very challenging to measure our own impact on the travel decision-making process, I think we can quickly get lost in a maze of metrics and conversions that might make for creating fun reports and big numbers that you can share but don't necessarily help your potential visitor.
 
3+ pages per session, 5,000 visitor guide requests, 2+ minutes time on site, 250 e-newsletter sign-ups — those are all nice, but did they actually help the person who came to your website or Instagram page because they are looking to plan a trip for this coming weekend? We end up creating lots of extra clicks and steps for the user without providing them the information they're looking for.
 
For any piece of content you're creating for your website, social media, emails, or any other channel, I'd encourage you to really think about your end-user, your message, and the simplest, most helpful next step you can provide them in the process to help them learn more about your message. If we can become experts in how to do that, I think DMOs will become fantastic resources in helping people plan their vacations.
Let Automation Do the Heavy Lifting. Destination marketers wear a lot of hats. Let Act-On's suite of tools handle the routine, so you can create more personalized engagement with greater returns.
Learn More