Innovators & Influencers — a destination marketing organization (DMO) deserving of a spotlight and applause. This special edition of Innovators & Influencers features Destination Augusta and the team's willingness to go above and beyond to help address staffing shortages in their destination. We turned to Senior Manager of Group Business Development Iman Johnson, CGMP, and Director of Group Business Development Michelle Bovian for the inside scoop.
 

"The whole world is understaffed … be nice to those who showed up." This is a phrase that the team at Destination Augusta embodies with their Moment of Greatness.
As businesses are seeing significant staffing shortages due to COVID-19, the tourism and hospitality industries continue to roll with the punches of the effects of the pandemic. A surplus of DMOs and their partners are suffering from the effects of being short or understaffed, causing them to change hours of operations to accommodate the lack of employees. 
The team at Destination Augusta saw the need to step up and spread the word about employment opportunities for businesses in their area. "It was an opportunity for us to help our friends. In the hospitality industry, we're all like family. We thought about what we could actually do that would make a difference … This was an opportunity for us to really step in and show them that we cared," said Bovian. 
On July 30, 2021, the DMO, in collaboration with the city government, hosted a job fair to help local businesses spread the message of "Yes, we are hiring!" Promoted on multiple social media platforms, in the local newspaper, and televised by the city during the evening news, the job fair saw huge success — with booths hosted by hospitality partners and government and corporate sectors.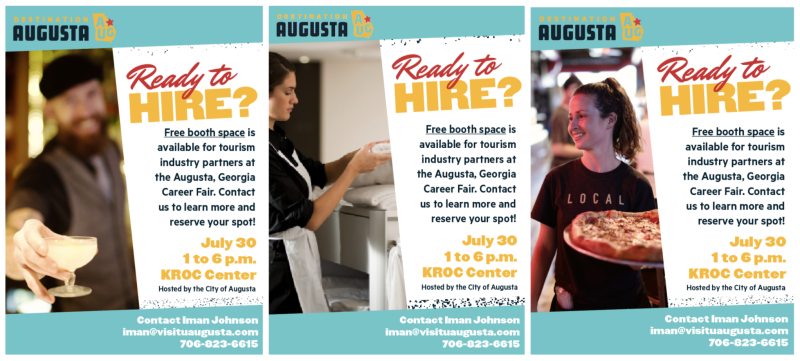 "We are a really community-driven destination. We love what we do, we love our people, and we love our city." 
— Iman Johnson, Senior Manager of Group Business Development, Destination Augusta 
[Unable to render content]