When retail cannabis stores opened to the public in Oregon in 2016, it wasn't just residents looking to buy legal weed — plenty of tourists were cannabis-curious, too. With cannabis still illegal at the federal level, Travel Portland had to carefully consider how it would talk about pot.

At the time, Oregon was just the third state to legalize recreational cannabis, following Colorado and Washington. Because "how should we handle cannabis from a tourism perspective?" is a discussion that's happening or will need to happen at DMOs around the world — and because tourists are increasingly adding "consume legal weed" to their list of things they want to do when traveling — we asked Karen Martwick, director of content strategy at Travel Portland, to answer some questions about what factors were considered from a content perspective. 
Before the Q&A, let's consider how your DMO should refer to it: marijuana, pot, weed, or cannabis? The most straightforward decision is to refer to your preferred style guide. At Simpleview, we use AP style in most cases: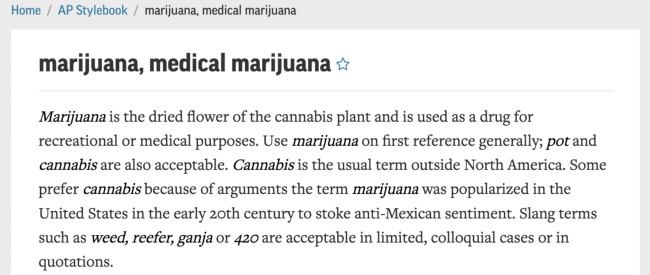 We find it makes sense to differ from AP style in this case. Because our reach is global, we're calling it cannabis, generally because that's the preferred term worldwide; it's also the language in most legislation in the U.S. However, because it seems that online searches for 'pot' or 'weed' are about ten times more popular than 'cannabis,' we recognize these are the terms people are most comfortable with — so we are, too. SEO is always a factor to consider.
[Unable to render content]
 In many destinations where cannabis is legal for recreational purposes, DMOs make no mention of its legality nor provide information for tourists who may wish to partake. What issues did Travel Portland consider in choosing how to talk about cannabis from a content and communications perspective?
Visitors rely on Travel Portland and travelportland.com for information about visiting the city.
When recreational cannabis was legalized in Oregon, we saw the opportunity and responsibility to educate visitors on what is and, importantly, what is not legal when it comes to buying, using and possessing cannabis during a visit. For example, smoking cannabis in your hotel room can result in a large cleaning fee, and bringing it home across state lines or on a flight could get you in trouble with the federal government. We wanted to ensure those who were curious about cannabis knew all the rules so they could be responsible consumers.
---
 Was there ever a temptation to simply ignore the subject altogether? Why or why not? What might be some unintended consequences of not mentioning and providing information about cannabis on your website? 
Portland is well-known for its craft beer, craft spirits, and amazing wine industry, so promoting substances is familiar territory. We never really considered ignoring it completely, but we also knew the average visitor to Portland was unlikely to have a lot of interest in cannabis. It didn't really make sense to promote it in the same way as alcohol, but we knew we couldn't just ignore it, either.
We want to be a resource because that is what visitors rely on Travel Portland for. They want to know what to do while they're here. Educating them on their options if they're interested in cannabis seemed like a natural role. The state was already creating resources, so we really were just linking visitors with that initially. 
Now we have an entire section of our website dedicated to cannabis, which includes educational resources and highlights on some of the unique Portland businesses centered around it.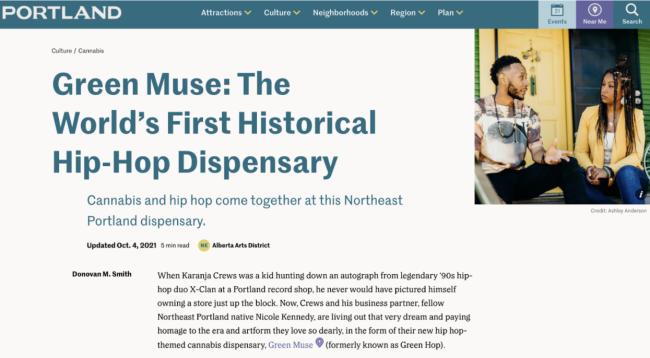 Cannabis educational page on Travel Portland's website
---
 What kind of questions did cannabis-curious travelers have in the early stages, and how have they evolved? What has legalizing cannabis meant for tourists coming to Portland? 
Since our legalization came after Washington and Colorado, it really seemed like that first wave of cannabis-motivated travelers went to those destinations first. Interested visitors wanted to know which dispensaries to visit, tours available, and, again, the rules specific to Oregon, such as our public smoking ban, which prevents smoking anything in a public place, including hotels.
Our evidence is anecdotal because we never asked visitors directly if they consumed cannabis, but we did hear from local dispensaries that many of their customers were from out of state. Since you have to produce an ID and at least initially that ID had to be stored, they had a good sense that many people interested in it were coming from other states. And those from out of state tended to be an older demographic. Of course, that was anecdotal, but it was pretty consistent among the businesses we heard from.
---
 Cannabis remains illegal at the federal level. What challenges does this present for you, and can you think of how you'd shift your message or communication strategy if it were to be legalized federally? 
We do not spend any of our budget marketing cannabis outside of the informational page. It is not a key message in our public relations strategy or marketing efforts. Since it is still illegal at the federal level, we make sure we are well on the right side of those regulations. It's possible we'd shift strategy if it became legalized federally, but people already know and expect to find cannabis in Portland, and if it became legalized federally, every destination would have it, so it would be less noteworthy, which is already occurring with more states allowing recreational use. In a lot of ways, it is similar to craft beer in how it is becoming more prevalent nearly everywhere.
---
What did Travel Portland get right, and what learnings did it have in the first year after the legalization of recreational pot?
We knew people needed information, and we were a delivery vessel for that. We also knew we wanted to do it in a way that promoted responsible behavior. Just as we'd never suggest someone drive after visiting a brewery or winery to taste, we wanted to make sure people were being safe and smart while following all the laws.
---
What advice do you have for DMOs who are just starting to plan how to navigate the introduction of legal cannabis in their destination?
The strategy is different today, and it's probably less of a draw with so many states legalizing recreational use. At this point, each state has its own laws and its own offerings, so I'd encourage DMO marketers to seek out and highlight what makes recreational cannabis unique in your destination while also focusing on the service element of helping visitors have safe, legal experiences.
~~
For more information on cannabis and tourism, check out our Future of Tourism podcast, "The Cannabis conundrum for DMOs: a crash course on cannabis tourism." It features Brian Applegarth, founder of Cultivar Brands, a strategic marketing agency specializing in the cannabis industry.
[Unable to render content]