Imagine a single trail that connects the country. Boundless opportunities for wanderlust between mountain ranges, Great Lakes, deserts, and flatlands — all at a traveler's fingertips (or maybe I should say pedals!) 
For the first time in history, travelers will soon be able to embark on the trail tour of a lifetime, pedaling across 3,700 miles of country on a safe, seamless, and scenic pathway that connects along historic routes. Let me introduce you to the Great American Rail-Trail.
Built along the historic railroad tracks that stretch between Washington, D.C., and Washington State, the dynamic bike path and walking trail will connect more than 125 existing rail-trails, greenways, and other multi-use paths through 12 states. 
Destinations on the route will offer the incomparable experience of exploring America's heritage by one trail with endless potential for adventure. Whether visitors are gearing up to ride or lacing up to walk, the multi-use trail is sure to bring in foot traffic — which destination marketing organizations (DMOs) will be glad to hear.
 
Boosting Local Economies
The economic benefits for local communities along the route of the Great American Rail-Trail are sure to get your partners' and stakeholders' attention. A recent report in 2022 projected the following results over the next 10 years:
2,500 new jobs
$22.94 million in visitor spending
$22.8 million in new tax revenue
$104 million in labor income
$161 million in GDP contribution
 
Take Me to the Trail
Here are four highlights from the Great American Rail-Trail that are sure to have you saying, "Take me to the trail!"
 
Snoqualmie Valley Trail
Located in Snoqualmie, Washington, this trail parallels the Snoqualmie River for 31 miles, following a historic railroad route in the foothills of the Cascade Mountains. Off-road bicyclists, walkers, hikers, joggers, and equestrians can enjoy the views before stopping by Twede's Café — where Agent Cooper enjoyed cherry pie and a "damn fine cup of coffee" in the popular TV show and movie, Twin Peaks.

Snoqualmie Valley Trail
Elroy-Sparta State Trail
One of America's first Rails-to-Trails projects, this 32-mile trail in Kendall, Wisconsin, is perfect for hiking, biking, or snowmobiling. The unique rock tunnels along the trail provide a refreshing break even on the hottest summer days.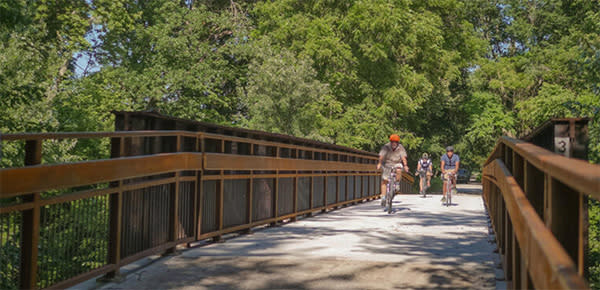 Elroy-Sparta State Trail
The Virginia Creeper Trail
This trail in Abingdon, Virginia, is a nationally acclaimed Rails-to-Trails project that draws visitors from all across the country. Cycle enthusiasts flock to this particular trail to bike ride through a lush tree-lined path for over 32 miles with an elevation gain of 650 meters.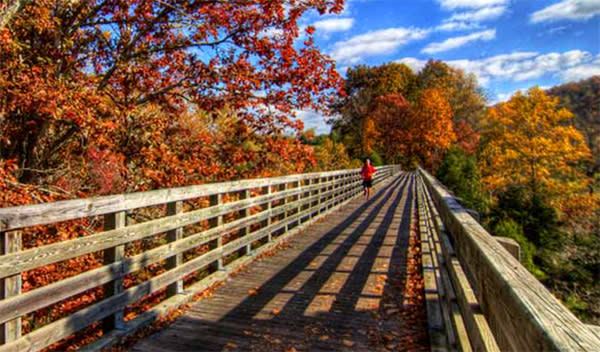 The Virginia Creeper Trail
Flint Hills Trail
Located in numerous parts of Kansas, this trail is considered the "crown jewel" of the destination — boasting 118 miles of outdoor fun and proudly displaying the title of the eighth-longest trail in the U.S. It follows the route of the Santa Fe National Historic Trail and is a component of the coast-to-coast American Discovery Trail.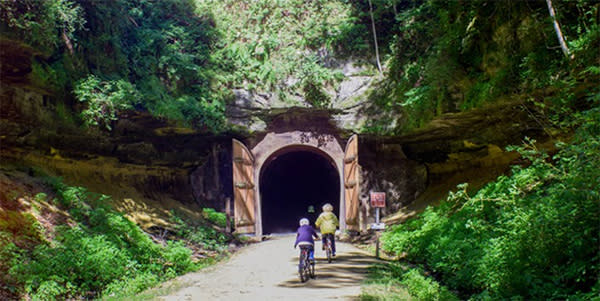 Flint Hills Trail
Want to keep up to date on industry trends? Subscribe to the Simpleview newsletter to get the latest blog posts delivered straight to your inbox.
Sign up