Who's visiting the visitor centers? 
Do destinations still need them?
Are they worth the effort and cost?
Ask these questions of 10 destination marketing organizations (DMOs), and you'll likely get 10 different answers. For every destination that shutters its visitor center, another expands or innovates, so maybe the right answer is — it depends.
We asked three DMOs that are all-in on their visitor centers to answer a few questions about their strategies and share how those strategies have evolved.
[Unable to render content]
Q: At a time when many destinations are scaling back or shuttering their visitor centers, you find great value in them. Why are visitor/welcome centers valuable to your destination?

For us, welcome centers are an extension of the Southern hospitality that is expected in our destination. Our staff gets to know the guest's interests through that human connection and then generates a positive economic impact. Through our Summer 2021 visitor profile study, we know that guests visiting our centers pursued, on average, three more activities than those who did not come in our doors. And with pent-up demand, we were also able to influence the guests to stay on average at least one more day in the destination. Also, our welcome center guests are associated with higher overall experience scores as well as a stronger likelihood to return to the destination.
---

Research consistently tells us that a visitor educated on all there is to see and do in a destination not only spends more money while here but also is more likely to become a repeat visitor that plans another vacation in the future as they will not be able to do everything while here. We also feel that by talking to visitors coming to the destination, it keeps us in tune with what visitors are wanting to experience while here. This insight helps us to create content for our website and social media channels — along with collateral for our centers that we know will be most meaningful and resonate best with our visitors.  For example, due to popularity in visitors asking for information on farms, we crafted a farm guide we now update annually.
---

When we reimagined what we wanted our visitor center to be, we wanted to actively portray the vibrant, bold, and unique culture of Corpus Christi. We aimed to create a space where visitors could not only get information to dive deeper into their vacation but could also feel like they are shopping for their experiences while being immersed in the vibrancy of the Gulf Coast Capital. With that, we decided that making this a revenue-generating visitor info center would be one of our main focuses. In a time where other destinations do not see the value in brick-and-mortar locations, we simply reimagined the possibilities of what we could accomplish that offers more than a place to obtain information.
Q: What is your strategy around visitor centers and how has it changed over time?

We work very hard to help guests understand that we should be their first stop when they arrive in the destination. It's key for first-time visitors, especially to learn about the destination, as some may not understand beach safety or ordinances. Over the years, we have added more avenues (with tracking) to interact with the guests, thus catering to their convenience. Even something as simple as a booth with a team member at a local event is worthwhile.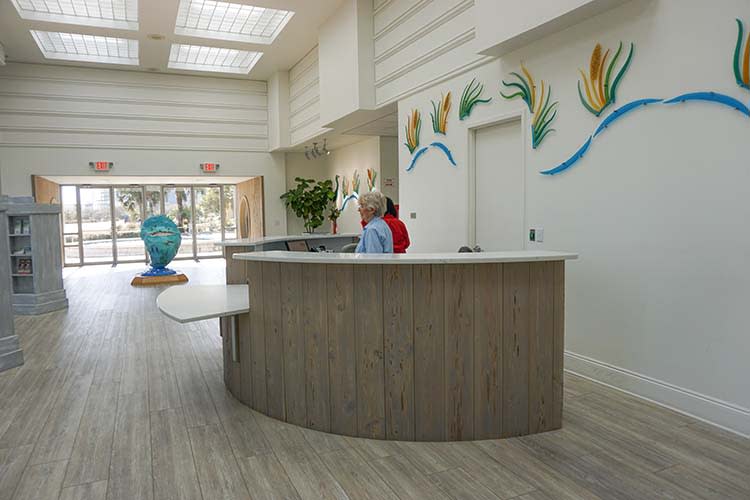 Orange Beach Welcome Center
---

Up until a few years ago, our visitor center was always free-standing, and we were the only tenants in the building. Because of this, a lot of staff time was spent on the upkeep and maintenance of the space. We now partner with two area chambers of commerce in our county and have our visitor centers in the consumer-facing space in their building. This has been a win-win relationship as these chambers feel their purpose is to focus on the business to business opportunities for their partners, so this allows us to use our limited staff to focus on helping consumers and visitors coming in with questions about what to see and do in the area. 
We also are using QR codes more in light of the COVID-19 pandemic as some folks are not wanting to touch paper and prefer digital collateral they can easily view on their phone or electronic device.
---

As we have seen a shift in the wants and needs of our market, we have observed and gathered various components that we have incorporated into our strategy and how we operate. Lucky for us, we have been extraordinarily successful in making every space inside the visitor info center as engaging as possible. Additionally, we keep on upgrading any chance we get. From the beautiful murals that adorn the interior and exterior of the center that make for a perfect photo op, to taking it a step further and making an artificial reality Instagram component for those same murals. In fact, we have even gone as far as using the outside of our visitor info center to host a monthly market where local makers, artists, and businesses can come out and showcase their goods.  
We began looking into revenue-generating opportunities as well as community pride initiatives. We use our visitor information center to gather information through surveys and get feedback from visitors that way. We also currently have a retail program that has been successful enough for us to now be adding an e-commerce component to our website. All of this will be housed from our visitor info center.  
Overall, we have truly created a place locals can be proud of. Visitors can feel the community pride that lies within those walls, and that is what truly makes it unique to our destination.
Q: Share three fun facts about your visitor/welcome centers.
1

. Both of our centers are rated as number one attractions on Tripadvisor.
2. Both centers feature custom art and are often compared to art galleries. These make wonderful selfie backdrops.
3. We track everything through digital tools, such as door counters to future forecast traffic and thus staffing levels. Simpleview is a great asset, too, as we use it as the central data source for every guest interaction. Our marketing team then uses this data to help determine content needs.

Gulf Shores Welcome Center's Tripadvisor
---

1. In FY2019, we interacted with 50,000+ visitors in our visitor centers; our highest number ever, indicating there is still a significant interest by visitors to be able to go into a visitor center and receive a personal interaction/input and take brochures and maps with them.
2. We mail visitor guides and relocation packets on a daily basis and create visitor information bags for groups (weddings, conferences, etc.). In FY2020, we mailed 9,225 visitor guides, 1,770 relocation packets, and we created 1,965 bags. Not bad for being closed for almost seven months. So far in 2021, we've sent 16,571 visitor guides, 2,274 relocation packets, and created 3,227 bags.
3. We are fortunate to have a great community. We run our visitor centers with 36 volunteers that have an immense passion and pride for our beautiful area. Some of them have been with us for over 20 years! They are our biggest supporters; without them, we could not operate our visitor centers.
---

We'd like to start with our mobile visitor info center, also known as our Gulf Coasters program, which was officially launched on our gulf beaches this past spring. We went all out branding two golf carts and hiring a team of engaging and energetic individuals who best represent our brand known as a "beach hype squad." The Gulf Coasters are an extension of our visitor info center, and we knew we hit the nail on the head when we found a unique way to go to the visitors as opposed to them looking for us. Not only are our Gulf Coasters easy to spot in the branded golf cart, but they also wear bright orange fishing shirts with the gulf coasters logo. 

Gulf Coasters mobile visitors center
Soon after, we realized that we wanted to extend the retail experience by hosting the monthly Gulf Coast Capital market. This event takes place outside the visitor info center and gives local artists and businesses the opportunity to display and sell their goods. While this event does help us reach our attendance goal, it is also an excellent way to strengthen the relationships with local artists and provide an avenue for local businesses to see the possibilities for brick-and-mortar locations in the downtown area. 
We have strived to ensure our entire visitor information center program is Instagrammable. In fact, our Gulf Coaster program was featured by TikTok influencer Natalie Rose (@nnapples) and is currently at 5.6 million views. We wanted to generate buzz around our storefront and golf carts. At every opportunity, we reminded ourselves to be bold and make a statement with our brand that our visitors can feel. 
Q: How do you feel the role of visitor centers will evolve in the years ahead, or how should it evolve?

The guest servicing arena is evolving as the entire travel and hospitality arena also changes, especially in the wake of the pandemic. It is no longer about only a physical location; it's the whole toolbox of interactions – calls, emails, text, in-person, social, events, etc. Regardless of how you communicate with the guest, the more individualized attention and response that can be provided helps them feel valued in a world of automation. These invited guests have chosen your destination over so many other options. It's about taking the time to recognize them and provide these guests with information to help the vacation meet or hopefully exceed their expectations.
---

I think visitor centers evolve and continue to evolve in ways to meet consumers where they are. Different personality types prefer to communicate in different ways. We want to make sure we're able to communicate with folks in the method they prefer. Because of this, we help visitors via email, via phone calls, via social media, and more. New to communication styles in the last year is we have recently enabled our primary visitor center number to be text-friendly. This just gives our visitors an additional way to communicate with us.
---

As an organization that is hungry and innovative, we are always looking to enhance the visitor experience. Coming off a successful first summer, we are expanding the Gulf Coaster program to other heavy tourist areas. Our easily-identifiable Gulf Coasters will be engaging with visitors, conducting giveaways, and opening an opportunity for visitors to extend their length of stay and therefore spend more money in our community. 

A "Gulf Coaster" handing out visitor information
Additionally, we are finalizing plans for a major presence inside of the Corpus Christi International airport, which will be an experience all its own, backed by our trademark boldness. Lastly, as we dive into the new year, we plan to integrate the Gulf Coasters into our community events, conferences, and tradeshows to be a point of information for locals. Eventually, the Gulf Coasters will hit the road, attending larger events that fit our target markets. An example of this would be football tailgates, the Texas State Fair, and other high-volume spots where we can share the Gulf Coast Capital and all it has to offer. 
Q: What advice do you have for DMOs considering whether to scale back or move forward with visitor centers?

Think about how important customer service is to your destination. After investing significant marketing budgets to generate interest, do you want someone to help convert that interest to an economic impact? Our guest service team is also constantly cross-training so that they can fulfill many tasks and productively fill time.
---

We think it is important for DMOs to work in a way that is effective but also efficient.  We spend tourist development tax dollars and want to spend them in the most responsible way possible. Because of this, we rely on the help of volunteers to keep our visitor center outlets running. In return for their donated time, we aim to provide them with enriching ways to connect with the community and each other via field trips, special recognition meals and more. 
Each DMO should look at ways to make their visitor center as efficient as possible. For us, we found success with this by partnering with our chambers, as noted above. In addition to partnering with two to have visitor center locations, we partner with the additional chambers in our community by providing them a rack filled with our key pieces of collateral. We pay them a nominal fee for allowing us to provide these branded racks in their centers.
---

We encourage other DMOs to take a minute to analyze the needs, wants, and trends of the markets and find unique ways to incorporate that into their strategies. Long gone are the days where visitors are simply looking for information. Visitors are now looking for an experience, something that is unique, Instagrammable, and overall, something that makes their trip easier with less planning.
Q: Tell us something you're particularly proud of concerning your visitor center program.

More than any service, location, or piece of technology, I am most proud of my staff. I have watched them build relationships with guests – taking the time to listen, laugh or sometimes even cry. We are so fortunate to have a one-of-a-kind guest service team that brings our destination's brand of Southern Hospitality to life.
---

We are proud of many visitor services programs. One that stands out is our Visitor Information Vehicle ( "VIV"), which attends events throughout Sarasota County and holds brochures and maps we share with over 10,000 visitors every year. Over the last few years, I have received several emails from peers all over the country who are interested in finding out more about our VIV as they are looking into incorporating a similar program.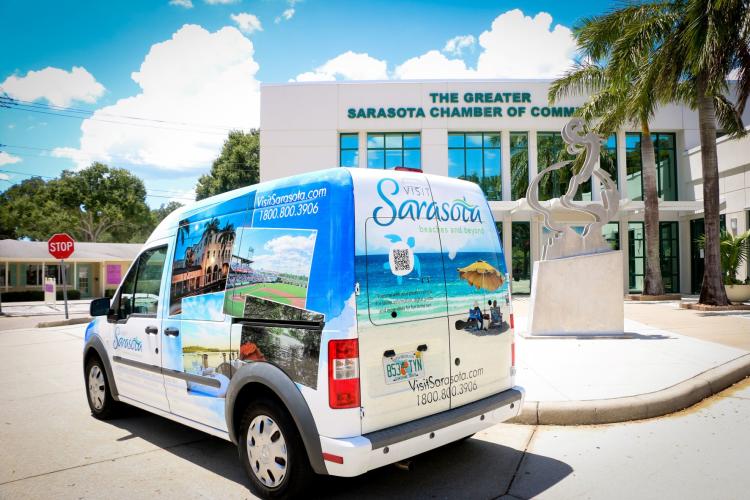 Visit Sarasota's "VIV"
Visit Sarasota County purchased the VIV almost 10 years ago, at first for the use of pick-up and delivery of brochures. We quickly realized the potential of having a mobile guest services outlet and have been attending events in the area since 2014, as such reaching even more visitors in all corners of our County. 
I'm also proud of the implementation of our Beach pass program on our APP that encourages folks to download our APP, "check-in" at various area beaches throughout the County — and, most importantly — come into the Visitor Center to collect prizes they can earn via this program.
---

The community support has been overwhelmingly positive, and the space is something locals are proud of. We constantly stand by the vision of creating a better community by sharing Corpus Christi with the world, and through the visitor info center, we have been able to get locals on board with that vision. Locals now know of our location and are excited to bring their relatives in to experience our vibes and to show off their home as a unique destination. And for us, it all starts at the visitor info center.
[Unable to render content]