Destination marketing organizations (DMOs) are pros when it comes to promoting things to do, places to stay, and event venues — but when it comes to sharing their accessibility options (or lack of), some aren't sure where to begin. 
Here are six easy steps to create an accessible action plan that will help travelers who are assessing their ability to visit or book and to assist in maintaining accessibility:
Assess Your DMO's Accessibility and Inclusion 
Take the time to review your destination's accessibility; from transportation, access to attractions and events, and places to stay to accessibility via digital tools such as your website, mobile applications, and guides. Be aware that you are not the expert, and tap into those who are. 
Develop relationships with locals and visitors who can give you a true take on accessibility and inclusive travel in your destination. Visit Phoenix partnered with a traveling couple who helped rate the destination's ease of access for wheelchair travelers. This provided certified content for their Accessible Phoenix webpage. Work with individuals and organizations to travel to and explore your destination yearly and give honest notes on what is and isn't accessible from different accessibility needs and caretakers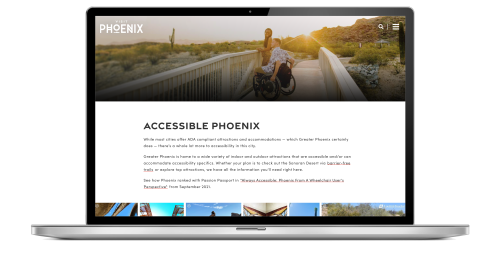 Ensure Your Listings, Web Pages, and Other Digital Marketing Tools Are Accessible 
It all starts with you and your content. As you work to create a website, share images and news, and create marketing around your destination, keeping accessibility top-of-mind can get your DMO off to a great start. Ensuring you are adding ALT text to images following guidelines such as those used by Harvard University and having a brand pallet that allows you to offer good color contrast are two examples that would help with vision and audio impairment, especially when using assistive devices. 
Simpleview's partner, AudioEye, can help you ensure your DMO website is accessible to users. AudioEye is an industry-leading digital accessibility platform delivering trusted Americans with Disabilities Act (ADA) and Web Content Accessibility Guidelines (WCAG) accessibility compliance at scale. Through patented technology, subject matter expertise, and proprietary processes, AudioEye removes barriers to digital access, helps creators build accessible content, and supports them with ongoing monitoring and automated upkeep. Simpleview clients, such as Visit Indy, offer an accessibility guide with interpreters and travel planning tools and also implement AudioEye so anyone surfing the net can find their destination and discover things to see and do.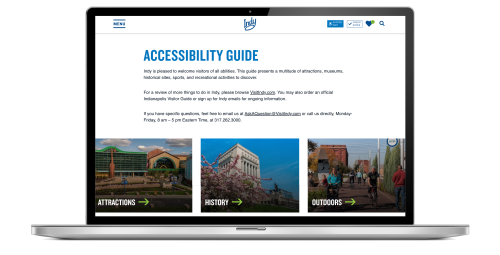 Create a Landing Page, Microsite, and Navigation Set  
Provide information throughout your website by creating one or more of the following: 
Accessibility Statement: a lot like a diversity, equity, and inclusion statement, and could be part of one or a stand-alone. An accessibility statement provides the details, grounds, and promise your organization is making toward being accessible to all. Tourism Northern Ireland shares theirs here.
Accessibility landing page: featuring everything from travel tools to itineraries, make a specific page on your site that is dedicated to inclusive travel. This page can span more than accessibility, it can also include diversity, equity, and inclusion-related content. Explore Grand Rapids supplements its accessibility page with AudioEye's ongoing monitoring and upkeep of its Simpleview CMS website. The page features sensory-friendly experiences, accessible attractions, and travel planning tips, tricks, and stories. 
Navigation: make accessibility travel planning easier to find by adding it to your website navigation. Whether it is a user visiting your site or Google sourcing your site via an algorithm, make sure your content is available and at the ready. Visit Mesa's Autism Travel page can be found in its footer navigation, while Discover Yorkshire Coast has its accessibility page front and center in the top navigation.
Microsite: go big and develop a microsite dedicated to all things inclusion and accessibility. Visit Lauderdale does and combines efforts to make everyone feel welcome with its diversity travel section. They welcome "everyone under the sun" and work with the Hidden Disabilities Sunflower Program to offer accessibility from point of arrival at the FLL Airport.
Maintain Accessibility 
Set up internal planning around your yearly reviews for accessibility and make sure to add accessibility into your diversity, equity, and inclusion strategies. Consider developing access guides like Visit Eastbourne that can assist travelers while they are planning or are in your destination. Provide information about venues and travel and provide contact information for those that can assist them with planning and visitation. 
When content planning for the upcoming travel seasons or for the coming year, create itineraries like I Love New York that provide experiences specific to those with accessibility needs. Make sure to review the content, speak with the locations and businesses, and take the trips yourself to ensure they are truly accessible.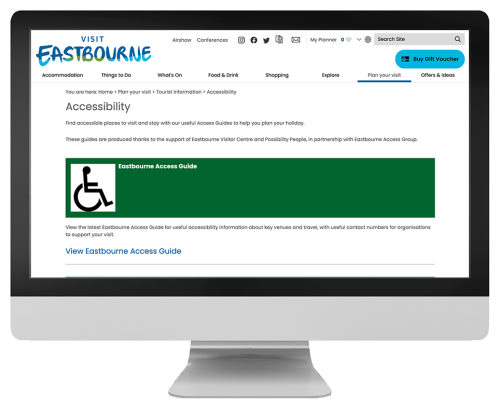 Promote Your Destination 
Using blogs, social media, and other advertising, share all your destination has to offer. An accessible destination gives visitors the chance to travel and be assured they can experience everything to the fullest without question if they can and will be accommodated … but you have to spread the word.
Tourism Northern Ireland introduced Inclusive Beaches by way of the Mae Murray Foundation and Causeway Coast and Glens Borough Council in 2017 and now have five beaches that help create an environment for any and all looking to soak up some sun. Ireland isn't the only beach-savvy locale, Huntington Beach introduced Mobi Mats that allow for accessibility of their beaches. 
Offer accessibility and inclusion packages online or at your visitor center that include audio guides, interpreters who can join a traveler, accessible reading such as braille information and headphones for sensory needs.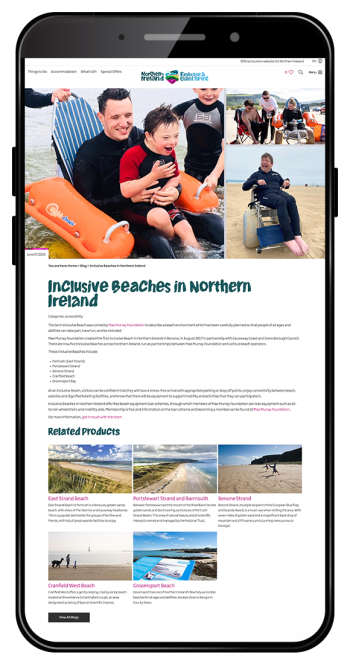 Be Open for Feedback 
Be open to constructive criticism and feedback. Even the best of intentions and planning may not cover every accessibility roadblock; yearly work to make changes, updates, and improvements should be a part of your destination's planning. Working with your cities, attractions, and non-profits can provide great connections in making progress. 
Don't be afraid to seek written or verbal surveys, conduct accessibility tests, and ask questions. Everyone deserves to experience travel in your destination.
Is your website accessible?
Want to find out where your website currently stands? Request a free digital accessibility consultation by clicking the button below.
Get started