You may have heard the term "digital footprint" thrown around recently. We've talked about it on the Future of Tourism podcast, and in reference to one of our newest offerings, the Digital Influence Report (more on that later). 
But you may be asking yourself, what exactly is a digital footprint? Simply put, it's your destination's collective presence across major digital channels, which determines how your destination is represented and perceived online. 
The modern destination brand can effectively be defined as the sum total of all shared stories and experiences about, in, of or from your destination across all channels and people. All of them… positive, negative or neutral.
As you would expect, this is made up of hundreds and hundreds of sources. All of your partners and stakeholders have multiple channels they use 24/7: their own webpage, their google and other maps listings, their social feed on their own owned and curated Instagram, Facebook, TripAdvisor and YouTube pages.
If each stakeholder's digital presence represents a digital fingerprint then when you add up all the digital fingerprints you get the destination's Digital Footprint.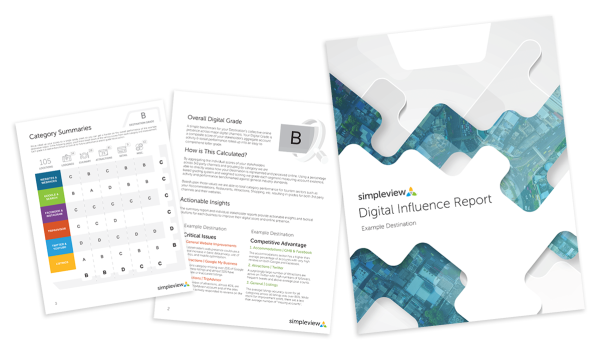 The Digital Influence Report (DIR) looks at your destination's digital footprint across six key areas:
Websites and webpages
Google and search platforms
Facebook and Instagram channels
TripAdvisor
Twitter and YouTube
Listings platforms
The DIR is the ideal starting point for working directly with stakeholders to improve a destination's digital presence. Small adjustments in listings data, review responses and content sharing have a large impacts on your stakeholder's businesses, generate legacy value digital assets for the stakeholder and at the same time creates a tangible, ongoing relationship with the DMO of mutual benefit.
Ready to learn more about your destination's digital footprint? 
 
Our Digital Influence Report will give you a composite score of your stakeholder's aggregate account and social performance based on over a hundred online touchpoints. This "report card" will help you understand where your destination is doing well online and highlight areas for future improvement.
Get Your Digital Influence Report