We propose it's time to go above and beyond with SendSites!
Built specifically for the hospitality industry, SendSites offers high-quality, curated web-based proposals for group sales professionals, streamlining the proposal development process so you can focus on selling. Destination marketing organizations (DMOs) utilize SendSites to quickly and easily create branded RFP proposals for conventions, tradeshows, and other events.
Sounds great, right? 
Simpleview partnered with SendSites in 2020 to provide DMOs with a tool to create web-based proposals quickly and efficiently. Not only has SendSites accomplished exactly that for our clients, but it has provided a myriad of other uses. Let's take a look at how destinations are using SendSites for purposes other than just proposals.
Site Itineraries 
Site itineraries prepare your visitors for their trip to your destination by breaking down each day. Creating a digital itinerary allows you to link out to venues, restaurants, and attraction websites and add helpful content like maps.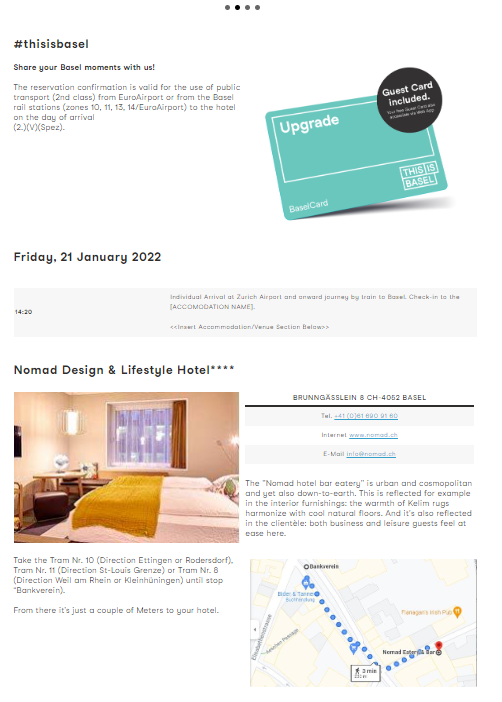 Destination Overview & Experience 
A SendSites page is essentially a webpage — if you need to give a brief overview on why your destination is the best, why not use SendSites? Much of the content will already live within your proposals so you can easily repurpose without spending a ton of time doing it.
Online Presentations 
There are plenty of tools available to create online presentations, the benefit of using SendSites for presentations is that you can use interactive content such as 360 videos, UGC galleries and interactive maps. Plus the tracking capabilities will tell you if your attendees are interacting with your presentation. 
Virtual Fam Trips 
In today's climate, it's not always possible for meeting planners to travel to your destination for on-site Fam trips. Using SendSites to create an online experience is a great use of the tool to include 360 videos and interactive maps. 
Digital Welcome Packet 
When event attendees land in your destination, you want them to be fully equipped with all of the information they need to fully enjoy and navigate your city with ease. Effortlessly create and send a Digital Welcome Packet via SendSites to allow for real-time updates and linked content.
Tradeshow Follow-ups
When attending a tradeshow, it's tough to measure the ROI. By using SendSites to create a post-tradeshow thank you/nice meeting you page, you can easily customize the content to the event and track when the page is visited to measure ROI.
[Unable to render content]