If you can't bring tour operators and meeting planners to your destination, take your destination to them. 
Brilliant in its simplicity, this concept proved a winning strategy for Visit Buffalo Niagara when challenged to find a way to stay engaged with their contacts at a time when few events or tours were being scheduled. 
Leah Mueller, Director of Tourism Sales, wondered how they could keep Buffalo Niagara – with its redeveloped waterfront, revitalized neighborhoods and rich history – top of mind so that when tours and events eventually started booking again, the destination would be well-positioned to capture some post-pandemic business.  
Enter the idea of the Buffalo Book Club – 100% social, 0% sales-oriented. 
"The idea for the book club came about as a way to engage planners and to connect them to a story," said Mueller. "Finding the right story can be powerful when promoting your destination for tours and meetings/conventions." 
When it came to choosing the book, there was an obvious choice. It just so happens that a bestselling historical novel beautifully showcases the area at the turn of the 20th century, when, with its booming industry and newly electrified streets, it was poised for glory.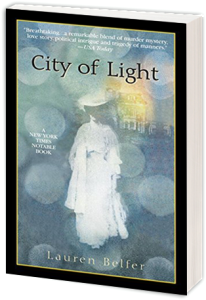 The novel is City of Light, written by Lauren Belfer, who grew up in the area. In the story, Buffalo is as much a character as any of the people. Explore Buffalo already offered a City of Light tour, and for years, Mueller had been handing out profile sheets encouraging tour operators to read the book and build tours around it. She realized the stay-at-home situation provided the perfect opportunity to get the book into their hands and create a fun way to stay in touch on a personal level. 
Mueller joined with Jennifer Gregory, then National Sales Director for the Buffalo Niagara Convention Center, and put together a plan. The highlight of the book club would be a "Meet the Author" online get-together in which Belfer would talk about the inspiration behind the novel, how certain places and scenes connected to her personal story, and to answer readers' questions. 
They then developed touch points along the way with a double goal of highlighting the destination and staying connected with participants.
First, tour operators and event planners received an email invitation to join the book club. 
Those interested were sent the book, along with a Buffalo-themed bookmark and an invitation to join a private Facebook group. In addition, there was a "surprise envelope" that members were instructed not to open until the club's Zoom meeting. 
Ongoing video email messages were sent to try and engage with each person on a more personal level and showcase the area.
A care package of goodies was mailed partway through to each member containing shortbread cookies, nuts, candy, and cocktail ingredients (minus the alcohol).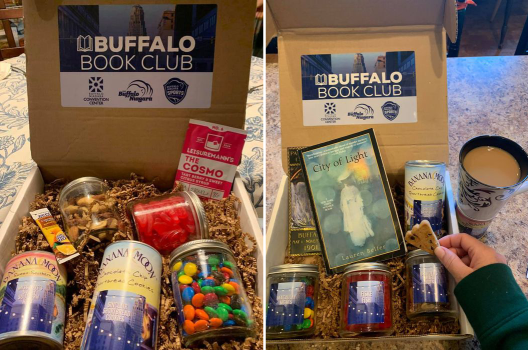 The Buffalo Book Club soon had 55 members, comprised of 32 tour operators and 23 meeting planners. Many shared conversations in the Facebook group, designed to be a fun and informal way for them to connect with each other. 
"One of the best outcomes of the private Facebook group has been the informal discussions that took place," said Mueller. "It was great when someone posted where they were reading from or how far into the book they had gotten. It was fun to hear when the first few had finished the book, too. Participants posted pictures and interacted with each other, which I thought was great."
The club voted on its meeting time, which turned out to be an evening in mid-June. In addition to Belfer's presentation, club members were treated to more historical anecdotes about the destination by Melissa Brown, the Executive Director of the Buffalo and Erie County Historical Society. Brad Hahn, the Executive Director of Explore Buffalo, advised the club on what sorts of area tours the nonprofit offers. Everyone was instructed to open their "surprise envelope" simultaneously, which were bookplates signed by Belfer. 
"The feedback we got from participants was wonderful," Mueller said. And it served her initial purpose of putting Buffalo Niagara top of mind. "They were happy to receive the itinerary afterward, and they enjoyed the zoom presentation featuring the author. We gave enough time to read the book and it opened their eyes to why they should choose Buffalo in the future."
Mike Even, Vice President of Sales & Service at Visit Buffalo Niagara, said he was blown away by the level of participation. "The opportunity to interact with the author was so appealing," he said. "And the novel really showed our city in an artistic light. I couldn't be happier with how it turned out."  
Mueller, too, was thrilled. "From beginning to end, the participation was great. Many people engaged with us, and I've been working with some of the tour operators who are already planning to bring a tour. My hope is for a strong conversion of "Read the Book, Take the Tour" and continuing the strong relationships built with the planners."
One of the biggest benefits the book club offered Mueller was the opportunity for deepening relationships with tour operators. "I loved hearing from them when they read something they found shocking or surprising," she said. "Several of them would also ask other questions in the emails to ask how my family was doing or other questions that brought our relationship to a friendship-style discussion. The club allowed for corresponding in a non-salesy way, yet each call or email was still another touch point further developing our relationship."  
One thing that became clear was that many members were eager to take part in future book club selections, so Visit Buffalo Niagara has decided to continue hosting the book club twice each year. Mueller said she'll keep the Facebook group active by asking questions over the summer and commenting on books as they wait for the second (yet to be determined) book to launch in the fall.
 
[Unable to render content]