Future of Tourism Series | Guest Blog
By Michael Crockatt
Lately, I have been half-jokingly using a corny line about celebrating a full year of everyone making wrong predictions about the COVID-19 pandemic. At the very least, there's a lesson we have learned from those mistakes. Let's stop making predictions and just make sure we are prepared for a variety of different scenarios.
For our organization, we have had marketing plans delayed, initiatives scrapped and some very cool things in the works that we just haven't been able to pull the trigger on, largely because of tight restrictions on travel here in our part of Canada.
I've been as guilty as anyone of not looking beyond next week throughout significant parts of this pandemic. So I'm glad we have a team whose job is to make sure we don't miss those opportunities that only come with thinking about the long term. Our destination development machine has kept on humming.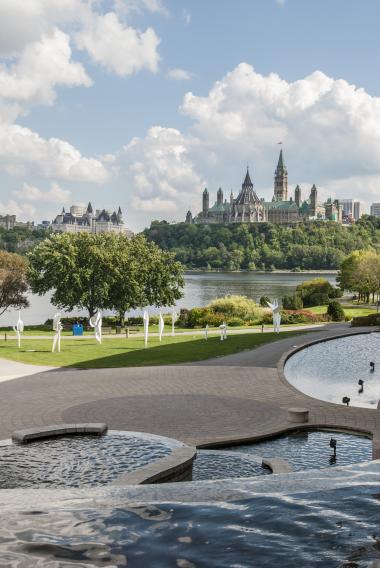 We are a fortunate destination organization in that our funding for destination development is embedded right in our Municipal Accommodation Tax agreement between ourselves, the City of Ottawa and the Ottawa Gatineau Hotel Association.
So while we are certainly in a dry spell for visitors and events, we have been able to keep the pedal down on some longer-range initiatives that will put us in a better position as a destination in the long run. Yes, we've had to focus on short-term survival, but fortunately, we have also been able to keep our gaze forward, knowing that we will recover and that demand will return.
This work has included some cool new product development, like the world's first inter-provincial zipline, and also some vital business case work that will support (or not) a major investment in a massive attraction for our community. It has also involved keeping our eyes on community engagement as a long-term focus area in order to continue to ensure our community is tuned in to the social and economic benefits of tourism.
To me, though, one of the most important destination development projects we've been able to undertake during the pandemic is our Indigenous Tourism Entrepreneurship Training. This initiative, in collaboration with Algonquin College and with funding provided by the Government of Canada, has helped a number of Indigenous tourism entrepreneurs strengthen their foundational business skills and provided start-up development tools and sector resources that they will need in order to succeed.
It was important for this training to ground its teachings in an indigenized learning environment, where facilitators are themselves Indigenous, and where the curriculum has been fully rooted in Indigenous ways of knowing. To have successful graduates now ready to launch or further develop their tourism business ideas sets the stage for a regenerative approach to destination development and enhancements of our tourism product.
Our vision for Ottawa is that our city tells the complete story of Canada. Part of that story, and part of a visitor's experience in Ottawa, is acknowledging that this is the traditional territory of the Algonquin people and has been for 10,000 years. And what better way to acknowledge that part of Canada's story, and to gain understanding about Indigenous culture, than through authentic Indigenous tourism experiences led by Indigenous entrepreneurs? When we do come out of this pandemic, these businesses will make us a better destination. 
We think the DMO of the future will be different than it was pre-pandemic. Focusing on the long-term success of the destination and its people will be the name of the game. So this year of wrong predictions has taught us to stop guessing and aim to set the stage for what's to come next. Luckily, that's already been part of our DNA for years. 
 

Michael Crockatt
President and CEO, Ottawa Tourism
Michael is a recognized leader in tourism and aviation in Canada. Prior to joining Ottawa Tourism, Michael served as Senior Vice President with InterVISTAS Consulting, where he was responsible for the firm's airline, air service development, and tourism practices in Canada. Michael has over 15 years experience at the management level with two of Canada's major airports, the Winnipeg Airports Authority and the Ottawa International Airport Authority.
Michael is very active within the tourism industry and other business groups. He is a Board member with the Ottawa Chamber of Commerce, and with the Ottawa International Hockey Festival, and serves as a member of the Program Advisory Committee for the Bachelor of Tourism & Hospitality Management Degree Program at Algonquin College. He has also been a Board member with the Ottawa 2017 Bureau, Invest Ottawa, the Tourism Industry Association of Canada (TIAC), Ottawa Tourism, and Ottawa's Tourism Development Council.
In 2017, Michael was elected as a Fellow of the Royal Canadian Geographical Society. He is a recipient of the Queen Elizabeth II Diamond Jubilee Medal, recognizing his contributions to Canada. Michael's business leadership and volunteerism has been formally recognized by a broad range of stakeholders, such as Airport Business Magazine, the Ottawa Business Journal, and Ottawa's own tourism industry.
Michael has a Master's degree in Geography from the University of Manitoba and he is a Certified Barbecue Judge.