Goin' to the chapel and we're gonna get married ... but where? 
Many of us hesitate when we receive a "Save the Date" to a destination wedding, but we may want to embrace the opportunity to pack our bags and take a vacation. According to Future Market Insights, the more affordable travel options resulting from the pandemic mean more brides and grooms will be choosing the scenic locations of destination weddings for their special day. In fact, the destination wedding market witnessed a 28.7 percent growth in popularity in 2021. 
So what does this mean for destination marketing organizations (DMOs), their partners, and stakeholders? Does playing "Here Comes the Bride" draw in the big tourism dollars? In this article, we will review the ins and outs of wedding tourism and who is already cutting the cake in their destination.
So Why Welcome the Wedding Bells?
According to a recent Market Research Blog, destination weddings impact local economies in more ways than one — in fact, they play a crucial role for businesses, partners, and stakeholders in the travel and tourism industry. 
Positive impacts from destination weddings: 
An increase in hotel reservations, cruise line stops, and flights
Local spending at small businesses, as well as caterers, bakeries, and venues 
Overseas weddings are responsible for much of the growth seen by the global hospitality industry 
Social media influencers have played a key role in supporting destination weddings online; now, people are using destination weddings for their once-in-a-lifetime vacations, posting content that shines a spotlight on destinations.
DMOs That Have Put a Ring On It
Visit Annapolis stands out as a destination marketing organization (DMO) with a romantic agenda. We sat down with Digital Content Manager Brandi McKeating and Director of Group Travel Elizabeth Joyner to learn more about Visit Annapolis' marketing efforts that draw in weddings to the destination.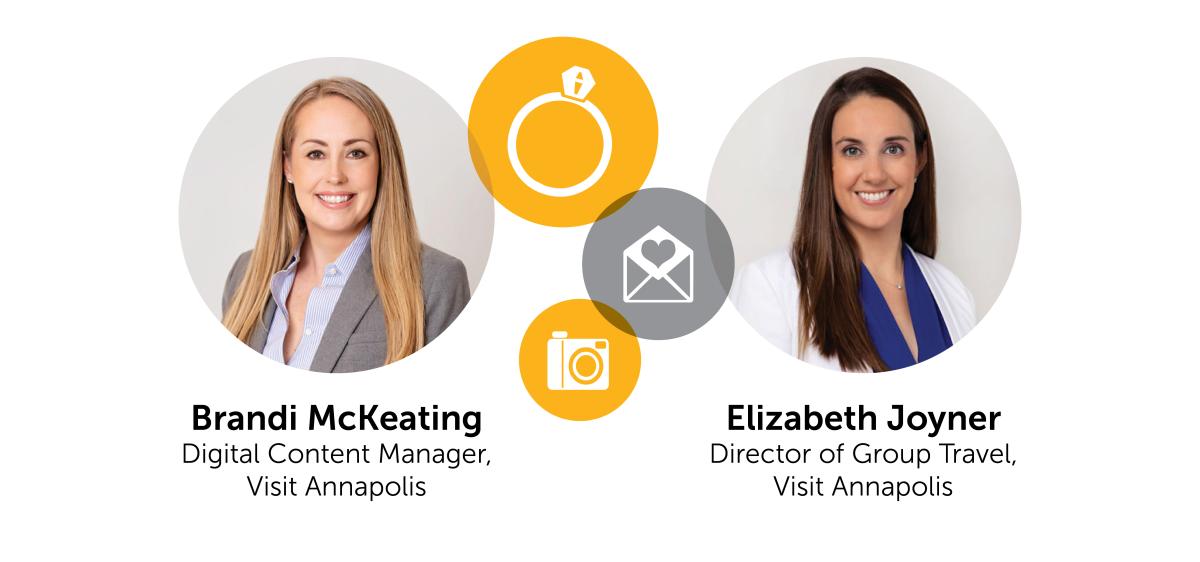 How does your DMO market to people looking to plan their wedding in your destination? 

Visit Annapolis & Anne Arundel County employs a variety of channels to market the region as one of the premier wedding destinations in Maryland. We write blogs on everything you need to plan your memorable day, with topics including wedding venues, hotels, wedding planners, jewelry designers, and florists.
We also share content to our Instagram and Facebook pages as well, always with a call to action to visit our website for more information. We plan to film a series of videos of different types of weddings in Annapolis & Anne Arundel County and debut them on our weddings page. We aim to inspire and engage today's brides and grooms through our website, so they bring their weddings business to our region.
[Unable to render content]
What results have you seen?

We have seen a tremendous surge in micro-weddings due to the pandemic and we believe that trend is here to stay. We have a storybook city hall where many couples choose to get married and then opt for wedding photos all over our historic and picturesque coastal town.
We also have a dedicated Group Sales Director on staff to connect brides and grooms with the right hotel to accommodate their guests. Having a resident expert available to you just one click away helps demystify the process. Or if you prefer to handle the hotel search personally, an easy-to-navigate hotels page allows users to search by meeting space, service, location, and even pet-friendly. We strive to take the guesswork out of managing the details of your celebration and our weddings page complements our website beautifully.
Do you market weddings mostly to locals or out-of-town guests looking to plan a destination wedding? 

 I would say it is a mix of both. We get a lot of out-of-town weddings due to the United States Naval Academy in Annapolis. Graduates love to return to get married in Annapolis at the Naval Academy Chapel and have their reception at a local historic site, like the William Paca House or the Navy-Marine Corps Memorial Stadium.
We also have a variety of vendors that cater to the wedding market here in Annapolis. You can find make-up artists, hairstylists, and a custom tailor — all on historic Maryland Avenue. Having everything so close for your big day makes the process seamless.
What encouraged your DMO to feature a wedding landing page?​ 

Our dynamic county offers so many unique venues that it made sense to build out a dedicated landing page to highlight it all; a one-stop resource that highlights the best venues, catering, and creatives complements our site perfectly. We are also lucky to have talented creatives and artists in Anne Arundel County to help curate the perfect wedding.
Do you see a lot of traction (clicks, leads, etc.) from this landing page?

We do! While we cannot be your wedding planner, by providing the right content we can connect you with the right vendors for your special day. Our Wedding Stories and Planning Tips and Ideas pages get the most clicks on our weddings page. We generate a lot of leads for local vendors as a result.
 Describe the impact you have seen weddings have on your destination. Do your partners and stakeholders benefit from weddings? How?

The wedding market drives hotels rates over weekends during the peak season (May through October). Due to the high demand of the destination, the hotels are able to be competitive with their rates and stray away from the lower-rated business during these times.  Surrounding tourist attractions, restaurants, and shopping also benefit from the influx of wedding guests exploring the area. Many arrive early or extend their stay to further enjoy our destination which gives hotels and B&Bs a nice bump to mid-week travel.
What advice would you give other DMOs that are trying to drive wedding tourism to their destination?

My suggestions to drive wedding tourism would be:
Showcase the array of options to stay overnight that will accommodate different price points and budgets
Ensure your destination is portraying equity, diversity, and inclusion to create a sense of belonging for all
Highlight what makes your destination unique and provide images that give guests a feel of the local experience
Provide messaging about COVID-19 protocols as well as the safety of your destination
Share information about outdoor spaces to gather with friends and family
[Unable to render content]
[Unable to render content]
[Unable to render content]
[Unable to render content]