Destination marketing organizations (DMOs) often play an integral role in the success of their local businesses and workforce — perhaps never more than since the start of the global pandemic in early 2020. 
Take NYC & Company, the official site of New York City's destination marketing organization, which represents one of the largest metro areas in the world. As one of the world's prime tourism destinations, many jobs are dependent on tourism. Tourism would see a decline of 67% from 2019 to 2020, with an economic hit of 75%. 
Ensuring that local businesses survived was paramount, and NYC & Company wanted to use every tool in its arsenal to help them do just that. One such tool was Simpleview's Marketplace.
Marketplace offers several ways to engage with local businesses, create cooperative advertising and marketing campaigns, offer memberships at various tier levels and rates, participate in programs such as Restaurant Week, Beer Walks, and other seasonal events. Since the module's release, there have been many creative ways to leverage this tool, and it's robust enough to manage many more.
NYC & Company was already using Marketplace to its full capacity but in spring of 2020 became somewhat of a "super-user," stretching the ways the module could support its efforts. Being a membership-based organization, the DMO represents nearly 2,000 local businesses, but it decided to allow any business to participate in economic opportunities typically available only to its members.
"We realized early in the pandemic that we needed a way to connect with and promote small businesses throughout the city," said Kristen McGovern, senior director, member programs & services at NYC & Company. "As a membership-based organization, we had to quickly adapt in order to assist as many tourism-related businesses as possible, many of whom would be engaging with us for the first time."
Thus, NYC & Company updated its Restaurant Week program by waiving participation fees to help the industry and simultaneously celebrate the city's continuing role as the world's dining capital. 
Over 570 eateries participated, more than 200 additional restaurants than previous programs. It was the first time for many of these businesses to offer takeout as an option due to COVID-19 restrictions. The program was successful enough to extend the promotion four additional weeks. 
"It is a true testament to the program's success that New Yorkers continue to show support for their city and the restaurant sector, which has always been the backbone of the City's economy," said Fred Dixon, president and CEO of NYC & Company, in a media release.
After the initial Restaurant Week success, which was not without its hiccups, NYC & Company used Marketplace for other promotions. One of the DMO's tenets is that it's an organization that "elevates various categories throughout the year through dedicated marketing programs and campaigns."
"Between two NYC Restaurant Week programs and Neighborhood Getaways (an online deals platform encouraging local exploration), we certainly pushed the system to meet our many demands," said McGovern. "In spite of some challenges, we successfully utilized Marketplace to enroll existing members, former members, prospective members, and businesses completely new to us in these programs."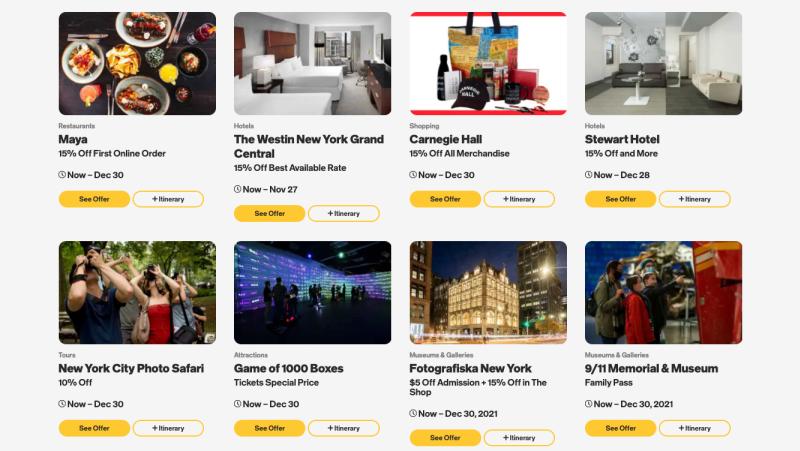 In addition to its altruistic motive, opening some of the DMO's marketing campaigns to non-members has shown potential members the value it offers.   
"On top of our already 1500-strong membership roster, we used Marketplace to enroll nearly 1500 ​additional accounts in these promotions and hope to remain engaged with them going forward," she said. "Marketplace was a vital tool for these efforts, and we continue to use it and provide Simpleview with input to improve it going forward."
Other examples of how Marketplace can be used include:
Membership Signup — simple options or tier-based
Restaurant Week promotions — submit a menu, define a price
Amenity Review — even if a business is a member or participating partner, Marketplace can allow businesses to update amenities or any other information related to their businesses
Re-engagement — programs to welcome back clients who have not been responsive, and update listings
Other benefits of Marketplace include facilitating payment transactions, setting up membership tiers and participation tiers, and adding benefits and products as optional items. For example, signing up for a simple membership can include a one-time payment of an upgrade on a specific aspect of a listing, like the number of images or listing description length. Because the module is so flexible, Simpleview clients are finding new and unique ways to maximize its use.