When the Los Angeles Tourism & Convention Board reimagined its logo in 2021 for the first time in a decade, it infused the new look with a bit of nostalgia. The destination marketing organization (DMO) opted for a timeless feel, with a design that a Los Angeles Times columnist called "a logo that is nostalgic for VW buses and surfer magazines."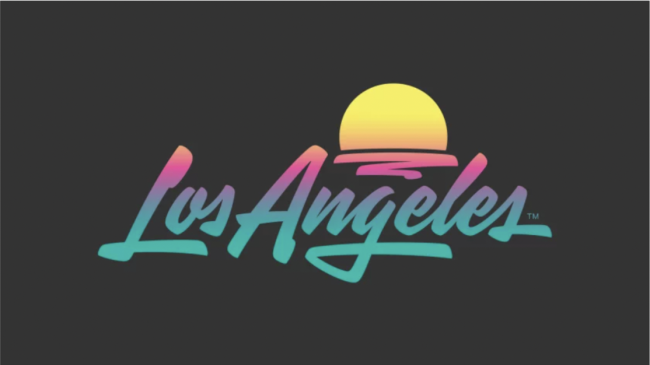 Los Angeles Tourism & Convention Board logo
According to the release announcing it as part of the DMO's new branding, the new logo embraces the optimistic spirit of Angelenos while inviting visitors to discover a destination that celebrates personal freedom under a sun of infinite possibilities. The script type is bold, timeless, and welcoming as it evokes an L.A. feeling of movement and self-expression.  
Created through a first-time partnership between two notable design studios and longtime friends — Studio Number One (SNO), helmed by Shepard Fairey and House Industries, led by Andy Cruz — the design was an immediate hit and was even featured in Fast Company. 
"Where Can I Get Some Merch with the New Logo?" 
Adam Burke, president and CEO at the Los Angeles Tourism & Convention Board, said that since the launch of the new logo and branding, the most common reaction is a question, "Where can I get some merch?" 
After hearing the question enough times, the DMO, which had never before partnered with a major brand on an exclusive merchandise line, discussed it with their partners at Studio Number One and House Industries. As a group, they decided to make it a charitable endeavor. 
"The decision to donate proceeds to the Midnight Mission was a mutual decision," said Bill Karz, vice president, brand & digital marketing. "Los Angeles Tourism and our partners at Obey Clothing and House Industries value the work of the Midnight Mission in providing human services and shelter for those experiencing homelessness in Los Angeles."
The apparel collection is now available at select retail stores and online. It features three iconic neighborhoods: Venice, Griffith Park, and Echo Park.
[Unable to render content]
"This project is the culmination of our efforts with Studio Number One and House Industries in bringing our new brand identity to life," said Karz. "In the spirit of creativity and collaboration, this was also a first-time partnership between two notable design studios. We're all very proud of our new branding as a destination, and equally proud of the fact that the proceeds of this project are going to our friends at the Midnight Mission. This was truly a team effort driven by the goal of showcasing and supporting our community."
[Unable to render content]