In this time of global crisis and uncertainty, we put the call out to leaders, CEOs, strategists and consultants to sit down and tell us, in their own words, what is going on and what is going to happen next in this vital global industry.
 

My favourite quote of the year, so far, comes from Jack Johnson at DI's annual convention in July:
"Change as destination organizations, change significantly, change quickly or face irrelevance" 
Destinations International's Advocacy Summit is coming up on October 15 and November 12. And if you can be there, you should. I look forward to it every year as a place to gain clarity and perspective. 
Last year's Advocacy Summit was all about destination organizations coming to terms with the concept of shared community values, empowering the stakeholder and contributing to the quality of life for residents.
We grappled with those concepts from November to March, and then suddenly, everything changed.
In a world of COVID-19, the role of destination organizations was changed irrevocably. Aligning your destination with the values of your residents has never been more important, and the necessity of working with stakeholders to help them survive and future-proof the destination's essential assets… well, it is no longer optional.
If your organization isn't already aligned closely with its civic partners, focused on serving residents and intently working with members and stakeholders to deliver tangible recovery solutions and opportunities, then, as Jack says... you may be facing irrelevance.
I have to admit there are stories coming in about DMOs around the world being taken to task by their communities, either because they aren't perceived to be doing enough in recovery or worse yet, because they actually aren't doing enough in recovery. 
But I have to say, the bulk of the stories I hear are positive and inspiring.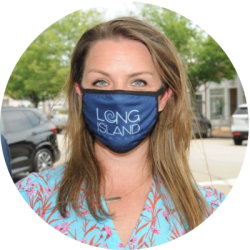 This is one of those stories. Kristen Jarnigin from Discover Long Island is my guest today. I recently got to interview both Kristen and Dr. Michelle Reed about Discover Long Islands' response to the COVID-19 crisis and how they are managing recovery.
Long before COVID, long before the rest of the industry was even talking about community shared values and stakeholder engagement, Kristen was one of those leaders who was out in front of the idea of aligning with residents, empowering members and stakeholders, and curating a digital reality for Long Island that reflects both the place and its people.
Kristen is a graduate of the Walter Cronkite School of Journalism at Arizona State University; she was the Senior Vice President at the Arizona Lodging and Tourism Association, and today she is the CEO of Discover Long Island.
Kiristen is all about change.