Recognized as "New York City's Beachfront Backyard," Long Island stands out as a welcoming region where we all BeLONG. It's a place to be whoever you want and become immersed in a community ready to celebrate you. Long Island's diverse offerings range from pristine white sand beaches to championship sports and award-winning vineyards. 
Discover Long Island (DLI), the region's official and only accredited destination marketing organization (DMO), is dedicated to strengthening the region as a sustainable destination and significantly enhancing the image of Long Island. Long Island is more than just a place to visit. It's a world-class community to relocate, bring business, and BeLONG. 
Discover Long Island strives for DiscoverLongIsland.com to showcase the authentic character and diversity of the community, celebrating its people and stories. DLI wanted its newly redesigned website to be more aspirational and to offer more editorial content. 
The reimagined Discover Long Island website takes a holistic approach to capturing the true ethos of Long Island, New York — a destination rich in unique stories and local treasures for residents and visitors alike. 
 
Differentiated by Design: Long Island Style
The website showcases both a beautiful place to visit and an incredible place to live while defining the destination's unique character through emotional branding. The site's engagement goals were to increase partner referrals, e-newsletter sign-ups, hotel bookings (via Book › Direct widget), travel guide requests, "Insider's Guide" blog views, and clicks on trip ideas/itineraries.
Long Island's unique culture and lifestyle distinguish it from other beachfront destinations, and the revamped DiscoverLongIsland.com offers seamless navigation, allowing users to immerse themselves in the Long Island experience fully. The website boasts an aesthetically pleasing editorial design featuring immersive full-screen imagery for a captivating visual impact — evoking emotions while providing clear calls to action.
Insider content and trip itineraries are immersed throughout the site to inspire visitors to create memorable moments on Long Island. Subtle nods to the coastal charm of Long Island are evident in the shapes and colors throughout the site, including the wave element from Discover Long Island's logo. 
Diverse toolsets for custom landing pages to match the content are apparent, accompanied by a redesigned listing layout that enhances navigation intuitively. Additionally, users can locate local businesses in their vicinity.
 
Celebrating Community Sitewide
The new DiscoverLongIsland.com perfectly combines the brand's personality and style of a family-oriented community with a New York edge that blends modern elements, affluence, coastal vibes, and grit. It incorporates much more streamlined technology, user-friendly navigation, and storytelling to highlight its brand personality in a sophisticated, refreshing way. The design is innovative yet still nurtures the delicate balance of usability, simplicity, and aesthetics.
Whether planning a vacation or meeting, the website showcases a community offering a coveted quality of life. A mobile-first approach to the website ensures a seamless user experience with a clean, minimalistic layout and responsive design. The new DiscoverLongIsland.com reflects the brand persona of a place where people can "be" together — adventurous, inspired, and, most importantly, welcomed.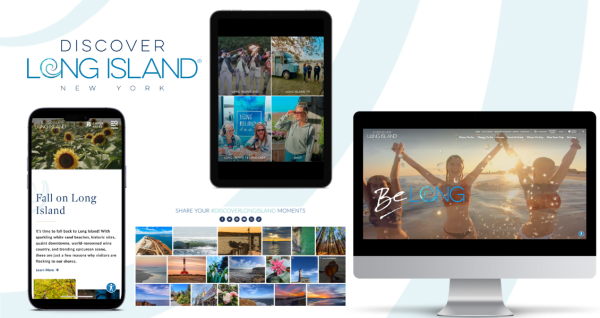 In the top navigation, visitors are invited to listen in as Long Island spills the tea on the Long Island Tea podcast, tune in to a weekly Long Island TV episode to discover hidden gems, or shop for unique merch at the Discover Long Island Shop.
It was important to convey that Long Island is a place to BeLONG year-round, and widgets incorporate seasonality throughout the site via local stories, imagery, and events. Discover Long Island has a substantial social presence with 10 social media channels and an audience reach of over 10 million followers. Long Island compels locals and visitors alike to share their stories, which are then highlighted throughout the site, showcasing UGC via CrowdRiff curated feeds. 
 
A Success Story
The new DiscoverLongIsland.com pushes the envelope for a DMO site. The reimagined website showcases Long Island's dynamic offerings to an engaged audience, furthers economic development, and benefits residents and businesses throughout the region. 
Since the redesign's launch on November 8, 2022, the site has seen increased engagement, with organic traffic increasing by 18%, social media by 16%, display by 247%, and email signups by 31%. Conversions on the site also increased by 32% (+52,232 goal completions), with the largest conversion improvement coming from Inspiration Guide downloads (+2,046% or 1,658 more downloads). 
The average time on page for the "Insider's Guide" blog increased by 61%. The bounce rate on the "Plan Your Trip page" decreased by 38%. For the "Where to Stay" landing page, the average time on page increased by a dramatic 256%. The data shows that the site has seen more user engagement and interaction since redesigning, demonstrating a solid ROI.
Let's design your website
Did you know that every year, more than 400 million people touch, click, swipe, and scroll their way through websites designed by Simpleview?
Learn more about website design