In this time of global crisis and uncertainty, we put the call out to leaders, CEOs, strategists and consultants to sit down and tell us, in their own words, what is going on and what is going to happen next in this vital global industry.
 

As human beings, language shapes both how we think and how we perceive.
Research at Stanford and MIT in the last decade has concluded that language has a profound effect on how we see the world, even to the extent that people who speak different languages think differently. 
Like any industry, the narrative that we use in tourism, internally and externally, shapes and nurtures not just the perception of who we are, but also has an effect on what we do.
In July 2018 Destinations International published a policy brief titled, The New Tourism Lexicon, Rewriting our Industries Narrative. Its conclusion:
"Our industry has changed drastically over the past decade, and it's time now for the way we talk about our industry to change as well. Together, we can utilize a new tourism lexicon to connect with our stakeholders in a meaningful way and illustrate to them something we know to be true: that destination promotion is a public good for the benefit and well-being of all; an essential investment no community can afford to abate without causing detriment to the community's future economic and social well-being."
My guest today is one of the leading voices in the travel industry. His current work to create a new lexicon for tourism and his ongoing work in championing the recreation of destinations around community 'shared value' is prescient, groundbreaking and frankly, the hardinger of a long overdue shift in the industry.
Trust me, writing a bio for Jack Johnson that captures all the research, the intelligence and the thoughtful execution that Jack brings to the industry he cares so deeply for is a daunting and intimidating task. 
Simply put, Jack is a passionate advocate for destination organizations globally. A strategist, a problem solver and a consensus builder. As for his work? Well that speaks for itself! If you want to have a meaningful discussion about the future of tourism, there's no one better to talk to than Jack Johnson. 
Jack's work on reshaping the narrative for our industry has been exhaustive. Although, according to Jack, the New Tourism Lexicon has an inauspicious beginning. "It dawned on me that no one tests words and phrases more than elected officials." Jack set to work to capture the words they used and to turn that data into knowledge.
In terms of compiling the lexicon, Jack says, "you scan and you scrape all the social media postings and all the press releases and newsletters and any kind of public utterance of every elected official. We started in the United States, starting from the federal level, the president all the way down to the lowest elected official, (even) the park district Commissioner. And literally it's like a billion pieces of information. And we found the 20 most common words." With classic Jack humility he adds, "it isn't really rocket science."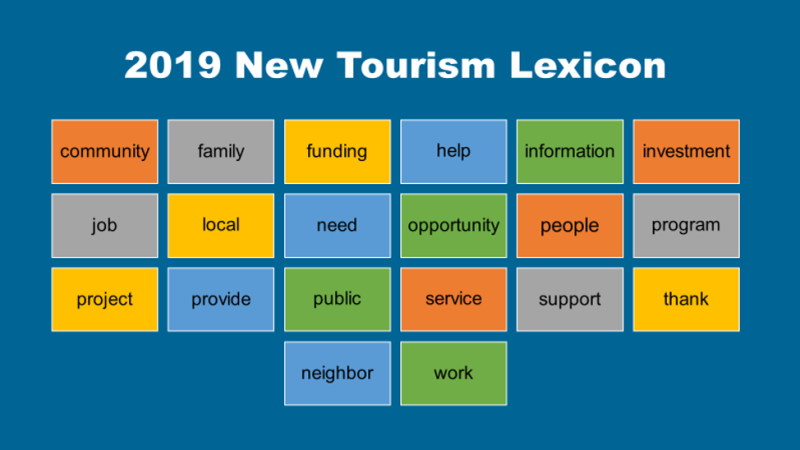 Image courtesy of Destinations International: https://destinationsinternational.org/2019-year-tourism-lexicon-words-values

But let me be really clear here, while we're talking about words, what Jack is committed to is action.
Jack is adamant that it is the values behind the words that are important, "That's what we're asking destination organisations to start with, the Lexicon, it is a tactic. If you don't have the values behind that, then maybe it'll help you fight the better fight, but you're not going to win the battle. You have to change your focus. You really have to have both feeling and understanding in a relationship with the residents in your community. And that starts with values, and you can't fake it."
Jack has thrown down the challenge to all of us, "What I've asked our industry to do is to step up and be treated like any shared value within a community." It is essential, says Jack, "that people understand that it benefits them. That it's put together to benefit them."
He points to the early days of convention and visitor bureaus, "I love the fact that one of the earliest CVBs came out of Milwaukee, and the name of it was the 'Association for the Advancement of Milwaukee.' And that's what a CVB or a destination organisation should be. So if you're in that role, you need to be able to communicate with people in ways that they understand and in words that they understand (especially if) what you're doing is based on values and concepts."
What are Jack's favourite words from the New Tourism Lexicon List?:
Community. People. Opportunity.
That's what we need to be talking about at the core of tourism. More importantly, those are the values we need to embrace as we build and rebuild our organizations and destinations.
That's what we need to be working on right now, that's how we future proof tourism!
Like I said, If you want to have a meaningful discussion about the future of tourism then you had better talk to Jack.