In this time of global crisis and uncertainty, we put the call out to leaders, CEOs, strategists and consultants to sit down and tell us, in their own words, what is going on and what is going to happen next in this vital global industry.
 

"The topic of sustainability in the tourism industry is timely. As destinations and travellers increasingly value economic, social and environmental sustainability, it is imperative that tourism professionals and policy-makers share best practices to position the tourism industry for further growth and development." 
The Victoria Business Examiner wrote that in 2018. They were talking about the inaugural IMPACTSustainability Travel & Tourism Conference.
Three years later the conference is an ongoing smashing success, but this year the concept of sustainability has taken on a whole new context in the shadow of the global pandemic.
 
My guest today is no stranger to a challenge. In 2018 he and his partners set out to develop the first event of its kind, a conference with a focus on developing a more sustainable and restorative tourism industry not just for Victoria BC, but for the industry as a whole. In the end it would include representation from destinations, industries and organizations from around the world. 
Paul Nursey is the CEO of Destination Greater Victoria, the former Director of Sales at Tourism Vancouver and the former VP of Strategy at Destination Canada. He's a friend, a bright light in the industry, a passionate thinker and a person who gets things done.
 
---
"Is tourism as we know it actually driving the benefit to the whole and not just a few?"
---

It is no surprise that at the core of Paul's progressive strategy to develop and leverage Victoria's sustainable brand promise was the need for civic and social alignment and engagement. 
"What it comes down to is this" says Paul, "Is the visitor economy really serving the community? Is tourism as we know it actually driving the benefit to the whole and not just a few? And how can we create a framework so that our industry is welcomed as part of the contributing fabric of society year round?"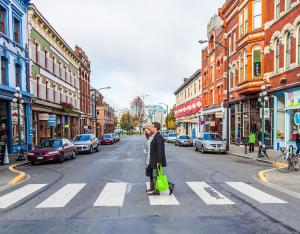 Paul goes on to explain that choosing sustainability as one of the key brand elements of Destination Victoria wasn't just an intellectual exercise, it was a cogent reaction to an impending shift that was already beginning to surface in 2014. 
"I knew as a DMO that we were out of touch. I [could] see the freight train of regulation coming our way, you know, in a year to three years. [It was] going to be imposed upon us if we didn't take control of this agenda ourselves from an industry driven perspective and make it really collaborative," says Paul. "We really were facing pressure and I think we created something quite special."
In a world before COVID-19, the word sustainability in a tourism context carried a strong connotation of environmental and green. But what Paul points out is this: sustainability is about resilience, it is about cleaner and safer destinations, but it's also about good business, strong partnerships and a long-term vision to improve a destination for residents and visitors alike. 
That is what Paul Nursey is working on right now!