In this time of global crisis and uncertainty, we put the call out to leaders, CEOs, strategists and consultants to sit down and tell us, in their own words, what is going on and what is going to happen next in this vital global industry.
 

My guest today is Euro-cool and a lot of fun to talk to. 
She lives in Dijon. She's a keen outdoor enthusiast, a swimmer and a hiker with a passion for the mountains. She was educated in France and England. She holds two master's degrees in languages and tourism management. Her name is Flavie de Bueil Badaout and she is (among other things) the Head of European Cities Marketing (ECM).
Flavie has a lot on her mind, all the time. Even more so now as we enter the first recovery phase for tourism in this global pandemic. There are many lessons we can learn from ECM's work on overtourism. Communities all over the world are rethinking how, when and if they want tourism to  return... and if so, in what form.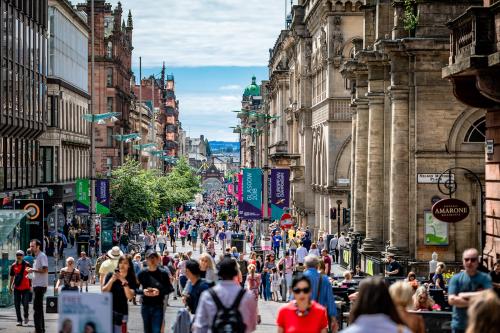 ECM promotes and links the interests of more than 120 members from 100 major cities in 32 countries. They work with partners across Europe to improve and futureproof  the sustainability and performance of tourism and meetings destinations through the exchange of knowledge and best practices within a city marketing framework.
From its inception, the European Cities Marketing group has focused on developing a radical new paradigm in destination management and city marketing at a time when global connectivity, rapid leaps in technology, powerful transaction platforms, and political disruption have become permanent driving forces in urban travel. 
ECM's focus on how destination management organizations need to adapt can be summed up quite simply as this: "more" as a solitary KPI is dead.  
"I remember when the low cost carriers came in. Everyone was so happy to get more and more and more tourists and suddenly [in this crisis] the most visited places were the first ones to be hit, they rely almost 100% on tourism," said Flavie. "I think that, at least in Europe, there is a common understanding that if we continue that way, if we continue to have overcrowded destinations, if we continue not to be able to breathe in this region of the world, then [we are] going to face a wall and that's that."
ECM has shed some fundamental assumptions and functions associated with the DMO. In today's context, the DMO's central role as the city's principal marketer is seriously contested on many different fronts, some would even say "under siege" and the end-goal of ever-growing visitor numbers and growing profits is criticized as unidimensional, unsustainable and coming at the cost of citizens.
 
---
"Do we want our cities to be like ghost destinations with no more residents..."
---

ECM is setting the agenda for what's coming next: an undeniable call for responsible tourism, for better cities where less might sometimes be more. Today the city's citizens and stakeholders rightfully expect the visitor economy to create lasting legacy improvements in the destination and to contribute more to their own quality of life. The DMO of tomorrow has to have a positive impact on the city socially, environmentally, and culturally. 
In this new paradigm perhaps the biggest shift is a mental one: we have to leave the myopic imperative of 'growth at all costs' behind. 
Two big questions on Flavie Badout's mind all the time? "Sustainability, and what do we want our cities to be?" 
Flavie adds a word of caution, "Do we want our cities to be like ghost destinations with no more residents or do we want to preserve the authenticity and the atmosphere of the city, the spirit of it?" 
"Be aware of the quality of life you have for residents", she says, "The locals… they own the place and they have to feel that you know who they are."