Whether you're a history buff, a cinephile, or a true crime fanatic, you can indulge in your favorite subject matter whenever, wherever by tuning into a podcast. Consuming content on the go has become a staple; one can play a podcast while they are doing chores, working out, or traveling.
With such a large reach to a vast audience, what is stopping your destination marketing organization (DMO) from tapping into these curious listeners? What content could you curate to inspire visitors and engage your locals and stakeholders? Later we'll hear from a few DMOs about their unique podcasts, but first, we wanted the ins and outs from Adam Stoker, president and CEO of Relic Advertising + EKR, who says destination podcasting is his favorite subject to chat about.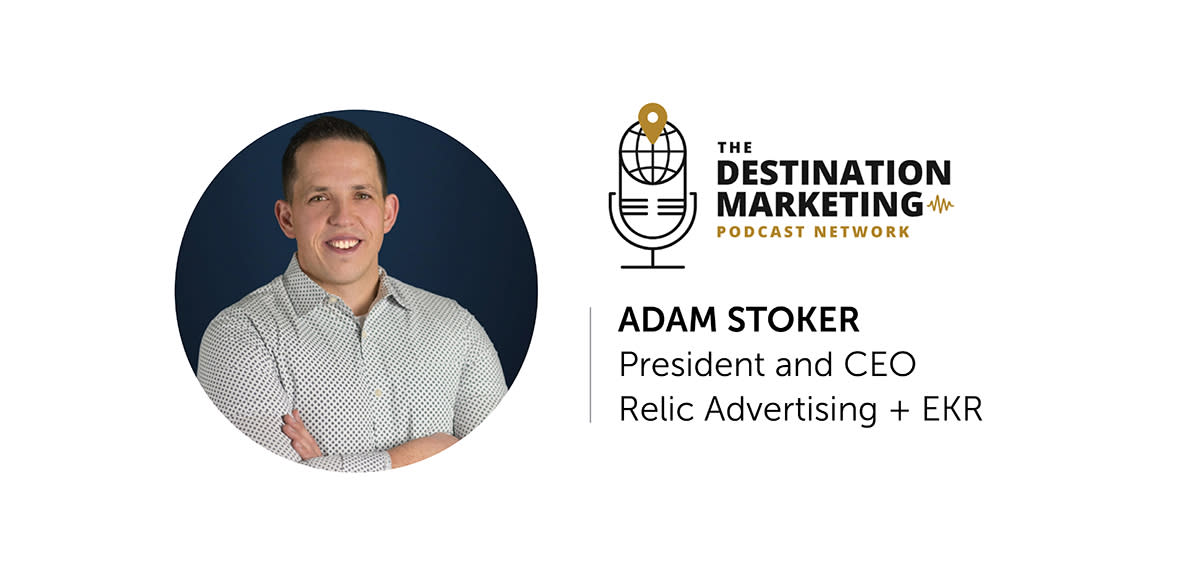 "Podcasting is very similar to marketing — getting the right message to the right people at the right time," said Stoker. "It's all about getting your destination's message out to people on the platform they are most likely to consume it."
As part of Relic Advertising + EKR, Stoker runs the Destination Podcast Network and has worked in destination marketing since 2012. He started the "Destination Marketing Podcast" in 2019 to better connect with tourism colleagues and represent Relic Advertising as a reliable resource in the industry. Since then, Stoker has pioneered the idea of destinations creating their own podcasts. In fact, he believes every destination will have its own podcast in the next two years. 
Why Stoker says your destination would benefit from a podcast:
55% of Americans have listened to a podcast
37% of those listen once a month
24% of those listen weekly
80% of all podcast consumers listen to most or all of an episode
"Podcasts are the only medium that allows you to consume content passively," said Stoker. "You can multitask when you listen to podcasts, and because of that, it is a much more appealing medium because it's a better use of my time as a consumer." 
So … is your destination ready to dig into passive consumption?
Describe the inspiration behind your destination's podcast, We're No Dam Experts. 

We had discussed the idea of a podcast for a few years, but there wasn't really the time or financial resources to make the investment. When COVID-19 hit, we found ourselves with a lot of time on our hands and not a lot of people traveling to our destination, so we launched our podcast as a way to continue communicating with our guests. Additionally, we wanted to reach a younger audience that may not know much about Great Falls, Montana.
Are episodes geared towards tourists, locals, or stakeholders?

Our main focus for our episodes is tourists. As Montana's number one podcast, our stakeholders and members do benefit from it; when we look at curating our content, we'll lean to our stakeholders to talk to us about the topic. All of our content is focused on people who are not in Great Falls and getting them interested in coming to Great Falls to stay here, experience the community, and tell their friends about all of the great things here.
Describe what content your podcast episodes cover.

 When we first started the podcast, we made sure we had content for the first five to seven episodes that would be about 30 minutes to an hour-long. There's always something happening here, event-wise or hidden gems — thankfully our destination always has something to talk about. We cover anything that a tourist would want to know about Great Falls, Montana. From our rich art scene, our culture, history, and outdoor adventure … if it happens in Great Falls and it's something cool a tourist would get excited about, we'll do an episode on it. Our number one so far was about a press release from Glacier National Park. The episode performed extremely well and it also went viral.
Do you have any advice for other DMOs or CVBs looking to take on their own podcast project?​ 

If it's something you can talk to a guest about, it's something you can do a podcast episode about. Find partners that are giddy about what they've done because it creates an emotional connection with visitors. Invest in your equipment and be sure you are set up correctly to interview guests over video. Dedicate time to your start-up, develop a brand, and start by launching at least five episodes at the same time. Create relationships with other podcasts and see if you can swap an episode here and there to share a new perspective. Also, know it is okay to say no to people who want to be a guest to protect your content and your voice.
What are the future plans for your podcast?​ 

In a perfect world, the future of our podcast would be to create a network. "We're No Dam Experts" would just be a small portion — there could be one for foodies, kids and family, couples, hiking, winter activities, you name it. If we had a network of all of these, it would be so exciting.

We had been talking internally for a while about doing a podcast to promote Greensburg and Decatur County. When my friend who is a professional podcaster was visiting, we started talking about it more seriously and started laying out what we would like to highlight, who our partner organizations are in the community, and what types of events to focus on.
Are episodes geared towards tourists, locals, or stakeholders?

Definitely all of the above. Our primary mission is to promote tourism and bring visitors into our community. But obviously, locals love hearing stories and learning details about local restaurants, businesses, and community organizations. About half our listeners are from Decatur County, but we have listeners from 16 countries and 38 states.
Describe what content your podcast episodes cover.

Each episode so far features a restaurant (or in the case of the Southeast Indiana Fried Chicken Trail episode, a series of restaurants) or a local business, and then highlights things that are going on in the community.
Do you have any advice for other DMOs looking to take on their own podcast project?

We were lucky to have a professional partner with a ton of story-telling and podcasting experience who was engaged and enthusiastic about highlighting good things that are going on in his hometown. I think that listening to the feedback you're getting and leaning into what your listeners tell you they like about what you're doing.
What are the future plans for your podcast?

My board initially approved doing four episodes, and then based on the positive feedback we got, they approved doing four more. So I hope we keep releasing episodes and keep telling stories about what's happening in our community. Every small town is unique and has its own stories to tell; our goal is to educate potential visitors about what there is to eat, what there is to do, what there is to see here, and help make people who are considering visiting Greensburg feel comfortable and welcomed here.
Describe the inspiration behind your destination's podcast, Destination Annapolis.

Our podcast covers the people, places, and events that make Annapolis and Anne Arundel County a destination of choice for discerning travelers. We started the podcast in December of 2020, during COVID-19, as a way of reaching out to visitors and staying in touch with area residents and stakeholders. We wanted to let them know what our wonderful attractions were doing during the pandemic, like implementing long-desired renovations or getting into strategic planning. Now our podcasts are targeted at keeping listeners in the know about new and old, favorite attractions and experiences that await them in Annapolis and Anne Arundel County.  
Are episodes geared towards tourists, locals, or stakeholders?

All of the above – and then some! We also see the podcast as a vehicle for educating journalists. We realize our partners have compelling stories to share that audiences would be interested in. If we can reach journalists with the message, they can help spread the word to our visitors and stakeholders as well. The episodes have been fairly comprehensive – often taking the listener from the creation of an organization or attraction to the present day. That means journalists can find the information they need in one convenient, reliable location. 
Describe what content your podcast episodes cover.​ 

We started with our major attractions and what they have to offer. We've also covered our arts and entertainment scene, the significant contributions of our agricultural community, and the work of a host of nonprofit organizations that help shape the personality of the destination. We see the future as offering endless possibilities for our podcasts – from diving into the culinary scene, to following the paths of local personalities, to uncovering hidden gems, and beyond. 
Do you have any advice for other DMOs looking to take on their own podcast project?

Just do it and have fun with it! It's a minimal investment to get started. There are so many opportunities to tie a podcast into your overall marketing and public relations strategy. Enhancing relationships and building rapport, credibility, and trust is time well spent. Without exception, I've emerged from the interviews feeling a closer connection with the person I've spoken with, and I believe the feeling is mutual! This helps to build strong, long-lasting ties that benefit the community and everyone involved.
What are the future plans for your podcast?

As a DMO, we are very conscious of the visitor experience — what are they looking for, what can we offer them, and how can we engage them to keep them coming back? As we begin a new strategic plan, we are looking at our brand and where we want to go with it. We're considering how we can use the podcast to get the most mileage out of our marketing and public relations outreach efforts. We want to make sure the podcast compliments our social media outreach efforts, website content, video promotions, etc. because it's important that they all be integrated.