Rochester, NY, has a lot worth recommending. 
Located on Lake Ontario, the upstate New York destination is a front door to the majestic Finger Lakes region. It has everything a major metro city offers from a cultural standpoint, with all the fun and beauty that comes with a four-season adventure destination. Visit Rochester describes the city as a hidden gem — but because nearly 20,000 tourism-related jobs are on the line, it's crucial that the gem of a destination not be too hidden!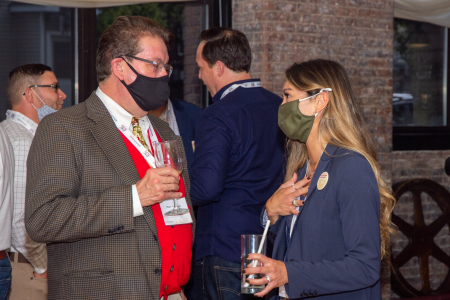 Attendees gather at a recent Recommend Rochester event at the Jackrabbit Club in Rochester, NY.
Personal recommendations for where to hold meetings, conventions, conferences, and sporting competitions play an important role in bringing these events to the community, so Visit Rochester initiated a program to let locals know just how vital their trusted recommendations are, an effort it relaunched this month with a cocktail party at the new and trendy Jackrabbit Club that drew more than 60 community members.
"When preparing the guest list for this event, we made the deliberate choice of inviting members of the Rochester community who were engaged in professional and social associations, influential in their own circles, and most of all, rising leaders in our community," said Amanda Fox, CMP, director of event services at Visit Rochester. "We wanted to have a diverse group of people in the room who had one key trait in common: a desire to help our community continue to recover from the impacts of the pandemic and to help the 'Flower City' blossom. We also engaged our entire staff to invite people from their personal and professional networks who would benefit from learning more about the Recommend Rochester program."
The destination management organization (DMO) knew locals were passionate about the area and would be a great source of driving events to the region — if only they understood the vital role they could play as area boosters and ambassadors. Tourism generates an economic impact of over $1 billion per year and is a significant economic driver in Monroe County.
"To help draw out leads from attendees, and to help them understand the mission of the Recommend Rochester program, our Visit Rochester staff were spread throughout the room and engaged attendees in conversations throughout the night asking questions like, 'What events have you traveled for in the past?' or 'What associations, social clubs or sports organizations are you a part of?' We found that by asking these questions as thought starters, we were able to help attendees identify and envision events that they have traveled for that could, in turn, be hosted here in Rochester," said Fox.
Representatives from the Meetings and Sports sales team also gave a short presentation that shared with attendees the mission and purpose behind the Recommend Rochester program and some of the reasons attendees should consider hosting their next event in Rochester. 
We asked Fox to answer a few questions about the program: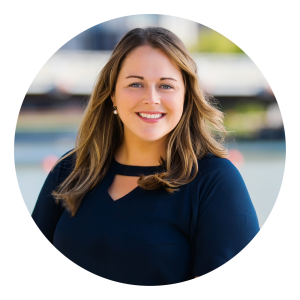 Amanda Fox
CMP, Director of Event Services at Visit Rochester
How did the idea of recruiting locals to help with securing business events for the city come about?​ 

Local ambassadors play a critical role in the selection of Rochester and Monroe County as the host location for a conference, convention or competition. Visit Rochester is working to establish and engage a network of local ambassadors who can "Recommend Rochester" for their next meeting, convention or other special events. 
Visit Rochester's meeting, conventions and sports sales team works closely with, and rely on the referrals of local contacts who can help bring their next meeting, convention or event to Rochester. The Recommend Rochester program identifies local contacts who can recommend Rochester for their next meeting or event, as well as help our local contacts understand the benefits of hosting a meeting or event in Monroe County.
The biggest obstacle to overcome is helping to educate local residents on all the reasons why they should bring an event that they would typically travel out-of-town for to their hometown. 
---
In what ways does the team work with local contacts to educate them about what Rochester, NY, has to offer as a meeting destination?

The Visit Rochester team regularly presents information on, as well as offers to provide familiarization tours and site visits to local contacts, to help them discover the limitless possibilities for hosting an event in Rochester. 
We find that once local residents see first-hand the quality and diversity of meeting event venues, facilities and off-site activities, they are impressed by Rochester and eager to invite their associates to the area. 
Local residents are often surprised by how collaborative the hospitality community in the Rochester area is. Hotels, venues and the convention center work hand-in-hand with Visit Rochester to provide local contacts a seamless experience for hosting an event in Rochester.
---
What outcomes have you had, do you hope for, and what constitutes success?​ 

Through the Recommend Rochester program, we have built a group of strong local advocates to help support this effort. Each year we build on this core group of local supporters, and we are using recovery from the pandemic as an opportunity to reach back out to locals and encourage them to "Recommend Rochester" to aid in our community's rebound from the past year. 
The ultimate goal of the Recommend Rochester program is to attract new meetings, conventions, sports tournaments and other events to choose Rochester in the future. These events will then, in turn, bring new visitors who will positively contribute to the economic impact of the tourism and hospitality industry in the Greater Rochester area.
---
What has the feedback been from the local business community?​​ 

Feedback from the local business community has been supportive, and once local businesses learn about the program, they are eager to help identify new groups and organizations who could host an event in Rochester. 
Visit Rochester has formed a committee of local business representatives to help expand the program and make even more people in the community aware of our effort and the opportunity to "Recommend Rochester" for their next meeting or event.
---
What advice do you have for other DMOs who might want to undertake a similar effort?

Two pieces of advice for other DMOs:
Get the right people in the room to learn about the effort and help you get started.
Engage with relevant community partners to raise awareness of your efforts and forge partnerships along the way.
If this month's event was any indication, the DMO certainly took its own advice about how to create a solid program. 
"The relaunch of the Recommend Rochester program was a great success," Fox said. "The event brought together 60 local Rochester residents who could recommend associations and organizations to host a future event in Rochester. The event resulted in more than 50 meeting and event leads for the sales team to pursue."