In September 2021, Simpleview released a new VenueOps integration with the Simpleview CRM. Offered by EventBooking, VenueOps is an intuitive, cloud-based venue management and booking application designed for conference centers, performing arts centers, arenas, and stadiums. 
This paid feature provides real-time CRM Lead syncs between the EventBooking software and your Simpleview CRM if your destination currently subscribes to VenueOps. Once enabled, the integration allows the creation of Inquiries in VenueOps based on information set within CRM Leads. Additionally, as the VenueOps Inquiry becomes a booked Event, the status of its corresponding CRM Lead also changes.
When you send a Lead to VenueOps to create Inquiries, they will have a VenueOps ID assigned and stored in the CRM Lead so you can properly identify them. Users with the ability to create Leads in a Meeting Sales user group have access to and can manage VenueOps Leads.
 
VenueOps Events Lead Lifecycle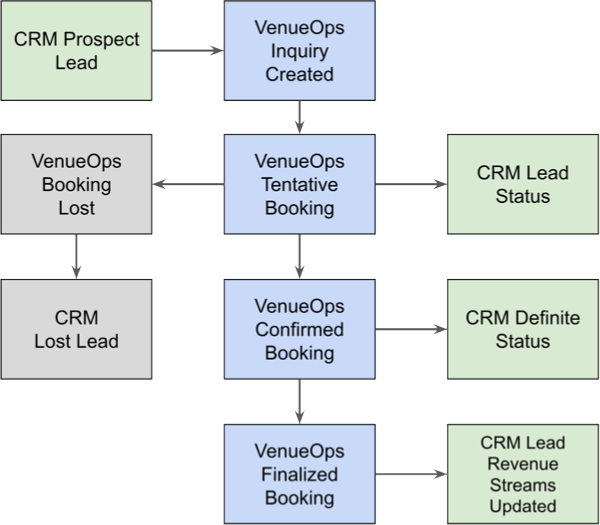 Make sure to visit the CRM Knowledgebase to learn how to manage your VenueOps Leads.
In addition to the VenueOps integration, we also released the EventBooking Calendar Integration within your CRM. Current destination subscribers to EventBooking's VenueOps software can have this free feature enabled, providing users quick access to the EventBooking VenueOps Calendar from within Simpleview CRM in their Meeting Sales User Group.
These new integrations join Simpleview's growing list of CRM integrations designed to help DMOs streamline processes, become more efficient, and see success in their Meeting Sales initiatives.  
Want to learn more about the Simpleview CRM?
Click here