When Apple's Mail Privacy Protection (MPP) rolled out in September 2021, email marketers were in a frenzy anticipating how this update would affect email metrics and the world of email marketing. 
Let's explore how Apple MPP is actually impacting DMO email metrics, particularly open rates, and what you can do about it.
But first, if you're unfamiliar with MPP, here's a rundown: when a user opens the Apple Mail app for the first time after downloading the newest operating systems, they receive a prompt to choose if they would like to protect their privacy. If the user decides to protect their privacy, this option enables MPP and hides their IP address. Alternatively, users can go to "Settings" → "Mail" → "Privacy Protection" to then choose whether they'd like to both hide their IP address and protect Mail activity or only enable one of the Privacy Protection features. 
When someone selects the "Protect Mail activity" option, here's what happens: Apple first routes emails through a proxy server to pre-load message content — including tracking pixels — before serving to readers. This, in turn, prevents senders from seeing if and when recipients opened their email. Ultimately, open tracking is disabled, resulting in emails and images being downloaded whether or not the user opens the email. 
What Have We Seen Since Apple's MPP rolled out? 
As you can see from Simpleview's actual client data from Act-On, since September 2021, open rates have been steadily increasing, and click-to-open rates are decreasing. The increase in open rates is attributed to the fact that any emails sent to users who have opted into MPP are false opens. As MPP adoption progresses, open rates continue to rise. On the other hand, click-to-open rates are seeing a decline due to the exaggerated open rates.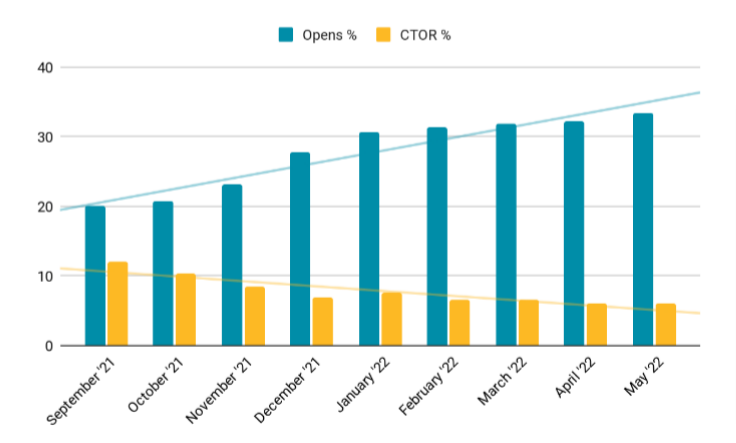 The primary factor in how inflated open rates will be is the number of Apple Mail users you send to. According to Campaign Monitor, 75% of all Apple iPhone users are currently using iOS 15, and 97% have adopted MPP. These numbers are hard to ignore. If you're not seeing a major increase in open rates, another factor that comes into play is the group you're sending emails to. Our Marketing Automation team found that Member/Partner, Meeting/Sales, and other groups outside of Consumer may not be as highly affected by MPP. This could be because these users may be viewing emails on their desktops instead of their phones. On average, DMOs are seeing a consistent increase of about 8-15% in open rates due to this update.  
The Big Question Remains: Is the Open Rate No Longer a Reliable Metric? 
 Yes and no. If you're looking at the straight open rate metrics as they come, then no, this is not a reliable metric. However, many tools and tricks are available to uncover a more accurate open rate. Act-On has updated its email reporting in response to the update. 
Here's how you can identify opens impacted by Apple MPP:
From the "Sent Message" report, select the "Device & Column" tab to identify contacts that are protected under the MPP update
You can export this into a csv and sort it to calculate these contacts 
Remove that number from the 'delivered' and the calculated 'opens'
Once those numbers have been identified, use this free calculator to determine the open rate that does not include opens from users that have the Apple privacy setting enabled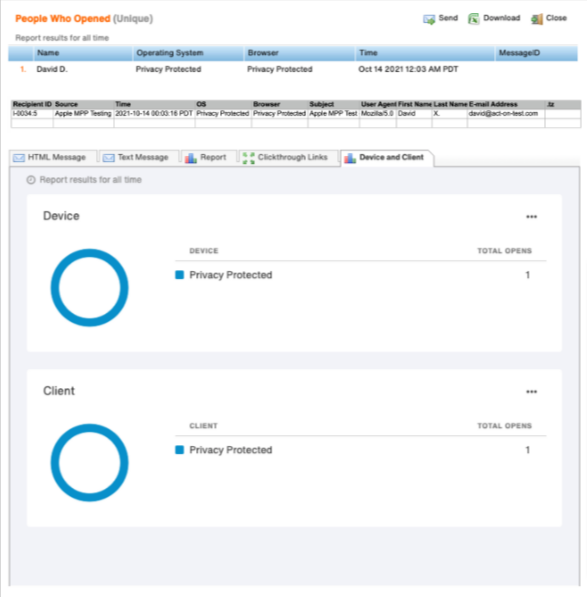 Check out this article for more information on Act-On's updates to email reporting.
Alternatively, Litmus offers this tool for those who really want to delve into the metrics.
The formula will calculate how MPP impacts your open rates, considering your average open rate before MPP and the percentage of email opens from Apple clients before MPP.
 
 It's Time to Shift to New Metrics: Hello, Click-through Rate
Although open rates were traditionally viewed as the bread and butter of email marketing metrics, it's time to shift that mindset. Brand engagement metrics will provide more accurate and valuable insights into how your audience responds to your email marketing initiatives. Hone your focus on click-through rates, which will provide richer, engagement-centered data and have not been skewed by Apple's update. Form submissions, landing page visits, and website visits can also add useful insights into how your marketing campaigns are performing.
There's no way around Apple's MPP, but that doesn't mean you can't rely on your open rate metrics by getting creative and digging deeper into other key metrics. Email marketing is an ever-changing landscape to which we constantly need to adapt. Our email marketing experts are here to assist, so if you need help identifying your open rates or understanding Apple MPP, reach out to your Marketing Automation Specialist.
Source:
https://www.campaignmonitor.com/blog/email-marketing/state-of-mail-privacy-protection