We are excited to announce a major enhancement to Meetings Information Network (MINT+) effective June 2021. 
MINT+, a joint venture between Destinations International and Simpleview, is the industry's largest shared repository of information on organizations and their meetings and events. MINT+ is currently in the midst of a significant transformation, including automated or electronic reporting, new market segmentation and a recommendation engine. 
For years, the DMO industry has discussed the need for consistency in performing market segmentation in MINT+. Recent Simpleview research highlights the challenge in achieving that consistency, identifying over 26,000 records that cannot be retrieved because of inaccurately performed marketing segmentation. It's been a longstanding problem in search of a solution. 
Well, THE WAIT IS OVER! 
Universal standardized classification for all events in MINT+ has arrived!
With this new release of MINT+ and automated reporting, we will no longer ask our reporting DMOs to assign the appropriate market segment. Instead, we will rely on the best practices and the universal industry standardization of two classification systems.
NAICS – North American Industry Classification System (for-profit organizations)

NAICS is the standard used by federal statistical agencies in classifying business establishments to collect, analyze and publish statistical data related to the U.S. business economy. The NAICS code is included when for-profit companies file their tax returns. 
NTEE – National Taxonomy of Exempt Entities (nonprofit organizations) 

NTEE codes classify nonprofit organizations by their primary purpose and are also used by the IRS to classify nonprofit organizations and to categorize both grants and grant recipients.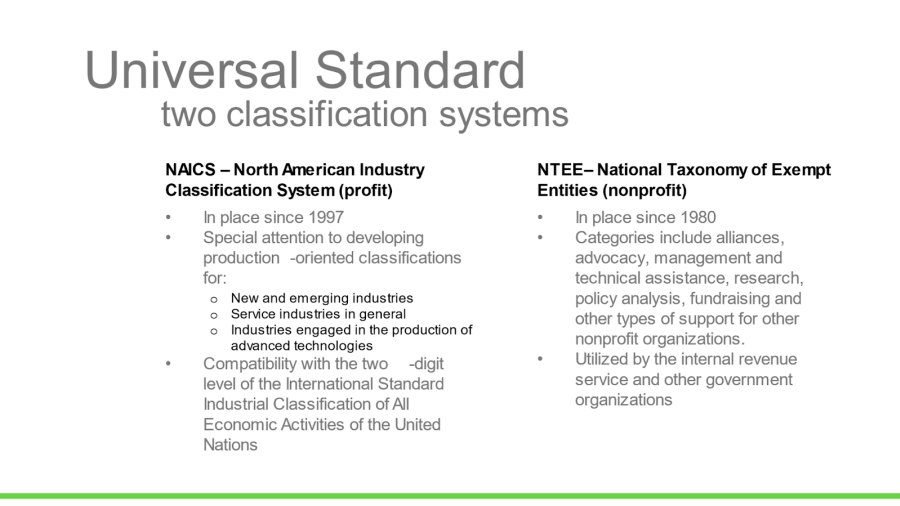 As of June 2021, the NAICS and the NTEE databases have been applied to all organizations in MINT+. MINT+ subscribers will immediately enjoy the ability to query and trust the results returned by market segments in the MINT+ Query Builder.
All good stuff – long overdue and anticipated! We are excited about all the enhancements happening this year for MINT+. We know standardized market segmentation is a central component in the system that makes all the data more searchable and thus more useful to users in their search and query.