Where We Have Been 
The MINT+ transformation has launched! Ease of reporting, more meetings data, and reliable universal market segmentation have been implemented, while a suggestive recommendation feature is on the way later this year. 

Destinations International shepherded the industry's proprietary business development tool for over 100 years. From its beginning, when convention secretaries placed blue slips sharing their event bookings in a cardboard box, industry sales leaders intuitively knew the enhanced power of collaboration. MINT+ stood the test of time, growing from Excel spreadsheets to internet- and cloud-based repositories for searching and querying, and destinations have long relied on this powerful co-op for increased account knowledge and prospecting.  
Take us then to March 2019, when Destinations International enlisted JLL to conduct a wide-ranging subscriber survey to determine what was needed for the next generation of MINT+. Enhancements seen as vital to the ongoing value of the database were identified by subscribers as:
Lessen reliance on subscribers to report data
Increase reporting and participation
Build universal confidence in its accuracy
Utilize artificial intelligence to identify meetings of interest 
---
"Destinations International is about serving our members first and foremost," said Don Welsh, President and CEO of Destinations International. "We heard loud and clear from our members that they wanted current and accurate data in order to prospect future meetings. This new product is the future of the meetings and events industry, and we are thrilled to partner with Simpleview, one of the travel and tourism industry's technology and data leaders."
---
Where We Are Going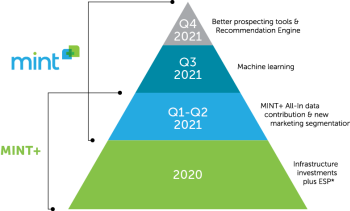 In January 2020, again relying on partnership and collaboration as a cornerstone of success, Destinations International turned to their trusted technology partner Simpleview to become the exclusive licensee for MINT+ product management and development.  
Simpleview subsequently made significant investments in the product's infrastructure to begin to provide solutions to the most prevalent pain points for MINT+ subscribers.
Automated Reporting: MINT+ All-In
Gaining the commitment of all MINT+ subscribers to be ALL-IN was the critical next step. This vote of confidence in the value of collaboration over competition cemented the way forward for our industry database. 
With the start of automated reporting, we have eliminated the reliance on MINT+ subscribers to report data and, at the same time, increased reporting and participation across the board. The momentum is taking hold as we are currently seeing an increase of 130+ new to MINT+ meeting profiles and over 1,500+ meeting occurrences (new bookings and histories) being added to existing meeting profiles each week.  
This adds up to making MINT+ compliance seamless for DMOs while providing more robust and complete meeting profiles from which to build account knowledge for direct outreach and a larger pool of profiles to pull from in query building.   
Universal Market Segmentation
With MINT+ All-In and automated reporting, there is no longer a reliance on DMOs to assign the appropriate market segment. Instead, the best practices and the universal industry standardization of two classification systems will be applied to all organizations in MINT+.
Helping to build universal confidence in its accuracy, standardized market segmentation is a central component in the system that makes all the meetings data more searchable and thus more useful to users in both their search and query. 
NAICS-North American Industry Classification System (for profit organizations)
NAIC is the standard used by Federal statistical agencies in classifying business establishment for the purpose of collecting, analyzing, and publishing statistical data related to the U.S. business economy.  The NAICS code would be included when for profit companies file their tax returns.  
NTEE-National Taxonomy of Exempt Entities (for nonprofit organizations) 
NTEE codes classify nonprofit organizations by their primary purpose and are also used by the IRS to classify nonprofit organizations and to categorize both grants and grant recipients. 
The Recommendation Engine:  Moving MINT+ to Becoming Suggestive 
To aid in protecting the valuable selling time of industry sales professionals, the future of MINT+ is moving towards artificial intelligence to play an instrumental part in helping DMOs identify meetings of interest based upon their unique preferences.
Much like Netflix or Amazon, the database will become more reliable over time in suggesting meetings and events of interest based upon historical bookings. While the manual query builder functionality will always be available for MINT+ subscribers to create their own searches based upon selected parameters specific to business goals, a recommendations page is a highly interesting and anticipated benefit to MINT+ users. It will allow us to use the same kind of sophisticated technologies other industries employ to identify prospects and maximize selling opportunities.
If Ever There Was a Time
Perhaps you have considered MINT+ in the past or are looking to add tools for post-COVID-19 meetings recovery, or maybe you were a former MINT+ subscriber frustrated by some of the pain points with solutions that have now been identified. If so, we confidently believe there has never been a better time to rely upon partnership, collaboration and technology solutions to aid your sales efforts. We would like to welcome you to the industry's proprietary business development tool for the last 100 years. That is quite a run, and it is about to get a whole lot better.