I had the honor to attend the annual IMPACT Sustainability Travel & Tourism summit last month in Victoria, British Columbia. Listening to some of the best minds in the business articulate the challenges we face over the next decade, it struck me just how very many things we need to do well and get right in the next phase of destination development.
The future of successful, thriving destinations — sustainable, regenerative, egalitarian, animated, open, safe — involves many complex and interconnected parts before it becomes a reality. 
At first glance, it's a mountain of work with many difficult and untested paths.
But what I witnessed in Victoria was a testament to the fact that humans are incredibly agile builders, aggregators, and innovators and that those paths we seek are being plotted and traversed as we speak.
In fact, engaged communities of tourism stakeholders around the world have been shaping a collective and regenerative tourism model for decades. Destinations that come to mind include Flanders, Belgium, Victoria, British Columbia, and the Bay of Plenty, New Zealand. 
No two destinations are alike, but transformational opportunities arise when motivated tourism stakeholders work together to envision and realize a vibrant tourism future for their destination.
That engagement, sharing of ideas, and cross-pollination often starts as a spark inside the destination marketing organization (DMO) and moves outward — but almost as often, it begins with a player, venue, event, attraction, or a "happening" outside the DMO.
One of those "sparks" is Frontiers North in Churchill, Manitoba. Founded in 1987 by Merv and Lynda Gunter, the company focuses on the relationship between people and the land. Frontiers North believes it's a privilege to share this awe-inspiring land with visitors from around the world.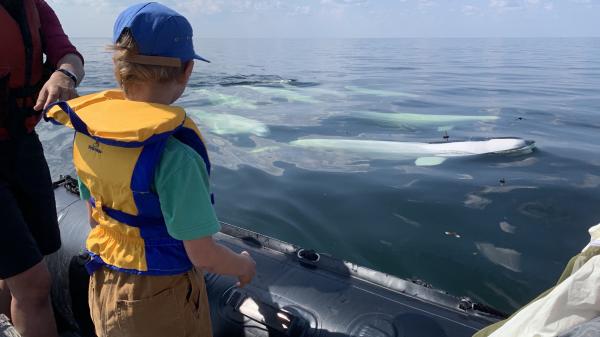 Frontiers North's Belugas, Bears and Blooms tour
And deliver on that mandate it has for the past more than 30 years. Its Tundra Buggy Adventure is a world-renowned tour that takes guests to the best locations in the Churchill area to experience polar bears and other wildlife. The tour has garnered more awards than I can count.
But the real point of this story — and the reason we're today talking to John Gunter, CEO and president of Frontiers North — is to talk about destination development.
We are here to talk about a spark that happened for his parents, Merv and Lynda. It was a spark that changed the future of Churchill and put it on the map.