Visit Estes Park had been working successfully with Destination Travel Network (DTN), a Simpleview website monetization company, but changed its strategy to bring its online ad operations in-house. It turned out that the sales process was much more labor-intensive than anticipated; the destination marketing organization (DMO) decided to reestablish its relationship with DTN and quickly saw a 92% revenue boost in website ad sales.
"It has been a true win-win for us," said Rebecca D. Gelsinger, chief operating officer at Visit Estes Park. "After bringing DTN back into the picture, we were able to hone in on our strengths, abilities, and skill sets to better serve the community. The time saved allowed us to build a robust community ambassador program and build out our community relations department. More time in the day meant more time for us to be out in the community, which, at the end of the day, aligns perfectly with our role."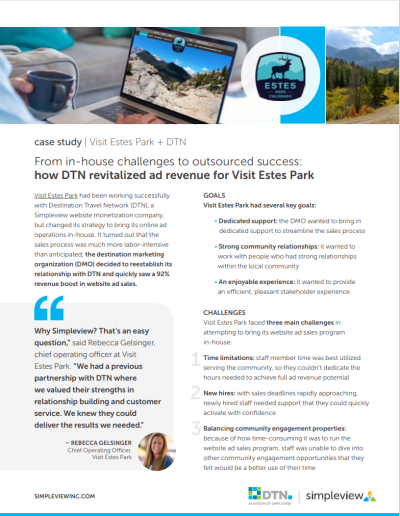 Ready to learn how DTN can help put your website to work in generating additional revenue for you and your partners?
SCHEDULE A DEMO