In the ongoing quest for authenticity, travelers seek destinations that stand out. Natural landscapes, unique experiences, and an area's vibe play big parts in that — as does the strength of a destination's locally owned businesses. 
The city of Kirkland, Washington, recently concluded a pilot program called "Kirkland Ca$h" that promotes tourism and supports the local economy by providing an incentive for visitors to spend their money in Kirkland. The three-month program gave $100 in digital "Kirkland Ca$h" to visitors who booked a two-night stay at one of several participating hotels. 
"Kirkland Ca$h is a powerful tool that the city can use to support consumer patronage of local businesses, Kirkland-based hotels, non-profit organizations, and more," said Martha Chaudhry, special projects, economic development at the City of Kirkland. "Kirkland Ca$h provides an incentive for consumers to give and spend locally, and serves as a cash-equivalent reward which can only be redeemed at participating local businesses."
By The Numbers — Kirkland Ca$h Sees Solid Results
Chaudhry said the response from local business owners has been favorable. "The initial pilot injected thousands of dollars in Kirkland Ca$h certificates into the local economy," she said. "Our intention now is to create programs for Kirkland Ca$h that distribute the certificate redemption to include ever more businesses with each program."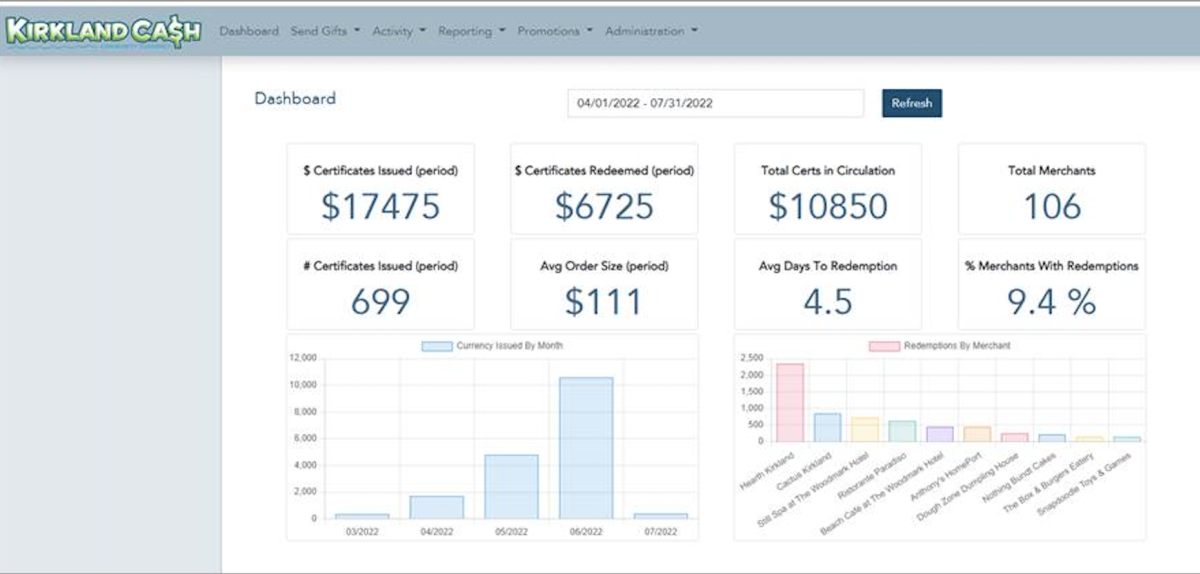 Results of the pilot program include: 
A total of 699 Kirkland Ca$h certificates were issued with a total value of $17,475 
Of the 106 merchants who joined the program, 9.4% had Kirkland Ca$h certificates redeemed at their place of business
The average order size was $111
The average number of days to redemption was 4.5
A wide range of boutiques, wine bars, spas, nail salons, and restaurants accepted the local currency. Participation, marketing, and promotion were free to Kirkland businesses that took part in the initiative, which was a joint effort through the city of Kirkland, Explore Kirkland, and Shop Local Kirkland.
Chaudhry had some advice for destination marketing organizations (DMOs) interested in trying such a program. "Start with a targeted program, a 'win-win' approach such as the 'You Stay, We Pay' tourism support program, which benefits local hotels directly by providing an incentive for guests to book overnight stays and local businesses secondarily through the certificate redemption process," she said. "And feel free to get in touch — we'd be happy to help!"
The next edition of the Kirkland Ca$h program will begin in late 2022.