Pre-pandemic, the need for stakeholder engagement and alignment was a pressing but not yet universally acknowledged challenge for all DMO's. However, the past 18 months have catapulted this issue to one of the most urgent and important challenges of post-pandemic tourism management.
About three months ago, I received a letter from a graduate student at the Breda University of Applied Sciences in Denmark introducing me to a compelling, innovative exploration of this issue.
Gabriela Sarmanova wrote: "I've been listening to your podcasts for a while, and it has been such a great contribution to my Master thesis, which I'm currently writing in Denmark. As a Tourism Destination Management student, I'm developing a business model canvas of a tourism start-up consultancy using gaming/playful interventions for stakeholder engagement."
Belgrade, Darmstadt, Amsterdam, Gothenburg, Valencia and Stavanger were all part of a beta simulation that Gabriela and her peers, Ellis Middlekamp and Inga Schultka and Dr. Jessika Weber Sabil, created as part of the SCITHOS program ("SCITHOS" being a portmanteau of "smart city hospitality").
Gabriela is the FOT guest blogger today, writing about the stakeholder engagement simulation that she helped create at Breda University.
Future of Tourism Series | Guest Blog
By Gabriela Sarmanova
In such times of paradigm shift, many destinations are faced with complex questions on restarting tourism, and some are even questioning: "Why do we want tourism in the first place?" 
Each stakeholder has different beliefs on what is good or bad for the destination, which requires complex problem-solving methods. But what if this challenge presents an opportunity to get to know other stakeholders in your area, start an effective discussion and avoid implementing counteractive measures?
As tourism destination management alumni from Breda University in the Netherlands, we bring a young perspective to tourism planning and question the status quo of tourism planning methods. 
We realize the constantly evolving needs of destination leaders, local communities and enthusiastic travellers, who all navigate cohabitation in one destination. Having both theoretical background and practical experience in the industry, we recognize the pressing gap between bare words and real action in developing new strategies for a resilient destination — an urgency accelerated faster than ever by the pandemic.
This turning point, the place where our passion originates from, is the paradigm shift away from prioritizing in-bound tourist growth with little or no consideration of resident satisfaction to a more inclusive and engaged approach. Our fresh and innovative approach to tourism planning motivates us to let the local community be heard and allow locals to become the leaders of their destination. But how do we aim to do that?
Our bottom-up approach for tourism planning is based on a playful and interactive methodology, where participants, as leaders and future leaders, address the burning questions of tourism planning in a safe, "playground" setting, with the right to "go wild." It offers a unique opportunity to be one step ahead and see the direct impacts of their actions before changes are implemented in a real-world context.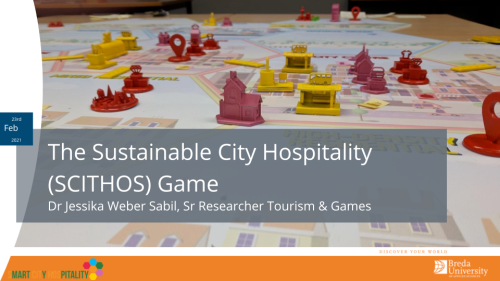 This open dialogue is centered around a multi-player, simulation board game, where stakeholder collaboration is crucial to move through the game session. A physical representation of your destination on the board, as well as a digital dashboard, shows you how the destination changes by your own and other player's actions, where consequently, residents' satisfaction either increases or decreases.  
How do you use these insights? A couple of possible scenarios arise from the simulation, and it is up to players, as leaders in the simulation, to address these challenges in an open dialogue and demonstrate their stakeholder point of view in front of the other players.
Engaging stakeholders in meaningful and productive partnerships is essential to the future of tourism, and many of the tools and processes that we need to engage and align with a new, broader-based stakeholder network are still in development; SCITHOS is one of those tools.
 

Gabriela Sarmanova
Graduate student at Breda University of Applied Sciences, The Netherlands
I am a 24-year-old curious and intuitive person, who feels most alive in an international setting, where I develop both myself and the company. After studying abroad, I embrace challenges with an optimistic mindset. Being goal-driven just as in my favourite sport running, my motivation stays strong when I can keep up a similar pace in my projects as well. I strive in an environment where I can initiate conversation, make decisions, plan, and arrive at the end
goal of the project. I am an emphatic listener, honest, direct and have a critical approach to solving problems. My strengths are cross-departmental tasks and being able to quickly understand and adapt to a new culture.