Future of Tourism Series | Guest Blog
By Frank Cuypers

COVID-19 and climate change both have a serious effect on the future of travel. Many leaders give necessary leadership through articles and keynotes about restorative, meaningful, regenerative or transformative tourism. At the same time, the systemic shift requires action. All of us working in this industry share a responsibility to make the industry and our planet more resilient. We must overcome fear by helping people see a better future. 
Too many destination marketers seem to freeze in fear and wait until all their stakeholders, politicians or colleagues in the industry are on board. This is a perfect example of circular reasoning: refusing to do something new until everyone agrees that it works, even though no one can know the new thing will work until they try it. How many times have we heard: "This should be the new direction, but our people are not there yet."? Some people are afraid of transforming tourism because it means losing the perceived stability of business as usual. COVID-19 has made one thing clear: it's no use going back to business as usual. In many places, old ways of business have already been lost. After this crisis resolves, the old usual won't exist either – and that's okay.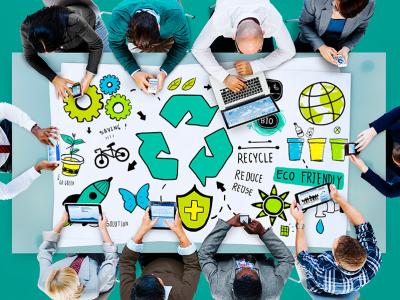 Others fear a financial fallout and a weakening of their legacy. But some signals of change from big business inspire courage. In the U.S., corporations have long been structured around shareholder primacy – the idea that "corporations exist principally to serve shareholders." In August 2019, Business Roundtable, an association made up of the CEOs of some of America's largest companies, including Apple, Walmart, and Marriott, released a new Statement on the Purpose of a Corporation. Their statement outlines "a modern standard for corporate responsibility" by emphasizing a fundamental commitment to all stakeholders. The list of stakeholders includes customers, employees, suppliers, communities and shareholders. "Each of our stakeholders is essential. We commit to deliver value to all of them, for the future success of our companies, our communities and our country." Such leadership from the top matters because it sets the tone for a wider conversation about the roles of business and travel.
Some places and tourism destinations are already moving onward:
Places and organizations like these are not only working to flatten the COVID-19 curve, they're also applying that urgency and sense of responsibility to their role in battling the climate crisis. One way to overcome fear within your organization and among your stakeholders is to collectively build a tourism strategy that leads to outcomes like those listed above. The way global business is done must change to operate within the Earth's capacity. Tourism will be no exception: adapt to the new normal or become a Jurassic industry. 
 
Frank Cuypers
Senior Strategic Consultant Destination Think / Tourism strategist for the World Bank in Mulanje, Malawi / Visiting Professor MCI (Innsbruck), Columbia University University (New York) / Lecturer at Charlemagne Institute Antwerp / Founder of WHY YOUR CITY-research project/ Keynote 
Frank  lives in Antwerp and Amsterdam and is a thought-leader in city making and city marketing, being associated with Destination Think as the next step in his extensive career and consulting work with places all over the world. Frank has detailed knowledge about the management of destinations worldwide and speaks fluent English, Flemish, German and French. He was a trusted advisor for the city of Antwerp in Belgium for five years on city marketing, cultural policy and tourism approaches. He personally led and transformed the international department of Visit Flanders, the DMO for the Flemish region of Belgium, where he co-wrote their marketing strategy and overall strategy. 
He has also advised and worked intensively in and with  the cities of Calgary, Montréal, Vancouver, Stratford (Ontario), Ottawa, Cleveland, Toronto, New Orleans, Grand Junction, Seoul, Shanghai, Kristiansand, Gold Coast, Melbourne, Duisburg, Eindhoven, Bergen-op-Zoom, Den Haag, Stratford in Ontario, München, Hamburg, Prague and Newcastle but also regional DMO's like British Columbia, Queensland, Montana, Colorado, Oregon, West Australia, Bay of Plenty, Elkhart County, provinces of Limburg  and Gelderland or national ones as Slovenia, England, Japan, Estonia, Montenegro, Czech Republic, South Africa, Singapore, Zambia, The Netherlands and Malawi on modern destination development approaches.  Frank co-wrote the famous  'End of Tourism as we know it '-strategy of Wonderful Copenhagen and has written a strategy for the European Commission.  He is a well sought speaker and has done keynotes on five continents in more than eighty places.  He was asked by the Strata/Hadoop conferences (initiated by Cloudera, from San Francisco), challenging about the implementation of smart city models and gave a notorious keynote about the impact of smart cities during the Zoom conference in Madeira. Frank founded with his students the research project 'Why Your City'. Frank is acting as a strategic advisor for the World Bank in Malawi. 
He has a master's degree in philosophy and linguistics from the University of Antwerp and complimentary postgraduates in marketing (Antwerp Management School) and management  (University of Brussels). Frank publishes on www.destinationthink.com articles about place management and place branding. He has a wife, two children and is a passionate fan of his soccer team the Royal Antwerp Football Club.