Salt Lake City, Utah, is not as conventional as one might initially think. Here are some fun facts that you may not know about the destination: 
It has the youngest average age of all U.S. cities its size

At least 120 languages are spoken by the destination's population

Independent storytelling is celebrated each year by hosting Sundance Film Festival screenings

Its four seasons encourage a variety of outdoor adventures

Advocate magazine listed Salt Lake City as one of the Ten Queerest Cities in America

While its religious roots are appreciated, a patchwork of ethnicities, religions, perspectives, and lifestyles has blossomed into a place that's a blend of the traditional and progressive 
When Visit Salt Lake, the destination marketing organization (DMO) responsible for promoting Salt Lake City as an active convention and travel destination, embarked on a place brand redesign, the objectives included changing misperceptions and showcasing the area's true diversity. 
Introducing "West of Conventional" 
This new identity celebrates Salt Lake City as a unique intersection of many facets, where unconventional ideas make for a better world. It speaks to the area as an ideal mountain hub in the West, where an inclusive spirit welcomes visitors with uniqueness and rich experiences that are not available elsewhere. 
Visit Salt Lake's Strategy 
Strategically, Visit Salt Lake City understood the best way to leave behind perceptions that might be keeping leisure travelers and meeting planners from choosing the destination was to boldly redefine and prominently showcase the diverse reality that is Salt Lake — not to ignore the city's religious roots but to place them in context with the modern reality, resulting in an intriguing juxtaposition. 
The juxtaposition is captured well in a new website hero video that accompanied the redesign:
Visit Salt Lake interwove a "salt crystal aesthetic" into its website and logo that reflects a sense of vibrance and modernity. The DMO wanted to capitalize on the mobile real estate of the homepage and push a variety of content via callout tiles and collections, with a particular emphasis placed on directing viewers to the Salt Lake Scene blog. A mobile-first approach and intuitive user interface (UI) guided the design along with incorporating unique styling points. 
In addition to completely redefining the place essence of Salt Lake City, a further objective was to see increases in all website engagement metrics, including newsletter sign-ups, visitor guide requests, hotel bookings, blog and event listing views, and clicks on a new custom, interactive map. 
A New Site for an Unconventional City
As Salt Lake City is constantly evolving, changing, and reinventing itself into a place of belonging, the new VisitSaltLake.com, which launched in April 2022, truly embodies the brand's personality. A clean user experience was at the forefront of all design decisions. The team recognized their challenge: they needed to create a visually intriguing site with innovative features that were cool and conceptual, easy to use, and intuitive. 
The salt crystal differentiates Salt Lake City and symbolizes the multifaceted nature of this "West of Conventional" place and its people. Elements of the salt crystal are reflected in the understated, minimalistic look and feel of the site design, visually telling the story of a place that feels anything but ordinary. The salt crystal is a key design element sitewide, highlighting visual elements and compelling content areas to attract the attention of site visitors.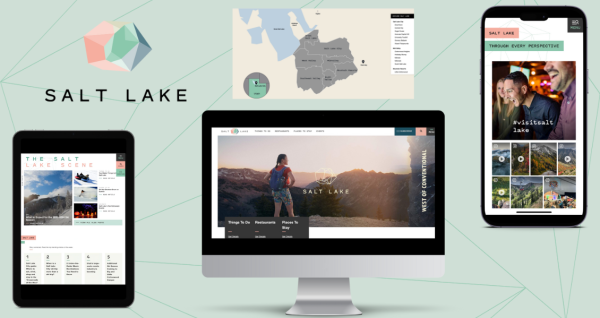 Where mountains meet the metropolitan, Salt Lake City has long embraced its reputation as a thriving winter destination; the destination hosted the 2002 Winter Olympics, and the new VisitSaltLake.com consolidates content previously featured on SkiCity.com into one primary information hub. A separate sub-navigation highlighting skiing and snowboarding in Salt Lake City was an important addition to the site for winter sports enthusiasts to capitalize on "The Greatest Snow on Earth." 
Since meetings and sports are two of the largest demand generators for Visit Salt Lake, custom microsites were created for the Salt Palace Convention Center and Mountain America Exposition Center to highlight these venues for meeting professionals or sports event planners seeking prime locations to host their next events. 
Impactful Results
The redesigned VisitSaltLake.com showcases the DMO's uniquely vibrant culture with thoughtful, intriguing design elements combined with intuitive navigation resulting in improved aesthetics and conversion rates. 
The website's modernized user experience, mobile-first optimization, and intuitive navigation have greatly improved aesthetics and conversion rates, leading to impressive results. Since the redesign's launch on April 6, 2022, through April 6, 2023, direct traffic increased by 14.63%, referral traffic increased by 17.07%, and organic social increased by 51.06% compared to the same time frame the year prior. For all sessions, the bounce rate decreased by 2.06%, and pages per session increased by 4.44%.
Many top-level navigation pages saw significant organic growth. The events page had an 18.45% increase in organic sessions, "Things to Do" saw an 88.14% increase in organic sessions, and the homepage had a 5.23% increase. Additionally, partner referral conversions saw a 71.08% increase. 
Overall, the site anticipates users' wants and needs — it inspires prospective visitors to plan their trip while informing travelers in-market about hidden gems to uncover in this eclectic, creative destination. 
Let's design your website
Did you know that every year, more than 400 million people touch, click, swipe, and scroll their way through websites designed by Simpleview?
Learn more about website design