What do witches, brutal honesty, horses, and OnlyFans have in common? The answer might surprise you: they are all part of this quarter's crazy marketing ideas that worked.
Destination marketing organizations (DMOs) are constantly showing off their creativity when it comes to marketing campaigns that stand out and in some cases, shock travelers into thinking, "I just have to see that for myself." Who wouldn't be curious why a destination that has its own OnlyFans? (More to come on that.)
Here are four crazy — spooky, honest, four-legged, and risqué — marketing ideas that worked.
---
Dark Tourism Thrives in Salem, Massachusetts
Millions of tourists visit some of the most gruesome places on Earth every year—including sites of atrocities, accidents, natural disasters, and death. The term "dark tourism" refers to visiting infamous locations of some of the darkest events in human history to experience them firsthand.
Creepy, right? But spooky sells … just ask Destination Salem. Known for its rich history of witchcraft that led to the Salem Witch Trials of 1692, the destination knows just how compelling dark tourism can be, especially around Halloween. In fact, the Salem Witch Museum alone gets about 60,000 visitors every October.
The museum isn't the only way the destination capitalizes on its eerie history. Destination Salem uses social media to market and promote the following and more:
A Halloween countdown and themed photo contest
Witchy dress-up and photoshoot opportunities for tourists
The annual Haunted Happenings event, complete with a Howl-o-Ween Pet Parade, Family Film Nights, costume balls, ghost tours, haunted houses, live music, and theatrical presentations 
The Destination Salem website has a home navigation called "Which Witch" that serves as a one-stop-shop for visitors looking to cast some spells during their magical visit. Travelers motivated by dark tourism can learn the history of Salem, find modern-day witchy wonders to visit, and add famous attractions to their bucket lists.
---
"Nebraska. Honestly, it's not for everyone."
Talk about self-deprecating humor! Visit Nebraska recently won a 2022 Mercury award at ESTO for its marketing campaign, "Nebraska. Honestly, it's not for everyone."
The campaign plays on the idea that some travelers don't even consider Nebraska when choosing a vacation destination. The goal was to single out those willing to find out what makes the state "appealing, charming, and disarming."
Website traffic has been up 43% since the campaign was unveiled at the 2018 Nebraska Tourism Conference. The DMO continues to promote the campaign by using #HonestlyNE on social media and selling merch that features the brutally honest slogan.

Recently, the campaign won the award for best Integrated Marketing and Messaging Campaign: State Marketing Budget Less than $10 million.
---
"Outhorse" Your Emails in Iceland
Headed out of the office? Visit Iceland invites you to disconnect from work and let the horses of Iceland reply to your emails while you are on vacation. We know it sounds bucking crazy, but you really can choose a four-legged secretary to "outhorse" your emails while you are away.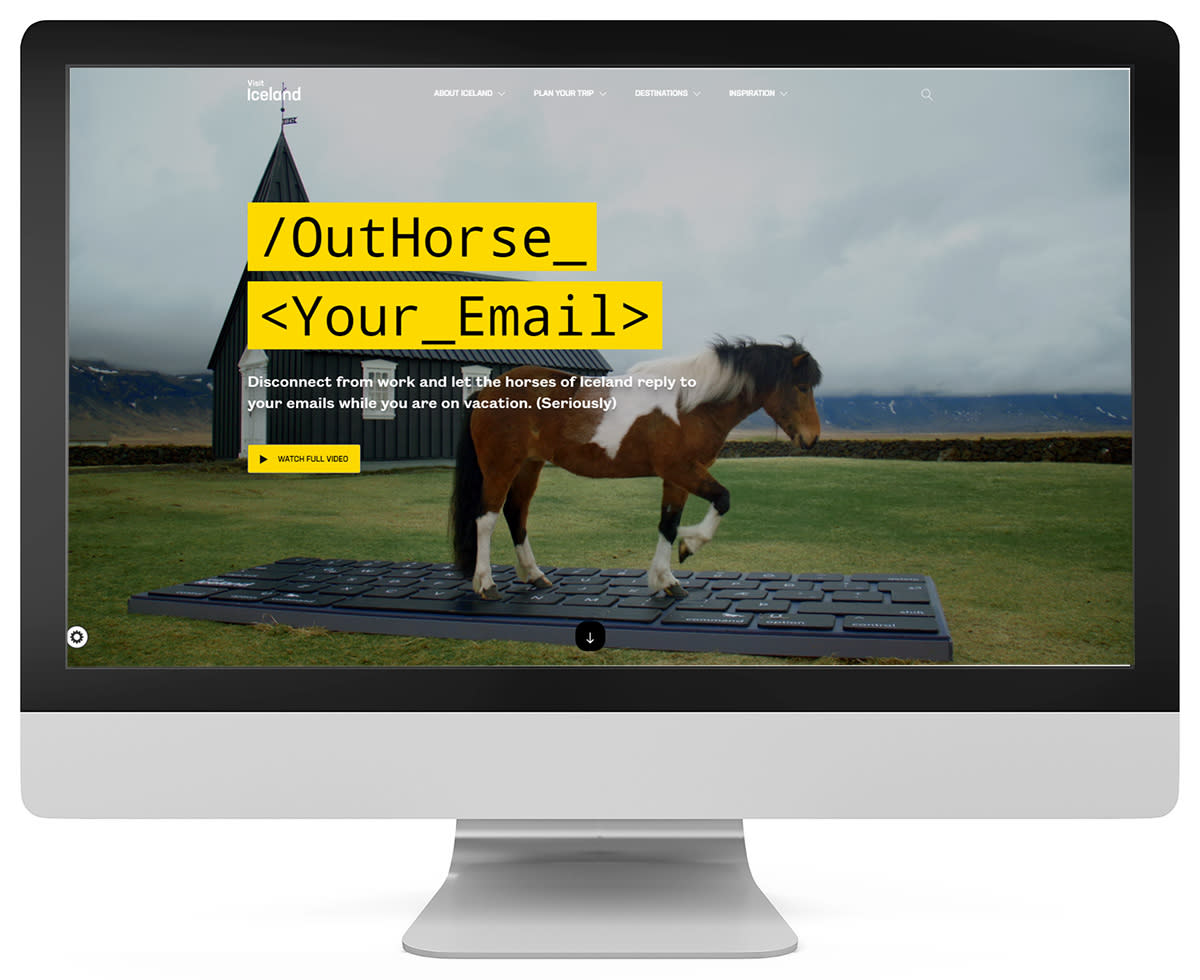 If you're anything like us, you are now considering booking a vacation so you can have Icelandic horses clear out the overflowing inbox you've been avoiding. Don't worry — if you scroll down on this page of the Visit Iceland website, you'll "Things to do in Iceland while a horse answers your emails." So saddle up for some fun and know you're in good hands … or hooves.
---
OnlyFans Displays Vienna's Explicit Art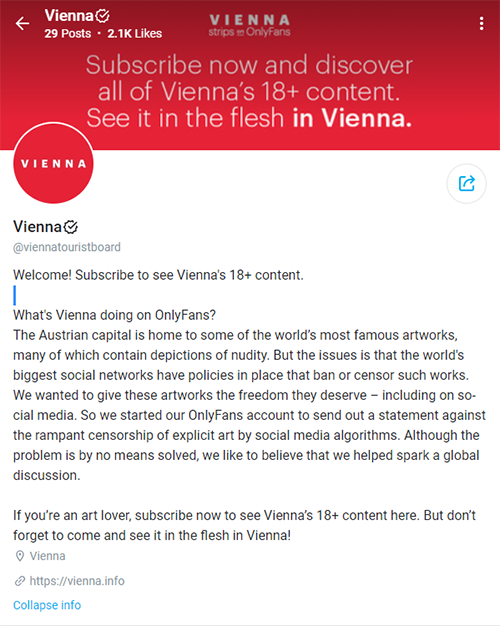 Admit it. You only made it this far in the article because "OnlyFans" caught your eye. We get it, and so does Vienna Tourist Board.
In 2021, the DMO launched a rather creative and brilliantly controversial campaign that involved the adult content platform. The team created an OnlyFans account under the name @viennatouristboard to promote the city's famed artwork while evading censorship.
The DMO faced roadblocks when popular social media platforms began blocking its content if it featured risqué pieces of historic artwork. By using OnlyFans, the destination was able to avoid content restrictions, posting the original masterpieces for visitors to experience in the flesh (pun intended).
"We started our OnlyFans account to protest the rampant censorship of explicit art by social media algorithms," stated Vienna's OnlyFans profile. "Although the problem is by no means solved, we like to believe that we helped spark a global discussion."
Access to Vienna Tourist Board's OnlyFans, which is usually paid by a subscription fee, is free for all users, giving art lovers the opportunity to enjoy Viennese art as intended by the artists.