Have you heard of agritourism? Wine-not?
According to the American Farm Bureau Federation, "Agricultural tourism refers to the act of visiting a working farm or any horticultural or agricultural operation for the purpose of enjoyment, education, or active involvement in the activities of the farm or operation that also adds to the economic viability of the site."
Examples of popular agritourism include:
Wineries and vineyards
Distilleries and breweries
Orchards and patches
Roadside markets or stands
On-farm retail such as dairies and creameries
Although all of these forms of agritourism are important to destinations worldwide, we are going to talk about a product that is a common focus for tourists: wine. Many destinations cultivate agritourism by capitalizing on their perfect weather, soil, and location to cultivate a vineyard. We talked to a few destination marketing organizations (DMOs) that capitalize on their fields of green and grapes. Whether you're into red, white, or rosé —  these DMOs have got you covered!
Briefly describe what Visit Walla Walla offers when it comes to agritourism.

Walla Walla's agricultural roots cover a lot of territory. As a historically diverse farming community, grapes are just one of many products that are grown and cultivated in the valley. Wheat, tree fruit, potatoes, and, of course, the famous Walla Walla sweet onion, are among Walla Walla County's top crops that play a role to varying degrees in Walla Walla County's agritourism efforts. But it is wine, vineyards, and grapes that generate the greatest interest among visitors. 
 
With more than 120 wineries and more than 3,000 acres of vineyards spanning both the Oregon and Washington sides of the valley, Walla Walla is now widely recognized as one of the world's top wine regions. The valley has received plenty of recognition, including being named America's Best Wine Region in the 2020 and 2021 USA Today 10 Best Readers' Choice Awards, as well as the West's 'Emerging Wine Route' in the 2021 Sunset Travel Awards.
How does your destination market to people who want to travel specifically for agritourism?​ 

As recently as the summer/fall of 2021, we conducted a comprehensive inbound visitor research campaign to help affirm our beliefs of who visits and why, and to more clearly define the demographics and psychographics of those who we are fortunate enough to welcome to our community. Not surprisingly, visiting wineries (50%) and casual dining (44%) were the top activities among visitors, with fine dining (22%) and visiting farms (2%) also appearing on the list. We also count Walla Walla's growing beer/spirits/cider industry as a strong agritourism attraction, and 23% of survey respondents indicated they took part in these activities during their visit. 
What type of experiences are these visitors looking for when they visit your destination's vineyards and wineries? 

They are looking for experiences that they certainly can't have at home, but also for experiences they can't find or don't have access to in other destinations. They want to awaken their senses in the vineyards, understand why a particular winemaker settled on a particular blend or chose to age a specific wine in oak, stainless steel, or concrete, stop at a roadside farm stand and pick up some fresh asparagus, onions, or eggs, and generally feel enriched in a way they can't feel elsewhere. As travelers, we all want to find a greater sense of place and foster deeper connections to the places we visit, and Walla Walla provides all these opportunities and more. 
How has agritourism enhanced your destination?​ 

Agritourism has always been closely tied to tourism in Walla Walla, so it has evolved both organically and purposefully alongside the destination as our awareness and popularity have grown over the years. Visitors are often surprised by just how varied and accessible the agritourism opportunities are here and by how ingrained it is in the culture and fabric of our community. It has also served as a catalyst for unique farm and agritourism experiences. 
With wine and wineries being the number one activity that visitors to Walla Walla take part in, it's not surprising that the trickle-down effect on our tourism partners and community is substantial. Our tourism partners benefit from the increased visitation and the economic influx that is felt by our lodging partners, restaurateurs, activity providers, attractions, shops, small businesses, and others. Our community also benefits greatly, as the wine industry helps elevate the supporting cast of services from dining and entertainment to cultural and recreational offerings, parks and beautification projects, and more.
Q: Briefly describe what Tourism Kelowna offers when it comes to agritourism.

There are 40+ wineries in the Kelowna area and dozens of orchards, farms, and markets.
How does your destination market to people who want to travel specifically for agritourism?​ 

We have specific geographic areas that we target, but we also target based on interest, such as wine and food. We have lots of content related to farms, orchards, and wineries, and once the person gets to our website, there is a ton of information they can find to plan their trip and find places to explore once in Kelowna.
What type of experiences are these visitors looking for when they visit your destination's vineyards and wineries?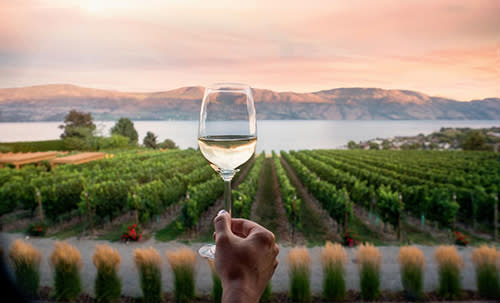 It varies and depends on how knowledgeable the person visiting is. For example, some people want the full experience of a guided tour through the winery gaining all of the knowledge they can, where some are just looking to have a fun outing with their friends. The person explores the wineries one thing is guaranteed and that is that they will learn something either about the winery, the vineyards, or the wine itself.
How has agritourism enhanced your destination?​ 

It is a huge draw for visitors, not only to experience and visit a winery or orchard, but they also get to taste a product that was grown in the same place they visit. Experiencing something firsthand where a product was grown, harvested, and crafted, has a lasting impression that will be with someone for many years. One example the agriculture industry has done is that it has helped craft and create a bustling culinary scene. Many restaurants in Kelowna have created lasting partnerships with local farmers or even have taken it upon themselves to grow and harvest food specifically for their restaurants. People may come to specifically visit the wineries, but they stay in Kelowna, eat at the restaurants, experience the outdoor activities, and much more. It benefits the destination as a whole.
Q: Briefly describe what Willamette Valley offers when it comes to agritourism.

The Willamette Valley, Oregon's leading wine region, has two-thirds of the state's wineries and vineyards and is home to more than 700 wineries. It is recognized as one of the premier Pinot noirs-producing areas in the world. Willamette Valley wine country is a popular tourist destination, with the area boasting a luxury destination resort, several high-end inns, and many delightful bed & breakfasts. The valley also offers a long list of fine dining restaurants.
How does your destination market to people who want to travel specifically for agritourism?​ 

These tend to be the majority of wine tourists. Wine lovers are inherently interested in getting to know the vineyard and growing conditions behind their wine. Furthermore, our home state of Oregon already has a reputation for connecting people with the farming and craftsmanship behind the food and beverages they enjoy. Our website, email marketing, social media, and digital advertising all target wine lovers who are interested in experiences.
What type of experiences are these visitors looking for when they visit your destination's vineyards and wineries?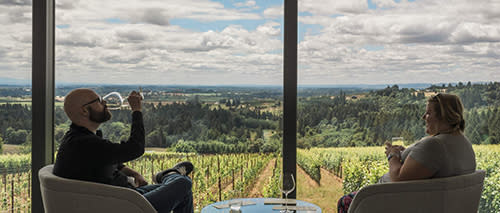 Everything from cooking and foraging classes to hikes, crafting, seminars, and immersive tasting experiences. And of course, there are always the visitors who just want to absorb a gorgeous view with a patio and some wine. But particularly for younger consumers, there is a desire for education and a level of understanding of the given winery's brand values and philosophy.
How has agritourism enhanced your destination?​ 

Our destination revolves around agritourism. The Willamette Valley is an agricultural community for wine but also for hazelnuts, Christmas trees, orchard fruits, mushrooms, and more. While we have fantastic opportunities for outdoor adventure, museums, live music, and other pursuits outside food and beverage, folks are very often coming here for the world-famous wine region. We work with many regional destinations that are not necessarily wine-focused but benefit from the influx of wine country tourism our region's 736 wineries bring. They can then attract those visitors to stay longer and add experiences such as hikes, outdoor recreation, museums, sporting events, and other cultural activities. You can only drink so much wine!
Briefly describe what Finger Lakes Wine Country offers when it comes to agritourism.

Finger Lakes Wine Country is home to over 140 wineries, and the Finger Lakes American Viticulture Area (AVA) includes 11,000 acres of vineyards, making the region the largest wine-producing region in New York State. With a variety of ways to experience the wineries and our vineyards, visitors can find their perfect experience. From vineyard tours, hands-on experiences like pruning vines, or grape picking at u-pick farms, to simply enjoying the beautiful view from a tasting room, visitors to our wineries can get involved in many ways.
How does your destination market to people who want to travel specifically for agritourism?​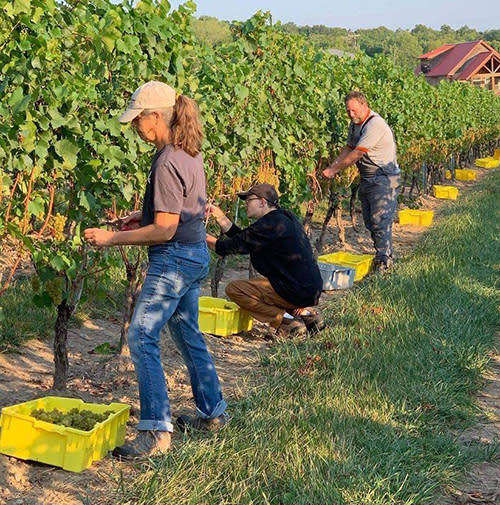 About five years ago, the five counties that make up the footprint of Finger Lake Wine Country worked together to create a sub-brand, Finger Lakes Farm Country. This is taking all the agritourism-related experiences and businesses and putting them in one spot. This allows the visitor that is specifically interested in agritourism to find all the information in one place.
What type of experiences are these visitors looking for when they visit your destination's vineyards and wineries?

We find these visitors are looking for hands-on experiences and opportunities to learn. Farm or vineyard tours, u-pick farms, and farm markets are all popular. We've also seen more hands-on experiences when you work alongside a vineyard worker or winemaker or work alongside a farmer to be very popular. Farm stays have grown in popularity too. These are opportunities for visitors to completely immerse themselves into the experience.
How has agritourism enhanced your destination?​ 

 Agriculture has always been the cornerstone of Finger Lakes Wine Country. It's not something we've fabricated, it's who we are and what we do as a region. All that's been done is add opportunities for visitors to get up-close-and-personal with the farms, vineyards, and the people that work there. Agritourism has given our visitors a personal look at life in Finger Lakes Wine Country and helped to shape their experience in an authentic way. Many of our farms and markets wouldn't have the promotion that they do now. Many farms have added shops where you can buy their locally made products and goods, adding to their revenue stream.