It's been an excellent year for destination marketing organizations (DMOs) that are subscribers to the Meetings Information Network (MINT+) database, which helps destinations prospect intelligently by using both historical data and information on future bookings. Over 140 destinations are now contributing to the database and reaping the benefits of using the industry's exclusive data cooperative.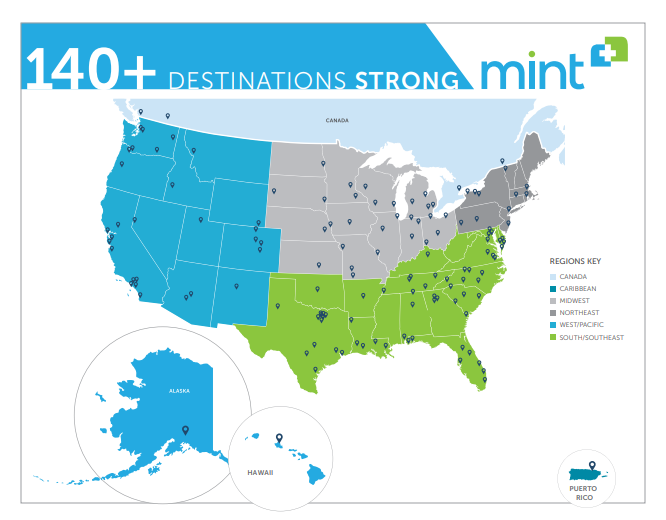 "This map makes me proud to see how the continued transformation of MINT+ has been such a boon for organizations as they work to identify the best new meetings," said Terri Roberts, program manager at 2Synergize, LLC, a Simpleview consulting company.
This identification happens through the enhanced query builder, which simplifies the search for the right meetings by allowing users to select criteria about organizations, meeting locations, and meeting preferences to quickly hone in on the right meetings to qualify prospects efficiently.  
"You need something much better than a challenging hunt-and-peck when trying to identify the best meetings for your destination," Roberts said in her article, "Are you my meeting? How MINT+ can help you find the right meetings and events." 
The MINT+ database has had an average of 138 new histories added each day in the last year and now includes:
16,792 unique meeting profiles with less than 1,000 rooms on peak that have met in the last five years
3,695 event occurrences
759 recreation, sports, and athletic organizations
[Unable to render content]