One of the first questions a visitor will ask when choosing a destination is "What can I do there?" That's why "Things To Do" and "Event" pages tend to attract both locals and visitors alike. People are looking to maximize their time and have their trip go off without a hitch — that's where itineraries can step in.
A well-planned itinerary provides inspiration and direction, all within a realistic timeline. Travelers can prioritize their wants, prep and pack for all activities, and make sure they have the right budget set for all scenarios. 
In the world of destination marketing organizations (DMOs), itineraries come in all shapes, forms, and purposes. No matter what function itineraries serve your destination, there are different approaches and options to take depending on your tool set. With that in mind, we've gathered some ideas, guidance, and peer examples on ways you can approach your itinerary strategy. 
A Strategic Blueprint
For any great piece, it's a best practice to start by deciding your audience — who will this content serve? Itineraries are used for a myriad of purposes, such as inspirational guidance for leisure visitors, a useful travel-trade toolkit for industry partners, or laying out a schedule for a meeting or event. No matter what the need is, itineraries are a great way to create a reference point to inspire your user with a seamless schedule. 
Establishing your audience will assist with setting the tone for your itinerary content and choosing the right tool to use to build it out. Now it's time to map out your content.
Choreographing content can be a very straightforward process. First, gather the details and recommendations and organize them chronologically. Don't feel you need to map it hour by hour — it can help to keep your itinerary time frames high level, as that allows wiggle room for change due to delays, traffic, and good ole distractions, like setting up your perfect Instagram shot. 
From there, it's a matter of communicating the items in the frame of the 5 W's. It's important to ensure you are giving context in the frame of your audience and the perspective of the author. Visuals, such as images, icons, or videos, are also very helpful as they are powerful motivators and provide a full perspective of your pinpoint.
HINT:
If you are creating leisure focused itineraries, consider bringing in a community perspective. The diverse viewpoint of your locals can assist with niche content and create an enriched, unique experience.
Suitcase of Tools
Once you have your audience and content ironed out, it's time to reach into your toolbox to find the most effective and engaging tools to share your information. Depending on your organization's setup, consider some of the following options:
Blog: A specific blog category is a great way to share itinerary ideas, especially if you are using local authors. These are easily shared to social media and can use the "Clone" feature to templetize your content to create easier workflows. Plus, you can easily create a featured feed of your content.
Microsite: If you are looking to create a curated experience for multiple itineraries without bogging down your sitemap navigation, a microsite can be the answer. This gives you options to create alternate navigation, branding, and page elements that are specific to your itinerary story while still utilizing the current built-in tools of your CMS to create an engaging experience. 
Trip Builder: This CMS integration allows your visitors to build their own itinerary based off of what they find when interacting with your listings, events, and offers. Once complete, they can visit their page and print or email it to themselves to organize from that point forward. 
Maps: Maps create an interactive itinerary that can easily connect visitors to the listing or event. You can use itinerary maps as stand-alone content or enhancers that can be printed or shared directly — such as emails or social media. This is one of the easiest ways to assist your visitor in taking the next step.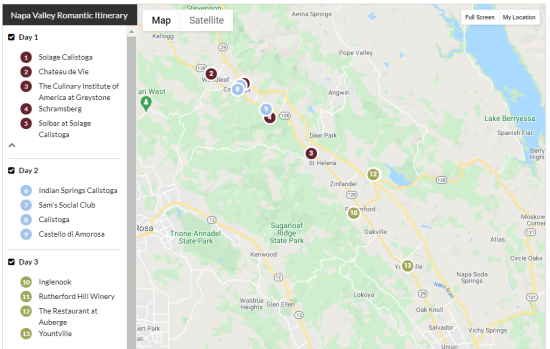 The Map Publisher module allows you to import a listing and customize it to include the itinerary copy. You can also create groups by listing types (hotels, restaurants, attractions) or a time frame (Day 1/Day 2). Maps can be printed with a QR code, embedded on a page, or provided as an iFrame for partner websites.
 
Media Gallery: If you have this module in your CMS, it is a great way to create a visually appealing itinerary using images, videos, and copy. It also has the additional feature to connect to listings and events that you are featuring. It is a visually focused approach that can be featured in a collection template or be shared directly.
Visit Apps: Looking beyond options contained in your website, an app is a great tool to build an itinerary that is carried in a visitors pocket. You can gamify their experience by utilizing the passport option where check-ins can mean prizes — all with the ability to populate your app with CRM listings.
Example Tours
Here are some great industry examples and how they tackled their itineraries.
Napa Valley Trip Ideas: Take a leisurely stroll to wine country. Napa Valley has created curated experiences for the different traveler types in a beautiful layout with engaging connections. Romantic Itinerary, for example, cleverly utilizes Map Publisher and the Quickview option for their listings to create a centralized and streamlined approach. 
---

---
Richmond BC Travel Trade: Digital industry resources are a must-have for planners. The team at Richmond BC have pulled together helpful items that can be used for industry agents to help promote their destination. As part of their page, they have included print itinerary options which include different languages, trails, and even a layover option.
Augusta Weekend Itineraries: A top search item for any destination is "What to do this weekend," which Augusta asked their locals to answer. They brought in their community to make interest-based suggestions that provide great weekend plans and highlight the diversity of their destination.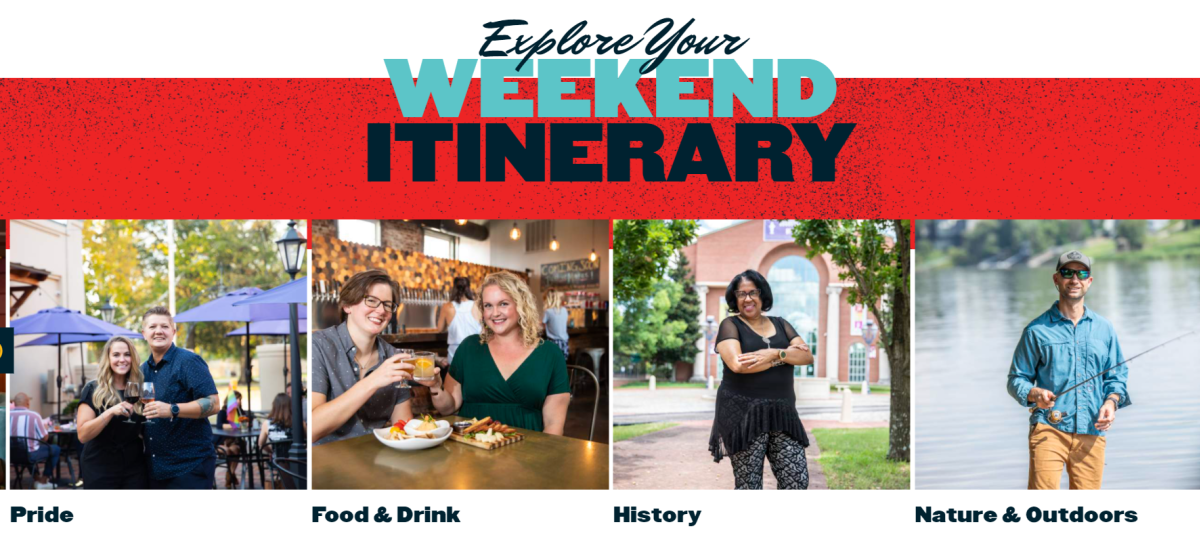 The Tampa Bay Hub: A big goal of itineraries is to allow your audience to get to know your destination. The team at Visit Tampa Bay has taken this a step further to include a hub of location, interest, and traveler type itineraries, like their Arts & Culture option, that integrates maps and video to create an engaging and immersive experience.
Visit Pensacola App (Apple and Google): What is an itinerary, but a trail of experiences? Visit Pensacola brought the trails to everyone's favorite accessory — their phone. They cleverly created trails within their app where users can earn points by checking in and sharing photos of their coastal cocktails, beaches, and more. They also featured trails based on outdoor experiences, such as diving, paddling, fishing, and beyond.