For destination marketing organizations, curating a collection of high quality visual assets is one of your most important tasks. You need captivating photos for your visitors guide, your website, your social media channels… the list goes on and on.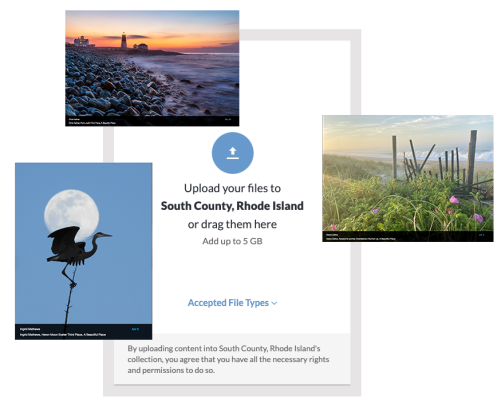 That need, coupled with slim budgets and expensive commissioned photographers, can make image acquisition a daunting and costly task. But not to worry! The folks over at CrowdRiff have created an efficient tool that enables you to easily secure rights-approved, high quality images and video for your marketing efforts. 
CrowdRiff Collector is a new feature within Crowdriff that allows destinations to create customized photo and video uploaders that can be embedded on a website or be deployable via a standalone URL. The Collector allows for large files to be uploaded, and enables you to publish terms and conditions that anyone uploading files must agree to, and enables a more formal usage agreement between a DMO and a photographer. 
Simply put, Collector is an uploader feature that helps DMOs easily acquire high quality assets along with the rights to them. 
The team at South County, Rhode Island, recently utilized the CrowdRiff Collector for the organizations' popular annual photo contest. Previously, they've relied on mail-in submissions and clunky uploaders, and they were seeking a more professional and efficient way to collect images. 
Over the course of the contest, South County received 277 entries, all of which are now available for them to use in their future marketing efforts.
The DMO was thrilled with the results, saying: "Crowdriff's Collector and Simpleview's help with installing it made our photo contest run more smoothly and efficiently than it ever had it in the past. Contestants were able to easily upload their high-resolution photos without having to put them on flash drives or CDs and not have to worry about mailing them in time or dropping them off. In these times where we're all trying to maintain a safe social distance, the Crowdriff Collector really came to the rescue of our photo contest allowing amateur photographers to participate safely and securely while expressing their love of South County, RI."
[Unable to render content]